COVID-19 News
: India has registered 7,830 new COVID-19 cases within the last 24 hours, the highest single-day rise in 223 days, raising the active case count to 40,215. The country recorded a single-day jump of 7,946 COVID-19 cases on September 1 last year.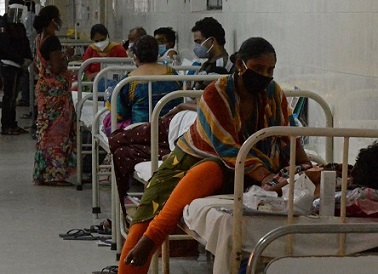 The COVID-19 death toll has increased to 531,016, with 16 new fatalities reported in the last 24 hours, two each in Delhi, Punjab and Himachal Pradesh, and one each in Gujarat, Haryana, Maharashtra, Tamil Nadu and Uttar Pradesh, and five reconciled by Kerala.
COVID-19-related deaths are mostly being reported in people above 60 years or those with lifestyle diseases such as diabetes, among others, according to a statement by the Union Health Ministry.
The recent spike in cases has put hospitals on alert, with experts attributing the increase to the rapid spread of the XBB1.16 variant and lax observance of COVID protocol. COVID-19 hospitalizations are slowly increasing as each day passes across various states with hospitals in Gujerat, Maharashtra and Kerala now mostly affected
The XBB1.16 variant has been causing concern as it evades the immune systems of people, infecting those who had previous COVID-19 infections and vaccinated individuals. The World Health Organization is closely monitoring the situation.
Experts have noted that the XBB1.16 variant, or "Arcturus," has high infectivity and pathogenicity. Detected in over 26 countries, it has replaced other circulating sub-variants in India, with enhanced infectivity and potentially increased pathogenicity shown in laboratory tests. The variant is responsible for the spike in cases among children and adults, with 1,774 cases found across 22 states and Union Territories in India.
Dr Dhiren Gupta, Senior Pediatrician at Sir Ganga Ram Hospital, warns that the next four weeks will be crucial in the fight against the virus.
Consultant General Pediatrician at Madhukar Rainbow Children's Hospital, Dr SK Nakra said that conjunctivitis has also been reported in some COVID-positive cases.
Dr Nakra commented, "The symptoms of XBB.1.16 so far has been high fever, cough, sore throat, runny nose, headache, body aches and gastrointestinal symptoms. Red sticky eyes (conjunctivitis) have been also been reported by some physicians. However, this was seen in the earlier strains also in about 1-3 per cent of COVID-19 patients. It is too early to say that this red eye is more common with the XBB1.16 variant."
What is even more concerning is that the XBB.1.16 sub-lineage itself is still evolving rapidly and spawning lots of newer sub-lineages that are spotting a variety of new mutations. Some experts speculate that the XBB.1.16 sub-lineage is possibly evolving to completely evade all kinds of immunity and also evade all T cells and possibly even damage the T cells! Also, it seems to be evolving to evade all kinds of antivirals!
India's nationwide COVID-19 vaccination drive has administered over 220.66 crore doses, with the national recovery rate standing at 98.72%. However, the rise in cases is raising concerns, and the next few weeks are considered critical in understanding the extent of the XBB1.16 variant's impact.
The Indian Medical Association (IMA) attributes the surge in cases to three major reasons: the new XBB1.1 6 variant, the relaxation of COVID norms, and people ignoring symptoms and not getting tested. States have re-imposed mask mandates and called for stricter implementation of COVID norms in public spaces and crowded areas.
According to local
COVID-19 News
coverages, at present many Indians with respiratory symptoms are either ignoring the symptoms as flu, or are approaching healthcare facilities and not getting themselves tested for COVID-19 even when asked to. This is despite the government and private labs being well-equipped to conduct COVID-19 PCR tests.
The relatively small number of people dying of COVID as of now seem to be those with pre-existing conditions.
Doctors are warning that individuals with symptoms such as fever, cough, sore throat, headache, body ache, loss of smell or taste, breathlessness should get tested for corona.
The IMA added further, advising people to wash hands frequently, wear masks, avoid crowded places and poorly ventilated settings, and getting vaccinated.
The XBB.1.16 sub-lineage is a recombinant variant from BA.2.10.1 and BA.2.75. It has three additional mutations in the SARS-CoV-2 spike protein (E180V, F486P and K478R) compared with its parent lineage, XBB. It is very similar in profile to XBB.1.5, which currently comprises 85% of U.S. cases and 45% of global cases.
Although the XBB.1.16 and XBB.1.5 both share a common parent and common mutation in F486P, it is the K478R mutation in XBB.1.16 that appears to be responsible for the spike in cases in India, the WHO said.
The WHO explained in an update, "Mutations at position 478 of the SARS-CoV-2 spike protein have been associated with decreased antibody neutralization, increased transmissibility, and pathogenicity."
Some experts stressed, "Recombinant viral variants can occur when a single person is infected with multiple distinct variants at the same time, allowing the two different variants to interact during replication. When their genetic materials mix they create a new hybrid, or a recombinant variant. There's nothing inherently 'worse' about recombinant variants, they could be more or less fit than their parents, or have the same fitness."
Though XBB.1.16 is currently making headlines worldwide, other variants, including XBB.1.9.1, are also currently on both the WHO's and the U.S. Centers for Disease Control and Prevention's radar.
As COVID-19 cases continue to fluctuate, vigilance is crucial to tracking and managing the spread of the virus. Healthcare experts emphasize the importance of monitoring mortality and severe cases to ensure proper response and care, even in the absence of large-scale testing.
For the latest
COVID-19 News
, keep on logging to Thailand Medical News.