Monkeypox News: Concerns Rise As Infections Spike Among Gay Men And Teenagers In Thailand. 145 New Cases In August Including A 16 Year Old Boy!
Monkeypox News
: A concerning surge in Monkeypox infections has gripped Thailand, with 145 new cases reported in August alone, including a 16-year-old boy. The total tally now stands at 316 cases, setting off alarm bells among health authorities.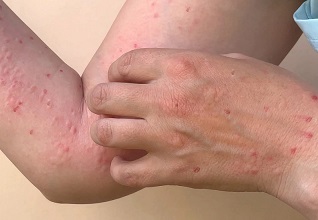 Monkeypox Outbreak Escalation
:
In recent months, Thailand has witnessed a rapid escalation of Monkeypox cases, with numbers surging from 22 cases in May to 80 in July and a startling 145 in August. The total number of cases reported up to August 31st reached 316, with one recorded fatality. The Department of Disease Control (DDC) is gravely concerned about this alarming increase, especially among young individuals.
Previous
Monkeypox News
coverages have already showed that the many of the infected were also male sex workers from various gay bars, gay saunas and freelance male prostitutes using gay apps etc. The Gay Tourism industry has not only made Thailand the recognized gay hub in Asia but these days it has also bestowed upon Thailand the reputation as the hub for the spread of monkeypox in Asia.
https://www.thailandmedical.news/news/medical-authorities-report-that-monkeypox-or-mpox-infections-gradually-rising-in-thailand-189-infections-identified-so-far-and-one-death
https://www.thailandmedical.news/news/mysterious-mpox-outbreak-in-china-raises-concerns-gay-tourism-involving-a-south-east-asian-country-famous-for-gay-prostitutes-blamed
Already reports have emerged in foreign media of Chinese gay men contracting the monkeypox disease while in Thailand while it is also believed that the disease was spread to Thailand by gay sex tourist from the United Kingdom, Australia, Germany, Singapore and also the Middle-East.
Demographics of Monkeypox Patients
:
Officials from the Department of Disease Control, provided crucial insights into the demographics of Monkeypox patients in Thailand.
Not surprisingly, the majority of cases, accounting for 85.8% of the total, are men who have sexual intercourse with other men. Of these cases, 45.3% are also infected with HIV, compounding the health risks. Among the patients, 277 are Thai nationals, 36 are foreigners, and three have undisclosed nationalities.
Geographical Distribution
:
The Monkeypox outbreak is not confined to a single region in Thailand. The majority of cases, 198 to be precise, are concentrated in Bangkok, followed by 22 in Chon Buri, 17 in Nonthaburi, and 12 in Samut Prakan. The geographical spread highlights the urgency of containing the outbreak across the country. Recently cases were also reported in Chiang Mai.
Age Groups Affected
:
While Monkeypox initially seemed to affect the working-age male populat ion, a worrisome trend has emerged. The age groups most affected are those between 30 and 39 years old, with 152 cases, followed closely by those aged 20 to 29, with 85 cases. Equally concerning is the increase in infections among teenagers aged 15 to 24, with 28 cases recorded.
Teenagers Falling Victim
:
In August, the Monkeypox outbreak took an even more alarming turn with the infection of 16 teenagers, including a 16-year-old boy. This young patient exhibited symptoms such as clear blisters all over his body and inflammation of his genitals. He was admitted to hospital on the 14th of August for treatment, where attending physicians found his lymph nodes were already swollen. He also reported pain around his genitals.
Investigations revealed that the 16-year-old year male student had multiple male sexual partners. His case raises concerns about the transmission of the virus among adolescents.
Health authorities are closely monitoring high-risk contacts, including household members, for 21 days from their last contact with infected patients. Fortunately, no new cases have been reported among the boy's family members. Officials from the Department of Disease Control, emphasized the importance of safe sex practices to prevent further spread of Monkeypox.
At present, only patients who develop serious symptoms and are admitted to hospitals and are treated with the Tecovirimat medication, provided by the World Health Organization for emergency use.
Educating the Public
:
To combat the outbreak effectively, it is crucial to raise awareness among the public. Common symptoms of Monkeypox include fever, swollen lymph nodes, muscle aches, headaches, sore throat, and back pain. Health authorities have established a hotline, 1422, to provide information and guidance to the public.
Furthermore, the public especially the gay community should take precautions when having sex with strangers especially practicing safe sex and also using condoms and other prophylactics.
Conclusion
:
The Monkeypox outbreak in Thailand is a growing concern, with infections rising at an alarming rate among gay men and teenagers. The demographics of those affected and the geographical distribution of cases paint a grim picture. Urgent measures are needed to contain the outbreak, including heightened awareness campaigns, safe sex education, and monitoring of high-risk contacts. Thailand's health authorities, in collaboration with international organizations, must work diligently to curtail the spread of this infectious disease and protect the nation's public health.
The data procured among the infected also paints a picture that HIV could also be rising in the country especially among the gay population as many are being irresponsible… despite knowing that they are infected, many are still indulging in unprotected sex!
For the latest
Monkeypox News
, keep on logging to Thailand Medical News.