BREAKING H5N1 News! H5N1 Virus Strain Found In Cat Food In Poland With Mutations E627K And K526R Had Evolved To Better Infect Canines And Cats!
H5N1 News
: In June 2023, a major health scare emerged in Poland when a fatal disease struck domestic cats across the country, raising concerns among pet owners and veterinarians. The cause of the illness was soon traced to the highly pathogenic avian influenza A (HPAI) subtype H5N1 virus, which has been known to pose risks for zoonotic diseases.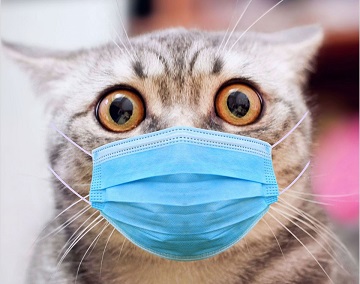 However, this outbreak in Poland was unique and alarming as the virus showed mutations, specifically E627K and K526R, that enabled it to better infect both canines and cats and possibly other mammals!
Polish, German and Dutch researchers delved into the emergence of the H5N1 virus in domestic cats, the genetic analysis, potential transmission routes, and the implications for public health.
The Emergence of H5N1 in Cats
The HPAI H5N1 virus has a long history, originating in poultry in Guangdong, China, and has undergone complex reassortments, resulting in multiple descendant lineages as covered in past studies and
H5N1 News
reports. A particular clade, 2.3.4.4.b, has been responsible for a widespread global outbreak among wild birds since December 2022. While H5N1 viruses are known for severe illness and zoonotic risks, the number of human cases attributed to the 2.3.4.4.b clade has been relatively low.
Concerns over Zoonotic Transmission
As the HPAI H5N1 virus spreads among wild birds worldwide, there has been growing concern about spillover infections from birds to mammals, potentially leading to adaptation and easier transmission among mammals. This raised the alarm for potential transmission risks to domestic pets, including cats and dogs.
Unusual Outbreak in Domestic Cats
In June 2023, veterinarians in Poland reported a sudden surge in fatal diseases of unknown origin affecting domestic cats. With an unprecedented 28 domestic cats and one captive caracal affected, scientists suspected HPAI H5N1 as the cause. Subsequent tests confirmed the presence of the HPAI H5N1 virus in most of the cats investigated, totaling 29 out of 47.
Genetic Analysis and Mutations
To better understand the genetic composition of the virus affecting cats, researchers performed whole genome sequencing using Oxford Nanopore Technologies' MinION. The analysis revealed that the HPAI H5N1 viruses isolated from cats in Poland belonged to the clade 2.3.4.4b and were closely related to viruses found in birds sampled in Central Europe from late 2022 onwards.
Of particular concern were two mutations, E627K and K526R, found in the PB2 polymerase gene of the viruses. These mutations are known to be associated with mammalian adaptation, enabling the virus to replicate at lower temperatures, potentially facilitating infection in mammals.
Transmission Route Investigation
To investigate the possible transmission route of the virus from birds to cats, researchers explored epidemiological and citizen science data. The nationwide distribution of cases among both indoor and outdoor cats suggested a common exposure, potentially through cat food.
Researchers obtai ned samples of food from households where cats had fallen ill. The analysis of chicken meat revealed high levels of viral RNA with genetic similarities to the viruses affecting the cats, bearing the E627K and K526R mutations. The study did not conclusively confirm the meat as the source of infection, but it provided strong evidence for further investigation.
Potential Implications for Public Health
The emergence of the HPAI H5N1 virus in domestic cats in Poland raises concerns about the potential for zoonotic transmission and highlights the need for continuous surveillance in both wild and farmed settings. The presence of the virus in cat food emphasizes the importance of safe handling and precautions in handling poultry products. Environmental testing and monitoring of wild birds are recommended to track potential adaptation of the virus.
Conclusion
The emergence of the HPAI H5N1 virus in domestic cats in Poland with mutations E627K and K526R marks a significant public health concern. The genetic analysis of the virus and potential transmission routes emphasize the importance of continued vigilance in monitoring and controlling outbreaks of avian influenza.
Further research and collaboration between veterinary and human health authorities are crucial to mitigate the risks posed by zoonotic diseases like HPAI H5N1.
The study findings were published in Eurosurveilance - Europe's journal on infectious disease surveillance, epidemiology, prevention and control.
https://www.eurosurveillance.org/content/10.2807/1560-7917.ES.2023.28.31.2300390
For the latest
H5N1 News
, keep on logging to Thailand Medical News.
Read Also:
https://www.thailandmedical.news/news/breaking-h5n1-news-discovery-of-h5n1-virus-in-cat-food-in-south-korea-sparks-inquiry-about-virus-ability-to-withstand-extreme-conditions
https://www.thailandmedical.news/news/h5n1-news-more-cats-discovered-with-h5n1-avian-influenza-in-south-korea