COVID-19 News: Victoria In Australia Witnessing A New COVID-19 Surge Despite Entering A Warmer Season
COVID-19 News
: In an unexpected turn of events, the state of Victoria in Australia is facing a resurgence of COVID-19 cases, even as the country transitions into a warmer season. The increase in infections has raised concerns among health professionals and the Victorian community. Dr Christian McGrath, the Acting Chief Health Officer, has issued critical messages and recommendations to address this surge.
https://www.health.vic.gov.au/health-alerts/increase-in-covid-19-cases
This
COVID-19 News
report delves into the current situation in the state of Victoria, in Australia and the reasons behind this resurgence, the key indicators of the COVID-19 activity, symptoms and transmission, and the recommendations for the general public and health services.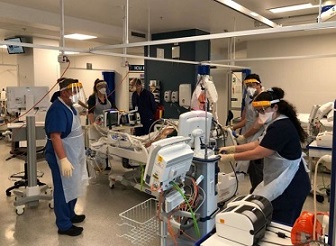 Understanding the Issue
Key indicators of COVID-19 infections have revealed a worrying trend in Victoria. After a period of slow increases from July, recent weeks have seen a surge in cases, hospitalizations, and deaths, reaching levels not observed since May 2023.
Hospitalizations increased to a daily average of 233, up from 179 in the previous week, marking the highest daily case number since June. Tragically, the seven-day average of patients in intensive care with the virus also increased, and deaths reached a 28-day average of 96 in the most recent reporting period.
The rise in COVID-19 cases is also evident in wastewater surveillance, with Omicron XBB mutations dominating. These indicators suggest that COVID-19 is circulating in the community, leading to concerns about further escalations in cases and increased strain on healthcare facilities.
Nursing Home Surge
Nursing homes in Victoria are also experiencing a surge in cases, with the state having the highest number of COVID-19 outbreaks in aged care homes in the country. As of October 18, there were 76 outbreaks in Victorian nursing homes, compared to 40 in New South Wales, 24 in South Australia, and 23 in Queensland.
In total, 442 Victorian nursing home residents were infected at that time.
Dandenong Hospital has had to reopen its COVID-19 ward to accommodate the rising number of cases. This surge in nursing home outbreaks highlights the vulnerability of older individuals to severe consequences of the virus.
https://www.heraldsun.com.au/subscribe/news/1/?sourceCode=HSWEB_WRE170_a_GGL&dest=https%3A%2F%2Fwww.heraldsun.com.au%2Fnews%2Fvictoria%2Fvictoria-tops-country-for-aged-care-covid-outbreaks-hundreds-of-elderly-struck-down%2Fnews-story%2F36fcd8212de210e1aeeb505de3e3b40d&memtype=anonymous&mode=premium&v21=GROUPA-Segment-2-NOSCORE
t;
Wearing Face Masks
In response to the increasing COVID-19 cases, there has been a renewed emphasis on wearing face masks. The New South Wales Department of Health has encouraged people to wear masks in public to protect themselves and urged the public to be considerate of those who choose to do so. While the Victorian government did not match the tweet, it does recommend on its COVID-19 website that people wear a mask in public and when they cannot maintain a physical distance of 1.5 meters from others, especially in the seven days after learning they have COVID-19.
https://www.abc.net.au/news/2023-10-30/melbournians-urged-to-mask-up-as-covid-19-cases/103039314
Healthcare Response
To address the resurgence, health services and professionals are advised to take actions based on local risk assessments and follow updated COVID-19 guidance. These measures are essential to manage the increasing burden on healthcare facilities and ensure that those at risk of severe consequences receive the necessary support.
The reopening of a COVID-19 ward at Dandenong Hospital indicates the strain on healthcare resources. Dr Rhonda Stuart, the Head of Infectious Diseases at Monash Health, reported the reopening of a "COVID pod" with 12 beds, with each room filled. There is even consideration of opening another pod in the near future. This situation underscores the importance of preparedness in healthcare settings to meet the growing demand for COVID-19 treatment.
Protecting the Community
While the resurgence of COVID-19 is concerning, there are steps that individuals can take to protect themselves and the community. Dr McGrath's recommendations include:
-Wearing a Face Mask:
A high-quality and well-fitted mask can protect individuals and others from the virus, particularly in high-risk settings.
-Getting Vaccinated:
Staying up to date with COVID-19 vaccinations is crucial. Additionally, adults over 75 years of age are recommended to receive a booster vaccination. Vaccines are available at local GPs and pharmacies.
-Ventilation:
Promote fresh air by opening windows and doors when possible, as it reduces the spread of the virus.
-Getting Tested:
If individuals experience symptoms, they should take a rapid antigen test (RAT). Free RATs are available at local councils.
-Isolation:
If diagnosed with COVID-19, individuals should stay at home for at least five days or until they have no symptoms. If symptoms worsen, consult with a GP.
-Consulting a Doctor:
Those at risk of severe illness may be eligible for COVID-19 antiviral medicines. It's crucial to take these medications within five days of developing symptoms.
Moreover, individuals should refrain from visiting high-risk people when unwell or experiencing symptoms. These recommendations aim to reduce the spread of the virus and protect those who are at the highest risk.
Conclusion
Victoria in Australia is currently facing a resurgence of COVID-19 cases, despite the transition into a warmer season. The key indicators of increased infections, hospitalizations, and deaths have raised concerns among health professionals.
Additionally, the surge in nursing home outbreaks has highlighted the vulnerability of older individuals to severe consequences.
Wearing face masks, getting vaccinated, practicing proper ventilation, and getting tested are essential steps for individuals to protect themselves and the community. Health services and professionals must also take actions based on local risk assessments to manage the growing burden on healthcare facilities.
The situation in Victoria serves as a reminder that COVID-19 remains a significant public health challenge, and ongoing vigilance is required to combat the virus and protect the most vulnerable members of the community. It is imperative that individuals and healthcare providers work together to navigate this resurgence and strive for a return to a low level of COVID-19 activity.
For the latest
COVID-19 News
, keep on logging to Thailand Medical News.