WARNING! Adults Can Also Contract RSV Infections And Its Usually Severe In The Aged! Is The Current RVS Wave Due To Newly Emerged Strains?
Health News
: RSV or respiratory syncytial virus infections are currently rising across the globe along with Influenza and also COVID-19 infections. While to date, most of the hard hit are children, it is a fallacy to assume that RSV does not affect adults. In fact, not only can adults contract the virus but usually when adults get it, it is often severe.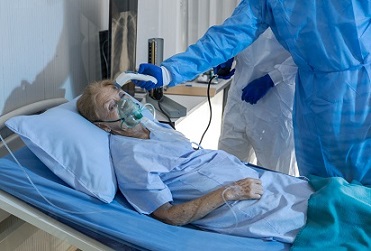 Research has shown that RSV infections can be dangerous for certain adults. Each year, it is estimated that between 60,000-120,000 older adults in the United States are hospitalized and 6,000-10,000 of them die due to RSV infection. Adults at highest risk for severe RSV infection include older adults, especially those 65 years and older.
https://www.cdc.gov/rsv/high-risk/older-adults.html
Respiratory syncytial virus (RSV) also called human respiratory syncytial virus (hRSV) and human orthopneumovirus, is a common, contagious virus that causes infections of the respiratory tract. It is a negative-sense, single-stranded RNA virus. Its name is derived from the large cells known as syncytia that form when infected cells fuse.
Although RSV is the single most common cause of respiratory hospitalization in infants, and reinfection remains common in later life: it is an important pathogen in all age groups.
It has been found that infection rates are typically higher during the cold winter months, causing bronchiolitis in infants, common colds in adults, and more serious respiratory illnesses such as pneumonia in the elderly and immunocompromised.
https://thorax.bmj.com/content/74/10/986
The virus is spread through contaminated air droplets and can cause outbreaks both in the community and in hospital settings.
Upon initial infection via the eyes or nose, the virus will infect the epithelial cells of the upper and lower airway, causing inflammation, cell damage, and airway obstruction.
https://journals.asm.org/doi/10.1128/CMR.00010-16
RSV causes respiratory illness characterized by cough, shortness of breath, runny nose and nasal congestion. Fever is less common but can occur. It can start as an upper respiratory illness, like a cold, that moves to the chest as a chest cold associated with cough and possibly pneumonia. Wheezing also may be a symptom in adults, particularly those with a chronic lung disease such as COPD or asthma.
A number of methods are available for viral detection and diagnosis of RSV including antigen testing, molecular testing, and viral culture.
https://pubmed.ncbi.nlm.nih.gov/28742304/
Basic prevention measures include hand-washing and avoiding close contact with infected individuals.
The prophylactic use of palivizumab is also available to prevent RSV infection in high-risk infants but in aged adults.
https://www.maine.gov/dhhs/oms/providers/provider-bulletins/use-palivizumab-pr ophylaxis-prevent-hospitalization-severe-respiratory-syncytial-virus-0
https://www.ncbi.nlm.nih.gov/pmc/articles/PMC7096974/
https://www.rch.org.au/rchcpg/hospital_clinical_guideline_index/Palivizumab_for_at-risk_patients/
https://www.ncbi.nlm.nih.gov/pmc/articles/PMC2920777/
https://www.tandfonline.com/doi/full/10.1080/21645515.2020.1843336
Currently there is no vaccine against RSV, although many are under development.
Current treatment for severe illness is primarily supportive, including oxygen therapy and more advanced breathing support with CPAP or nasal high flow oxygen, as required. In cases of severe respiratory failure, intubation and mechanical ventilation may be required.
Ribavirin is the only antiviral medication currently licensed for the treatment of RSV in children and also in adults though its use remains controversial.
https://www.ncbi.nlm.nih.gov/pmc/articles/PMC4345819/
Importantly, the common public must be made aware that the consequences of lower respiratory tract illnesses such as RSV can be severe, particularly for adults over 65 and those who have chronic underlying lung disease, heart disease or diabetes.
One of the reasons that persons with these diseases are at higher risk is because of the underlying disease ie the function of the heart, lungs and immune system are already compromised and less able to handle the stress associated with the infection.
Also, with the current COVID-19 pandemic that has stretched for three years. Millions of people who had exposure to the SARS-CoV-2 virus are likely to have weakened or dysfunctional immune systems and many are likely to suffer from COVID-19 induced immunodeficiency.
https://www.thailandmedical.news/news/why-is-no-one-warning-the-masses-that-the-sars-cov-2-spike-proteins-are-causing-major-immunodeficiency-issues-in-all-infected-individuals
https://www.thailandmedical.news/news/breaking-italian-study-validates-previous-claims-that-sars-cov-2-infections-causes-immunodeficiency-conditions-worse-than-hiv-infections
Hence more people are susceptible to opportunistic pathogenic infections including RSV.
Various
Health News
outlets are reporting that at present, the current global RSV surge is causing many children to end up being hospitalized.
https://edition.cnn.com/2022/11/03/health/rsv-hospitalizations-high-levels/index.html
https://www.washingtonpost.com/health/2022/10/21/rsv-spread-explained/
https://time.com/6226678/rsv-virus-kids-babies-symptoms/
One of the possible causes for this is that previous exposure to the SARS-CoV-2 virus could have also damaged the robust innate immune system of children.
https://www.thailandmedical.news/news/warning-newer-sars-cov-2-variants-have-evolved-to-overcome-the-robust-innate-immune-system-of-children-infants-and-children-are-more-vulnerable-now
But at the same time, it is concerning that no research teams have conducted any studies to assess whether a new strain of RSV could have emerged that is causing increased disease severity that is currently being seen.
Traditionally, RSV is classified into two distinct groups or subtypes, RSV-A and RSV-B, which diverged approximately 350 years ago and are based on antigenic and sequence-based variations predominately associated with RSV-G.
https://www.ncbi.nlm.nih.gov/pmc/articles/PMC6631838/
RSV exhibits seasonality with multiple genotypes, often in co-circulation with a dominance shift between RSV-A and RSV-B types every one to two years.
https://pubmed.ncbi.nlm.nih.gov/1995719/
Within each of these two groups, several genotypes have been identified and described.
https://pubmed.ncbi.nlm.nih.gov/15078950/
https://pubmed.ncbi.nlm.nih.gov/15994810/
https://pubmed.ncbi.nlm.nih.gov/25995258/
https://pubmed.ncbi.nlm.nih.gov/9747732/
Recently, several unique genetic modifications in RSV G have been identified, which include a 72-nucleotide duplication (referred to as the ON genotype) associated with RSV-A types and a 60-nucleotide duplication (referred to as the BA genotype) associated with RSV-B types.
https://pubmed.ncbi.nlm.nih.gov/25995258/
https://pubmed.ncbi.nlm.nih.gov/24856417/
https://pubmed.ncbi.nlm.nih.gov/22470426/
https://pubmed.ncbi.nlm.nih.gov/14573817/
In the cases of each of these two new genotypes, they have rapidly become the predominant forms found in circulation worldwide and appear to increase in vitro viral fitness and attachment.
https://pubmed.ncbi.nlm.nih.gov/26018171/
Worryingly, variations in RSV-A and RSV-B over time appear to correlate with the induction of anti-G monoclonal antibodies that recognize the primary epitopes, thus indicating immune-driven RSV evolution.
https://pubmed.ncbi.nlm.nih.gov/19119418/
There have been no comprehensive studies done on the possible evolution of the RSV virus in the last 2 years and with SARS-CoV-2 changing the mass human immune landscape, there is a very high possibility there has been a catalyzed evolution that must have spawned some new RSV variants.
Urgent studies are needed on this.
For more on the latest
Health News
, keep on logging to Thailand Medical News.