Indian Study Shows That XBB.1.16 Does Increase Risk For Disease Severity Contrary To Claims By Clueless 'Experts' Or Stupid Health Authorities!
COVID-19 News
: A new study by Indian scientists from the Byramjee Jeejeebhoy Government Medical College and Sassoon General Hospitals-Pune, the Indian Institute of Science Education and Research-Pune and the Indian Council of Medical Research-National Institute of Virology-Pune that focused on the XBB.1.16 variant which is currently causing a COVID-19 onslaught in India and its clinical profile has revealed that that infections with the XBB.1.16 is not mild as being projected by certain experts and health authorities in online news coverages and in fact a sizeable number of cases exhibited disease severity with almost 25.7 percent of the infected needing hospitalization and of these, almost 33.8 percent needed oxygen supplementation!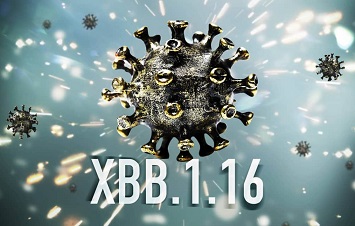 This flies in the face of the narrative pushed by certain health authorities from a particular South-East Asian nation and so-called experts who downplayed the severity of the variant in online news coverages in their state-controlled media. (Sadly the general population in that country will never know the true amount of individuals who actually died from COVID-19 in the various waves in that country!)
This new study from India's top scientists is sending shockwaves across the globe, revealing that the XBB.1.16 variant is not mild as previously claimed and as the XBB.1.16 variant starts to also become predominant elsewhere around the world, countries should start making preparations as to what is in store for them.
The
COVID-19 News
team at Thailand Medical News would also like to warn that as what we had hypothesized before, when a SARS-CoV-2 variant emerges in a particular geolocation within a population with a particular genetic profile, that variant is likely to cause more havoc, increased disease severity and increased mortality in populations in other geolocations due to different host genetic factors. We saw that to a certain extent with the Delta variant that emerged in India and caused more damage and increased fatalities in the United States and Europe!
The new Indian study examined the demographic and clinical data of COVID-19 cases from Maharashtra, one of India's hardest-hit states. The researchers collected and analyzed data from 2,944 sequences downloaded from the GISAID database. After data curation, 2,856 sequences were included in the study, with 693 from Maharashtra.
Out of the 386 clinical study cases from Maharashtra, 276 were infected with the XBB.1.16 variant. The study found that 92% of those cases were symptomatic. The most common symptoms included fever (67%), cough (42%), rhinorrhea (33.7%), body ache (14.5%), and fatigue (14.1%).
Additionally, the study found that 17.7% of XBB.1.16 cases had pre-existing comorbidities.
The severity of the XBB.1.16 variant does not discriminate against those who have been vaccinated. The study found that a whopping 91.7% of XBB.1.16 cases had received at least one dose of a COVID-19 vaccine. This alarming figure highlights the variant's ability to cause breakthrough infections.
The researchers also found that XBB.1.16 infections were resistant to six clinically available monoclonal antibodies, with only Sotrovimab retaining a certain degree of antiviral activity again st the XBB sub-lineages. This highlights the immune-evasive nature of the XBB.1.16 variant compared to other XBB sub-lineages.
With the XBB.1.16 variant spreading rapidly across the globe, this eye-opening study serves as a stark reminder that we cannot afford to let our guard down in the battle against COVID-19. It is now more important than ever to stay vigilant, continue practicing safety measures, and question the information provided to us by those in power.
The study findings were published on a preprint server and are currently being peer reviewed.
https://www.medrxiv.org/content/10.1101/2023.04.22.23288965v1
As the world continues to grapple with the devastating consequences of the COVID-19 pandemic, we must demand transparency and accuracy from our health authorities and experts. Misinformation, whether intentional or not, can have deadly consequences.
The media, on the other hand, plays a vital role in disseminating accurate information to the public. It is their responsibility to promote awareness about the XBB.1.16 variant's severity and the importance of adhering to public health measures. A well-informed public can make better decisions to protect themselves and their communities from the devastating impact of COVID-19.
The researchers call for further studies to understand the XBB.1.16 variant's epidemiology, immune escape potential, and the impact of vaccination on the severity of infection. They also highlight the importance of continuous genomic surveillance, combined with clinical data, to monitor the spread and evolution of SARS-CoV-2 variants. This crucial information can help inform public health policies, vaccine development, and therapeutic strategies in the ongoing battle against COVID-19.
Researchers should focus on developing effective vaccine strategies to counteract the XBB.1.16 variant's ability to break through existing vaccines.
Public health authorities must also re-evaluate their COVID-19 prevention strategies in light of the study's findings. Governments should also consider implementing stricter containment measures, such as social distancing, mask mandates, and travel restrictions, to curb the spread of this highly transmissible variant.
As the pandemic rages on, the world must learn from past mistakes and adapt its strategies to deal with emerging threats. The Indian researchers' work on the XBB.1.16 variant is a stark reminder that the fight against COVID-19 is far from over.
For the latest COVID-19 News, keep on logging to Thailand
Medical News
.