COVID-19 News: Study Finds That The Phytochemical Sesamin From Sesame Seeds Has Anti-COVID-19 And Anti-Inflammatory Properties
COVID-19 News
: As the COVID-19 pandemic continues to affect millions worldwide, there has been a growing interest in understanding the long-term consequences of the disease and finding effective treatments. One of the challenges posed by COVID-19 is the persistence of symptoms, known as "long COVID," which can include fatigue, joint pain, muscle pain, and other inflammatory issues. In addition, the virus itself can trigger hyper-inflammation, leading to further health complications. This
COVID-19 News
report explores a recent study that investigates the potential of sesamin, a phytochemical found in sesame seeds, as a promising candidate for combating COVID-19 and its associated inflammatory conditions.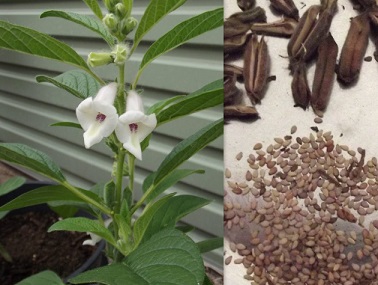 The Research Collaborators
Researchers from various institutions, including Hungkuang University in Taiwan, Nantou Hospital of the Ministry of Health and Welfare in Taiwan, Taipei Medical University in Taiwan, Tohoku University in Japan, De La Salle University in the Philippines, and Mapúa University in the Philippines, joined forces to conduct this groundbreaking study. Their collaborative efforts aimed to shed light on the anti-inflammatory, anti-osteoarthritis, and anti-COVID-19 properties of sesamin derived from sesame seeds.
The Global Impact of COVID-19
The COVID-19 pandemic has had a profound impact on the world, with over 700 million confirmed cases and nearly 7 million deaths reported to date. While acute symptoms of the virus typically include cough, shortness of breath, and fever, the aftermath of the disease has revealed a spectrum of persistent symptoms, often referred to as "long COVID." These long-term effects can include fatigue, joint pain, muscle pain, and other health complications, which may persist for weeks or even months.
Understanding the Relationship Between Inflammation and COVID-19
The COVID-19 virus is known to induce hyper-inflammation in the body, particularly through the elevation of cytokine levels. Inflammation can affect various body systems and lead to a range of health problems. Notably, COVID-19 can also trigger inflammation in the joints, potentially leading to osteoarthritis (OA). Long-term COVID-19 symptoms have been associated with joint damage and other inflammatory issues.
Exploring Sesamin's Anti-Inflammatory Properties
Numerous studies have highlighted the anti-inflammatory properties of sesame, primarily attributed to its major component, sesamin. In this recent study, researchers sought to investigate the extent of sesamin's anti-inflammatory capabilities, particularly in addressing OA and COVID-19-related inflammation.
Experimental Approach
The researchers employed a combination of in vivo and in vitro experiments to assess sesamin's anti-inflammatory activity. They conducted tests using the RAW264.7 and SW1353 cell lines to determine the compound's effects. In an in vivo experiment, a monoiodoacetic acid (MIA)-induced osteoarthritis rat model was utilized, administering sesamin at a dose of 20 mg/kg. The results demonstrated that sesamin effectively reduced paw swelling and joint discomfort, suggesting its potential in OA management.
The Impact on Inflammatory Mediators
The study also examined the impact of sesamin on various inflammatory mediators, including inducible nitric oxide synthase (iNOS), cyclooxygenase-2 (COX-2), and matrix metalloproteinases (MMPs). In the RAW264.7 cell line, sesamin was found to suppress the expression of both iNOS and COX-2 within a concentration range of 6.25–50 μM. Moreover, sesamin exhibited a suppressive effect on MMP expression in chondrocytes and the SW1353 cell line within the same concentration range.
Sesamin's Potential Anti-Viral Activity
In addition to its anti-inflammatory properties, the researchers delved into sesamin's potential anti-viral activity. An in-silico analysis was conducted to evaluate sesamin's binding affinity with key proteins, including SARS-CoV-2 RdRp (RNA-dependent RNA polymerase) and human ACE2 (angiotensin-converting enzyme 2). The results revealed that sesamin exhibited strong binding affinities towards both SARS-CoV-2 RdRp and human ACE2, with a notably higher affinity for the ACE2 target protein. This finding suggests that sesamin holds promise as an anti-SARS-CoV-2 agent, making it a candidate for drug development.
Study Implications And Future Directions
Inflammation and COVID-19
The research findings emphasized the critical role of inflammation in COVID-19-related mortality. The cytokines involved, including TNF, NF-κB, IL-1β, IL-6, and IL-8, are known to trigger downstream inflammation pathways and organ damage. Matrix metalloproteinases (MMPs) have been identified as key mediators of organ damage and inflammation. Clinical studies have shown a correlation between blood MMP levels in COVID-19 patients and disease severity, suggesting that MMP expression increases as the disease progresses.
Sesamin's Impact on Inflammatory Mediators
The in vitro studies conducted in this research demonstrated that sesamin has the ability to induce iNOS and COX-2, as well as MMP-3 and MMP-13. Importantly, inhibiting MMP-13 is crucial in the treatment of osteoarthritis. Sesamin was found to have a reversible effect on the expression of MMP-1, MMP-3, and MMP-13 in human articular chondrocytes (HACs) without affecting aggrecanase activity. Additionally, sesamin reduced the expression of MMPs induced by IL-1β, inhibited inflammatory gene expression, and halted collagen degradation, thus potentially mitigating the inflammatory response associated with osteoarthritis.
Sesamin's Impact on the Nrf2 Signaling Pathway
Clinical investigations using samples from patients undergoing knee replacement surgery revealed that sesamin activates the Nrf2 signaling pathway in chondrocytes affected by osteoarthritis. This activation resulted in an upregulation of HO-1 protein expression, suggesting that sesamin's anti-inflammatory effects may be attributed to its influence on the Nrf2 pathway.
Sesamin's Anti-Viral Potential
The molecular docking analysis conducted in this study shed light on sesamin's potential as an anti-viral agent. Sesamin displayed strong binding affinity with SARS-CoV-2 RdRp and human ACE2, crucial proteins involved in the virus's replication and entry into host cells. This suggests that sesamin has the capacity to limit viral entry and the entire replication process.
Conclusion
In conclusion, the COVID-19 pandemic has not only posed immediate health risks but also led to long-term health complications, including persistent inflammation and joint-related problems. Sesamin, a phytochemical derived from sesame seeds, has shown promise in mitigating these issues. It demonstrates anti-inflammatory properties, particularly in addressing osteoarthritis and COVID-19-related inflammation. Moreover, sesamin has exhibited strong binding affinities with key proteins involved in the SARS-CoV-2 virus, suggesting its potential as an anti-viral agent. As researchers continue to explore the multifaceted properties of sesamin, it holds the promise of being a valuable component in the development of drugs with both anti-osteoarthritis and anti-COVID-19 capabilities, ultimately improving the quality of life for those affected by these conditions.
The study findings were published in the peer reviewed journal: Bioengineering.
https://www.mdpi.com/2306-5354/10/11/1263
For the latest
COVID-19 News
, keep on logging to Thailand Medical News.