Pueraria mirifica is a plant that grows in Thailand, India and other parts of Southeast Asia. For centuries, the roots of Pueraria mirifica have been used as a traditional Thai antiaging and rejuvenation medicine to promote youthfulness in women.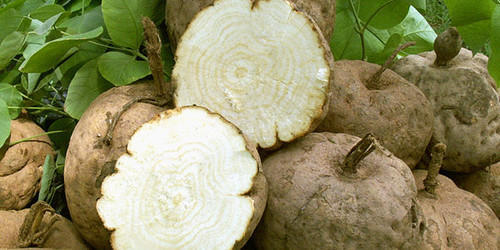 Relieves Menopausal Symptoms
One of the main phytochemicals found in
Pueraria mirifica
is a type of chemical that mimics the hormone estrogen. Known as phytoestrogens, they are abundant in the plant and its herbal supplements are usually used to treat symptoms of menopause due to the strong estrogenic effects.
Due to menopause, the level of estrogen decreases in the body leading to uncomfortable symptoms. Taking
Pueraria mirifica
supplements shows improvements in menopausal stage symptoms such as hot flashes, vaginal dryness, irritability, irregular or absent periods.
Aids Vaginal Health
Pueraria mirifica
may be an effective topical therapy for promoting the health of vaginal tissue and treating vaginal dryness.
One study evaluated the effectiveness of a gel containing 1%
Kwao Krua
on vaginal tissue. The topically applied gel significantly improved the tissue's health, pH, and skin tone.
When compared to estrogen creams,
Kwao Krua
creams tend to stand out as being more effective in treating conditions such as vaginal dryness and vaginal irritation.
It has also been known to be good for women after childbirth and also for women having frequent sex in terms of helping the vaginal tissues repair and heal.
Promotes Bone Density
Insufficient estrogen can lead to bone loss especially in menopausal or post-menopausal women and supplementing with
Pueraria mirifica
has shown to improve bone density and also prevent osteoporosis.
Enhances Antioxidant Activity
Antioxidants are chemical compounds that reduce levels of stress and oxidative damage within your body, which may otherwise cause disease.
Some test-tube research suggests that
Pueraria mirifica
may have antioxidant properties and that it also enhances the function of other antioxidants present in the body.
Anticancer Effects
Another possible health benefit of
Pueraria mirifica
is its potential to slow the growth of cancerous cells and tumors.
Some test-tube studies suggest that the plant and its phytoestrogen compounds may inhibit the growth of several breast cancer cells. A phytochemical called
miroestrol
found in the plant was found to have cancer protective effects in mouse trials.
r />
Promotes Cardiovascular Health


Pueraria mirifica may also benefit your heart health, especially since heart health may be affected by decreased estrogen levels during and after menopause.


Estrogen is involved in the metabolism of fats and sugars within your body. Reduced estrogen levels can negatively influence factors that affect your heart health, such as higher cholesterol, increased inflammation, and weight gain


Studies have shown that supplementing with Pueraria mirafica helps to lower cholesterol levels and prevent cardiovascular diseases.


Supports Brain Health


Estrogen plays an important role in maintaining a healthy brain and nervous system


Studies show that estrogenic compounds present in Kwao Krua may protect against the damage to the brain and nervous system that may occur as a result of decreased estrogen levels.


Miroestrol found in the plant has shown significant reduction in mental decline and oxidative stress within the brain tissue in individuals consuming it.


Recommended Dosage and Side Effects


Most research has shown that doses of 25–100 mg seem safe with no apparent adverse reactions reported.


There has been very few negative side effects documented with Pueraria mirafica supplements compared with so much medical news announcing its merits. But that does not mean that taking the supplement is risk-free.


Pueraria mirifica is often marketed as a "safer" alternative to conventional hormone and estrogen replacement therapies, which are known to come with serious side effects, including increased risk of cancer, blood clots, heart attacks, and stroke


Thailand Medical News recommends consulting your doctor always before taking any herbal supplement to treat a medical condition.