Mexicans Start Suing China And The WHO For COVID-19 Compensations. Other Countries And Nationalities Expected To Also Do the Same!
Mexicans have started the initiative of suing China and also the World Health Organization for
COVID-19 compensation
and many are signing up for an international legal claim promoted by Buenos Aires-based Poplavsky International Law Offices.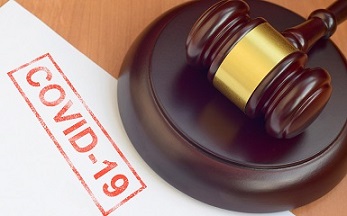 It is believed that many other international law firms around the world are also planning to coordinate with each other to start similar programmes in many other countries for the citizens affected by the COVID-19 pandemic irrespective of whether their own governments are going to do so on a government to government basis.
Have A Heart And Do Not Ignore This Appeal For Help! Please help support this website and also our research and community initiatives by making a donation. Your help saves lives directly and indirectly. Thank You.
https://www.thailandmedical.news/p/sponsorship
Some legal firms besides taking legal actions against the Chinese government and the WHO as whole entities are also planning to take individual cases against the various key appointment holders in the WHO including Tedros Adhanom Ghebreyesus, the black Ethiopian national who is director general of the WHO, Michael Ryan-the WHO's emergencies director, Maria Van Kerkhove-WHO's epidemiologist, Soumya Swaminathan-Chief Scientist at the World Health Organization and Benedetta Allegranzi- key technical coordinator at WHO. Once criminal and civil cases are made against these individuals, they can be arrested upon landing in certain countries irrespective of the functional diplomatic immunity they might have. The same are also planned against certain key Chinese government officials.
The SARS-CoV-2 coronavirus emerged in Wuhan China in late 2019 and it is said that the Chinese government was not only trying to cover up the emergence but was also irresponsible in letting its Chinese citizens act as human vectors which caused the spread of the SARS-CoV-2 coronavirus around the world.
As a result of the irresponsible Chinese people, the world is current in a mess with many people who have died or have been inflicted with the virus and hundreds of millions more economically devastated. The irresponsible Chinese are however arrogant and have never apologized to the rest of the world for the mess that they have caused.
The WHO especially its director general has been very close and defensive of the Chinese and coupled with many stupid and fake information disseminated by WHO officials in the beginning of the pandemic, their incompetence has caused the virus to wreak havoc around the world.
Jaime Michaus, devastated by the loss of his daughter to COVID-19, joined hundreds of Mexicans seeking compensation from China and the World Health Organization, despite reservations and uncertain prospects of success.
Michaus told media reporters, "I'm still not sure if I did the right thing. I have mixed feelings because it seems like I'm profiting from the death of my daughter who died aged 25 in July, leaving behind a month-old baby. No amount of money is going to bring her back, but I'm doing it for the future of my granddaughter.&a mp;quot;
The 63-year-old retiree said that he estimated that he has a 50 percent chance of winning.
He too like thousands of other Mexicans, recently signed an international legal claim again China and the WHO promoted by Buenos Aires-based Poplavsky International Law Offices.
The law company woos potential clients on social media in Mexico with the slogan: "Did you suffer from COVID? Know your rights."
Denisse Gonzalez, Poplavsky's representative in Mexico, told media, "These legal claims are being submitted due to the negligence of both China and the WHO in the management of COVID-19. We have sufficient documented evidence to pursue our case."
The law firm, which has branches in Latin America, the United States and Dubai, says it has also signed up claimants from other countries including Colombia and Argentina.
The legal claims, amounting to billions of dollars, are presented to the United Nations in Geneva alleging violations of the Universal Declaration of Human Rights.
The law firm is seeking financial compensation ranging from US$$200,000 for falling ill with COVID-19 to US$800,000 in the case of death.
The WHO chief Tedros Adhanom Ghebreyesus on Wednesday defended the organization's early response to the initial coronavirus outbreak, saying that its health emergency system had "immediately swung into action." However documented evidence is showing the incompetence and failure of the organization to take necessary actionsin time to prevent the spread of the virus.
The COVID-19 pandemic so far has left more than 5.45 million people dead worldwide since it was first detected in the Chinese city of Wuhan in December 2019.
It was reported that Mexico suffered more than 300,000 COVID-19 deaths ie one of the world's highest tolls and more than 3.95 million confirmed cases.
A 35-year-old female gas station employee who is also seeking compensation after catching the virus told media, "I had never suffered from high blood pressure and now it goes up and down, which is dangerous. I was left with ringing in one ear. My vision was also blurry and I have to wear glasses."
The law firm Poplavsky said that its fees will be covered by a percentage of any compensation.
Jaime Michaus declined to reveal the percentage he had agreed to pay in the event of a win, but said that he considered it to be fair.
Poplavsky, the law firm believes that the claims could take at least five years to resolve. It hopes that at some point countries such as the United States, Britain or Italy will support similar claims from their citizens that would benefit others seeking compensation.
There also other separate attempt to bring a collective claim against China before the Mexican courts initiated by other legal groups.
Not only in Mexico but also in Brazil, Argentina, Nigeria and other African states, it was reported that certain unhappy groups are also calling for the WHO officials to leave their countries and calling for the media and common people to spit at any WHO official or doctor. s a sign of protest.
Some militant groups in Europe, America, Africa and elsewhere in Asia are also making threats online that should the legal recourse against the Chinese government and WHO fail, they will start taking actions into their own hands.
Many in Europe, Australia, United States, Canada,Philippines, Africa, Sri Lanka, India and certain Middle-East Countries and South American countries are calling for a boycott of Chinese products, Chinese firms and Chinese tourists.They are also calling for sanctions against China and also countries that support or are close with China.
Have A Heart And Do Not Ignore This Appeal For Help! Please help support this website and also our research and community initiatives by making a donation. Your help saves lives directly and indirectly. Thank You.
https://www.thailandmedical.news/p/sponsorship
For more about COVID-19 legal actions against China and WHO, keep on logging to Thailand Medical News.