COVID-19 News: BA.2.86 Has Not Been Detected In China As Claimed By Fake News Disseminated By Indian Health Site. But Yes, COVID-19 Gradually Rising
COVID-19 News
: In the last few hours, the online community has been abuzz as a result of fake news being disseminated by an Indian health site and whose fake news article about BA.2.86 being detected in China was even promoted by the Google news platform! (We shall not list the URL of that site as it will enhance their SEO ranking and also traffic!).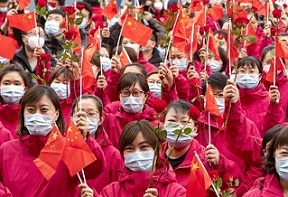 Masking Is Common In China, Pic Credit: Xinhua
Chinese authorities have confirmed that to date, there has been no detection of the BA.2.86 variant in any of genomic sequencings done in the country and will be launching an inquiry via diplomatic channels as to how the Indian writer by the name of Satata Karmakar had come up with such allegations without providing alny sources in her article as it could damage the country's image and also cause economic issues. Such fake news disseminated in India also erodes the credibility of Indian media and the reflects badly on the level of journalism in India!
It is however true as covered by other
COVID-19 News
coverages that China is at the moment gradually witnessing a gradual increase in COVID-19 infections but again….it is not as massive as what was exaggerated in many Western media a couple of weeks ago with claims that millions are infected and millions are dying etc!
Yes, China has embarked on a policy of no longer divulging COVID-19 statistics similar to many Western countries but there are no millions being infected and millions dying scenario as this can be easily verified by local social media postings coupled with verification by millions of Chinese citizens who are travelling worldwide for holidays, business, studies etc.
Chinese authorities have openly admitted that they are grappling with a resurgence in COVID-19 cases, mirroring the global trend, and concerns are mounting about the dominance of the EG.5 variant, which has the ability to evade immunity. But at the moment, COVID-19 infections still remain low. Furthermore despite the gradual increase in COVID-19 cases, severe illness and death rates remain relatively low.
https://www.scmp.com/news/china/science/article/3231447/chinas-rising-covid-cases-and-new-variant-spark-concerns-about-third-wave
https://www.chinadaily.com.cn/a/202308/21/WS64e2b14ea31035260b81d36e.html
https://news.cgtn.com/news/2023-08-20/Prevalence-of-COVID-19-in-China-remains-low-despite-rise-in-EG-5-cases-1mpSFPJUgEw/index.html
The gradual rise of COVID-19 infections in the country have prompted discussions about the possibility of a "third wave" of COVID-19 in the country.
The Chinese Centre for Disease Control and Prevention (CDC) reported a decline in infection rates from late May to mid-July, hitting a low of 12 percent, but a slight rebound was observed, reaching 13.4 percent by the end of the month. This echoes the global pattern of rising COVID-19 cases, with the World Health Organization (WHO) noting an 80 percent increase in new cases between July 10 and August 6 compared to the previous month.
Infectious disease expert Dr Peng Jie noted an upswing in COVID-19 patients in Guangdong province, attributing this increase to waning immunity among individuals previously infected with the virus. This phenomenon is expected to generate intermittent waves of infection.
Adding to the concerns is the EG.5 variant, classified as a "variant of interest" by the WHO, and it is now gaining dominance among strains in Guangdong's Foshan city.
Originating in February, the EG.5 variant is a descendant of the Omicron variant XBB.1.9.2 and carries a mutation that allows it to bypass antibodies generated against earlier variants and vaccines.
Globally, EG.5 infections have been on the rise, reaching 17.4 percent prevalence by mid-July, up from 7.6 percent a month prior. In fact, it has recently become the dominant variant in the United States.
Despite the surge in cases, the number of severe cases and deaths in China decreased in July compared to June, according to data from China's CDC. The WHO maintains that the public health risk posed by EG.5 remains low on a global scale. While speculation about a third wave has circulated on Chinese social media, virologist Dr Jin Dong-yan cautioned that it's too early to definitively label the recent increase as a third wave due to changes in testing policies and monitoring capabilities in mainland China.
The China CDC also reported that the EG.5 substrain of the Omicron variant has become the primary cause of COVID-19 infections in the country, accounting for 71.6 percent of cases in the current month, up from a mere 0.6 percent in April.
Despite its classification as a variant of interest by the WHO, the center stated that it doesn't pose a greater threat than other variants. It also mentioned that those who were infected with the XBB substrain from April to June would likely have immunity against EG.5.
The spread of EG.5 hasn't strained medical infrastructures in any part of the world so far except for the United Kingdom which has for long had problems with its healthcare system irrespective of any COVID-19 waves or surges!
Even the U.S. CDC highlighted that there is no evidence suggesting EG.5 leads to severe symptoms, even as more infected individuals are being admitted to hospitals in various countries. While the overall risk is considered low, WHO Director-General Tedros Adhanom Ghebreyesus cautioned that EG.5's genetic features, immune evasion traits, and growth rate could contribute to a global surge in cases. The U.S. CDC recommended that the elderly and those with underlying health conditions continue wearing masks in public transportation and indoor spaces to protect themselves.
For the latest
COVID-19 News
, keep on logging to Thailand Medical News.