COVID-19 News: Japan Confirms 11,589 New COVID Cases And 20 Deaths In Last 24 Hours As It Prepares To Lift Travel Restrictions
COVID-19 News
: On Tuesday, Japan's health ministry reported 11,589 new cases of COVID-19 and 20 deaths. The number of seriously ill patients declined by two from Monday, totaling 55. In comparison to the previous week, new case numbers increased in 37 prefectures and decreased in 10 others.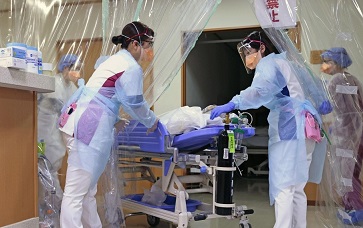 Tokyo experienced a significant rise in cases, with 1,696 new infections, up 206 from a week ago, and one death. The number of seriously ill patients in the capital also increased by one from Monday to six. It is the first time in two months that new cases have surpassed 1,500.
Japan's new COVID-19 onslaught is being driven by a variety of new XBB lineages including XBB1.16, XBB.2.3, XBB.1.9.1, XBB.1.9.2 and also their newer spawns. All these XBB sub-lineages are causing breakthrough infections despite previous exposure to the virus or despite receiving the mRNA shots or boosters.
https://cov-spectrum.org/explore/Japan/AllSamples/Past6M
Japan is preparing to lift its remaining COVID-19 border restrictions on May 8, 2023, making travel to the country more convenient for tourists and business travelers. Japan's Minister of Foreign Affairs announced that visitors would no longer need to provide proof of vaccination or a negative COVID-19 test upon arrival. This decision comes as Japan plans to reclassify COVID-19 from a Class 2 virus to Class 5, which includes less serious diseases such as the common cold and seasonal flu.
It was also announced in various local
COVID-19 News
coverages that Japan's COVID-19 vaccination program will also be altered. Beginning on May 8, eligible individuals will need to receive their vaccinations within a specified timeframe. The government will no longer allow people to receive their shots whenever they choose, provided a certain amount of time has passed since their last dose. Vaccination tickets will be distributed differently depending on the municipality, so it is crucial to confirm vaccination schedules to avoid missing out.
Japan's vaccination program, which began in February 2021, has provided up to five doses for people aged 12 and older, with additional rounds available for the elderly and those with underlying health conditions. The new system will maintain free vaccinations but will limit the number of additional shots for those who have already received two or more doses. There will be two inoculation periods set for this fiscal year: one in spring and summer (May 8 to August) and one in fall and winter (from September onward).
In general, individuals who have received two or more vaccinations will only be able to get one shot for the year during the fall and winter round. Exceptions include people aged 65 and older, those with underlying medical conditions, health care workers, and caregivers, who will be eligible for shots in both periods. At least three months must pass between vaccinations. Vaccines targeting the omicron variant will be used in the spring and summer round. Those who have not received the omicron vaccine and do not wish to wait for the fall and winter round must get it by May 7.
For children aged 5 to 11 who have had at least two doses, fall and winter boosters are planned. Since omicron vaccine boosters only began in March for this ag e group, they will still be able to get doses until August, unlike the 12-plus demographic. Children with underlying medical conditions can receive an additional booster in the spring and summer round if their last shot was at least three months prior. Children aged 6 months to 4 years will continue to be eligible for their first to third doses at any time.
For the latest
COVID-19 News
, keep on logging to Thailand Medical News.