BREAKING! Horrifying Variant Of Concern B.1.1.529 Now Renamed As Omicron Variant By WHO. Experts Predict Omicron Could Already Be Spreading Silently In 25 Countries!
The WHO or World Health Organization has in the last few hours classified the B.1.1.529 variant as a Variant of Concern (VOC) and also renamed it as the
Omicron variant
.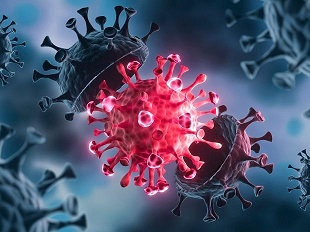 The great news is that this highly transmissible variant that is definitely immune and vaccine evasive due to the constellation of the 32 mutations found just on its spike mutations and another 27 on the rest of its genome with many already known for their immune evasive properties is already predicted to be circulating silently and undetected in at least 25 countries according to experts who used modelling platforms involving flight schedules out of South Africa in just the last 5 days. But it should be noted that the initial detection of the Omicron variant among travelers was as early as 11
th
of November 2021.
The fact that the variant is not detectable by many existing PCR platforms and also by ATK test and that many travelers initially do not exhibit symptoms till the viral load hits a certain threshold and the causes the whole body system to collapse, makes it extremely hard for early detection while the infected are in the infectious phases.
Many experts are warning that unless the world unitedly imposes a general shut down of borders for a period of time and ban all flights and also inter border travel via land or sea, the new Omicron variant will spread faster than Delta globally and change the whole course of the COVID-19 pandemic.
To date, the US, UK, EU states and Switzerland have halted travel to and from seven African nations and other countries including the UAE, Israel, Japan, Kenya and Singapore have also restricted travel but these measures will not suffice.
The South variant has already been confirmed in Malawi, Botswana, South Africa, Hong Kong, Israel and Belgium and is also believed to be already in France, Germany, Netherlands, UK, USA, Singapore, Philippines, Qatar, Egypt, UAE, Malaysia, Myanmar, Nigeria and other countries in Africa but genomic sequencings of suspected cases are needed to verify the presence of the variant.
It was reported that acting on advice from US health officials, US President Joe Biden will restrict travel from South Africa, Botswana, Zimbabwe, Namibia, Lesotho, Eswatini, Mozambique and Malawi soon.
Canada is also shutting its borders to foreign travelers who have recently been to South Africa, Namibia, Lesotho, Botswana, Eswatini, Zimbabwe and Mozambique. Foreign citizens will be banned from Canada if they have been to the seven nations in the past 14 days.
The World Health Organization's Technical Advisory Group on SARS-CoV-2 Virus Evolution (TAG-VE), an independent group of experts, met Friday to discuss the variant, a WHO statement said.
The experts recommended WHO designate the variant as "of concern," referencing the variant's large number of mutations, the possibility of increased risk of reinfection and other evidence.
Various studies are underway in the US, UK and South Africa, and WHO will update member states and the public as needed, the WHO statement said.
The World Health Organization called on countries to enhance their surveillance and sequencing efforts to better understand coronavirus variants.
Joe Phaahla, South Africa's Minister of Health said stressing it is currently unclear where the variant first emerged, "Initially it looked like some cluster outbreaks, but from yesterday, the indication came from our scientists from the Network of Genomic Surveillance that they were observing a new variant."
Initially South African officials said there was one confirmed case in a traveler from South Africa to Hong Kong. Then Hong Kong health authorities on Friday identified a second case of the B.1.1.529 variant among returning travelers on the same floor of a designated quarantine hotel.
Yesterday, the Belgian government said one individual who had recently arrived from abroad, and was not vaccinated, had tested positive for the new variant, marking the first case in Europe. Also a few hours before that, Israel also said that they had detected a case.
Dr Tulio de Oliveira, the director of South Africa's Center for Epidemic Response and Innovation, said the variant has "many more mutations than we have expected," adding it is "spreading very fast, and we expect to see pressure in the health system in the next few days and weeks."
Dr Neil Ferguson, the director of the MRC Centre for Global Infectious Disease Analysis at Imperial College London, said that the number of mutations on the spike protein was "unprecedented."
Dr Ferguson told Thailand
Medical News
, "The spike protein gene is the protein which is the target of most vaccines. There is therefore a concern that this variant may have a greater potential to escape prior immunity than previous variants."
Despite a total of 59 mutations on the genome of the new variant with 32 just on the spike protein(note that the Delta only has 17 mutations on its spike protein), the virus is still exhibiting that it is very stable, dispelling and contradicting comments from certain stupid virologists that if a virus has too many mutations, it will be unstable and gradually die off.
Typically, viruses, including the one that causes Covid-19, mutate regularly and most new mutations do not have significant impact on the virus's behavior and the illness they cause.
However, from the case reports so far of those that were found infected with the new Omicron variant, there are may unusual clinical manifestations that are worrying researchers not just in terms of both immune and vaccine evasiveness.
The dean of Brown University's School of Public Health, Dr Ashish Jha, told media that the variant was "acting differently," however, and it "looks like it's much more contagious than even the Delta variant."
Dr Sharon Peacock, a professor of Public Health and Microbiology at the University of Cambridge, said while the overall number of Covid-19 cases is relatively low in South Africa, there has been a rapid increase in just the past seven days.
Dr Peacock said while 273 new infections were recorded on November 16, the figure had risen to more than 1,200 cases by November 25, with more than 80% coming from Gauteng province in South Africa alone.
She said, "The epidemiological picture suggests that this variant may be more transmissible, and several mutations are consistent with enhanced transmissibility."
Read Also:
https://www.thailandmedical.news/news/breaking-preliminary-studies-now-show-that-b-1-1-529-is-about-500-times-more-infectious-than-delta-and-has-about-2-to-3-furin-cleavage-sites
https://www.thailandmedical.news/news/great-news-a-new-horrifying-sars-cov-2-variant-b-1-1529-with-a-high-number-of-worrying-mutations-has-emerged-in-time-for-the-festive-season
Please help to sustain this site and also all our research and community initiatives by making a donation. Your help means a lot and helps saves lives directly and indirectly.
https://www.thailandmedical.news/p/sponsorship
Thailand Medical News will be providing updates on the
Omicron variant
as more details emerge and readers are advised to keep on logging in to the site.