Omicron Found In South Korea, In U.S. 12 States Now Have The Omicron, 30 Countries Outside Africa And 10 Inside Africa Have The Omicron
Omicron Updates
:
Omicron Variant Found In South Korea.
South Korea that is already undergoing a new surge in COVID-19 infections due to newly emerging Delta subvariants, has also detected the Omicron variant on its soil.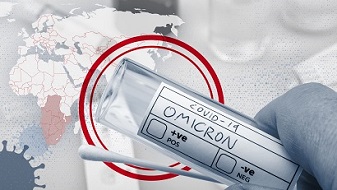 South Korea has reported daily records in coronavirus infections and deaths and confirmed three cases of Omicron as officials scramble to tighten social distancing and border controls.
In the last 24 hours, the country's daily coronavirus cases recorded an all-time high of 5,352, the highest daily number since COVID-19 was first reported in the country in January 2020.
Importantly new cases of critically ill patients also hit record highs at 16 on Friday and deaths also hit record highs of 70 the day earlier and some experts attribute this to the emergence of more worrisome Delta subvariants. Investigations and studies are underway and more details are expected in coming day.
As of now, a total of 30 countries outside of the African continent that has the omicron variant including Austria, Australia, Belgium, Brazil, Canada, Czech Republic, Denmark, Finland, France, Germany, Greece, Hong Kong, Japan, India, Iceland, Israel, Italy, Malaysia, Netherlands, Norway, Portugal, Spain, Saudi Arabia, Singapore, South Korea, Sri Lanka, Sweden, UAE, United Kingdom and the United States.
In the African continent, a total of 10 countries have Omicron variant including South Africa, Botswana, Nigeria, Namibia, Zambia, Angola, Cameroon, Congo, Malawi and Zimbabwe was the latest. Another 22 out of the 54 countries in the African continent have suspected cases of infection by the Omicron variant and are pending confirmations via genomic sequencings.
Besides South Africa, Omicron cases are also reportedly surging in Zambia, Zimbabwe, Nambia and also Nigeria.
Omicron In 12 States In America Now
America is also witnessing a COVID-19 surge mainly driven by the Delta variant. Daily infections are averaging 96,000 new cases a day and hitting hard in the Upper Midwest to New England. New Hampshire led the country in new cases per capita last week.
Meanwhile at least 32 cases of the Omicron COVID-19 variant have been reported across 12 states in America ie 7 cases in California, 1 in New Jersey in a Georgia resident, 1 in Utah, 2 in Colorado, 1 in Missouri, 1 in Pennsylvania, 3 in Maryland, 6 in Nebraska, 1 in Hawaii, 8 in New York, 1 in Minnesota and 1 in Massachusetts.
A number of suspected community transmissions in New York and California are undergoing genomic sequencings to verify if the new infections are related to the Omicron variant.
Experts predict that the situation in America is expected to worsen drastically in coming weeks and more than another 110,000 Americans expected to die from COVID-19 from now till the end of February 2022.
To date almost 50 million people in the United States have been infected with the SARS-CoV-2 coronavirus and more than 808,000 Americans have died from the COVID-19 disease according to official figures.
https://www.worldometers.info/coronavirus/
In reality a higher numbe r of Americans have been infected and have died from the COVID-19 disease, reflecting how poorly the disease has been managed in a supposed wealthy and developed country.
Also, statistical data has shown that more Americans have died from COVID-19 under the Biden administration than under the Trump administration and the figure is still increasing.
https://www.thailandmedical.news/news/more-americans-died-from-covid-19-under-the-biden-administration-in-2021-than-under-trump-and-the-figures-are-still-increasing
Please help to sustain this site and also all our research and community initiatives by making a donation. Your help means a lot and helps saves lives directly and indirectly and we desperately also need financial help now.
https://www.thailandmedical.news/p/sponsorship
For the latest
Omicron Updates
, keep on logging to Thailand Medical News.