South Korea's News Agency Yonhap Says COVID-19 Cases Dropping As Only 19,080 Cases In Last 24 Hours But Failed To Say Testing Rates Are Down!
COVID-19 News
: As an example as to how governments and state media agencies in cahoots with them are trying to downplay or minimize the seriousness of the ongoing COVID-19 pandemic and release misleading news articles,…. in the last few minutes, South Korea's controlled news agency, Yonhap released details of the COVID-19 situation in the country with a head lines showing that there is a downtrend in COVID-19 infections!
https://en.yna.co.kr/view/AEN20230525002500320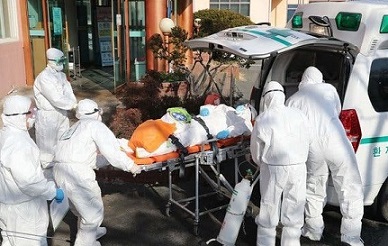 The
COVID-19 News
coverage said that South Korea's new COVID-19 cases stayed below 20,000 on Thursday, a mild drop from a week ago, extending the downtrend as the country is regaining pre-pandemic normalcy.
Quoting the Korea Disease Control and Prevention Agency (KDCA), the news agency said that there were 19,080 new infection cases, including 24 imported cases in the last 24 hours, bringing the total caseload to 31,611.
By not furnishing details of the actual testing rates and the test positivity rates, the news coverage by Yonhap is simply misleading!
The news agency also reported that the country reported only 17 COVID-19 deaths in the last 24 hours, raising the death toll to 34,736 while the number of critically ill patients came to 173, up by six from Wednesday.
The news agency emphasized that Thursday's count is down by 2,713 from a week earlier and a drop from 20,567 reported two weeks before, continuing the moderate decline in the daily infection numbers.
While the agency reported based on details released to them from the country's health officials, key questions like what was the testing rate and what was the test positivity was never asked nor covered.
In fact, many unhappy healthcare staff in the country are complaining that testing rates are down drastically and even many public hospitals and polyclinics are not conducting test for outpatient with mild symptoms and are merely sending off with simple NSAIDs and other basic medications to deal with their symptoms as per the directives set by the senior administrative directors of these establishments.
Forget about the monitoring of asymptomatic infections and transmissions in the country..it is literally non-existence and as far as the long term implications of COVID-19 are concerned i.e. Long COVID or Post COVID complications, many state health authorities are simply considering it as non-existent or do not want to address these issues!
None of the local media agencies or online outlets are questioning about COVID-19 related deaths or Post COVID deaths or about the excess death rates.
Many local physicians worried about the rise in post COVID heart failures and strokes, many with fatal outcomes.
South Korean health authorities are planning to downgrade the national crisis level for COVID-19 to "alert" from "serious" next week. Starting June 1, the mask mandate will only be applied to hospitals with inpatient rooms and residential-type high-risk facilities. The mandatory isolation per iod also will be reduced to five days as a recommendation, from the seven-day requirement.
Such incidences of COVID-19 minimization are also occurring in many other countries, where governments under the influence of those controlling the global COVID-19 narratives, are downplaying COVID-19 onslaughts and to not reveal true COVID-19 statistics. There are so many strategies being used by them to conceal true data including the manner of reporting and omitting out critical information. Furthermore, many mainstream media that are either controlled by the governments or are receiving monies from them simply oblige to disseminate these misleading statistics without any real investigative journalism initiatives nor even asking the right questions.
We are warning readers that what is being written in many mainstream media about the current COVID-19 crisis is really questionable and to beware of those that say that the COVID-19 crisis is over or that the virus is now mild and is now endemic or that we have to learn to live with the virus and that the current boosters work and prevents disease severity and risk of mortality or that we have effective antivirals that work!
For the latest
COVID-19 News
, keep on logging to Thailand Medical News.