COVID-19 News: Swiss Study Shows That Circulating Calprotectin Levels Are Still Elevated After Four Months For Both Severe And Non-Severe COVID-19 Patients!
COVID-19 News
: The COVID-19 pandemic has presented a myriad of challenges to the global healthcare community, with patients experiencing a wide range of symptoms and complications during and after infection. Among these post-infection complications, a condition known as "Long COVID" has emerged, characterized by persistent symptoms that can last for months. Numerous studies and
COVID-19 News
reports have also validated that Long COVID is growing health issue. The underlying mechanisms of Long COVID remain enigmatic, but growing evidence suggests that inflammation may play a significant role.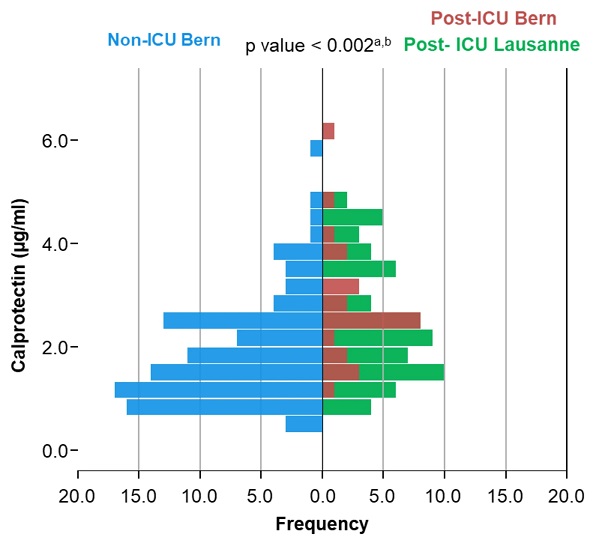 Calprotectin in Post-COVID-19: Bern and Lausanne Cohorts
Frequencies of serum calprotectin levels (µg/ml) in the non-ICU cohort (blue) vs. the post-ICU cohorts (Bern: red, Lausanne: green)
A recent Swiss study conducted by Bern University Hospital and the University of Bern sheds light on one potential biomarker of post-COVID-19 inflammation: calprotectin. Calprotectin, an inflammatory marker primarily released by activated neutrophils, has been linked to severe acute COVID-19. This study explores its association with persistent lung functional impairment and intensive care unit (ICU) stays in COVID-19 patients, shedding light on its potential relevance in Long COVID.
Methods
The study examined 192 post-COVID-19 patients, dividing them into three groups: non-ICU patients from Bern (n=99), post-ICU patients from Bern (n=25), and post-ICU patients from Lausanne (n=68). Various clinical parameters, including age, BMI, pre-existing comorbidities, and lung function, were assessed. Serum calprotectin levels were measured four months after COVID-19 infection.
Results
-Clinical Characteristics
: Post-ICU patients were older, predominantly male, and had higher BMI compared to non-ICU patients. Arterial hypertension was a prevalent comorbidity in post-ICU patients.
-Lung Function Impairment
: Post-ICU patients exhibited significantly lower lung function measurements, particularly reduced diffusing capacity for carbon monoxide (DLCO), compared to non-ICU patients. This impairment was consistent with previous studies reporting reduced lung diffusion capacity after severe COVID-19.
-Calprotectin Levels
: Post-ICU patients had notably higher serum calprotectin levels compared to non-ICU patients. Calprotectin concentrations were similar between post-ICU patients with and without lung impairment.
-Correlation with Lung Function
: Serum calprotectin levels correlated negatively with DLCO, forced vital capacity (FVC), and total lung capacity (TLC) predicted percentages. This suggests that higher calprotectin levels are associated with greater lung impairment.
-Regression Analysis
: Multiple linear regression analysis revealed significant associations between calprotectin levels and age, BMI, and desaturation during a six-minute walking test.
Discussion
The study's findings provide valuable insights into the relationship between elevated calprotectin levels and persistent lung impairment in post-COVID-19 patients. Here are key takeaways:
-Calprotectin as a Biomarker
: Serum calprotectin levels were significantly higher in patients with a severe COVID-19 course that required ICU admission. This suggests that calprotectin may serve as a valuable biomarker to differentiate between mild/moderate and severe cases.
-Persistent Lung Impairment
: The study confirms previous research indicating that lung impairment persists after severe COVID-19. Calprotectin's correlation with lung function parameters, particularly DLCO, suggests that inflammation may play a role in persistent lung dysfunction.
-Implications for Long COVID
: While the study sheds light on the potential role of calprotectin, further research is needed to better understand the association between inflammation and persisting pulmonary dysfunction in Long COVID. Additionally, larger-scale studies are required to validate these findings in the broader context of Long COVID research.
In conclusion, this Swiss study underscores the significance of calprotectin as a potential biomarker for severe COVID-19 and its association with persistent lung impairment. As the world continues to grapple with the aftermath of the COVID-19 pandemic, research into Long COVID remains crucial to provide better care and support for affected individuals. Calprotectin offers a promising avenue for further investigation in this regard, holding the potential to improve our understanding of Long COVID's underlying mechanisms and guide clinical management.
The study findings were published in the peer reviewed journal: BMC Infectious Diseases.
https://bmcinfectdis.biomedcentral.com/articles/10.1186/s12879-023-08653-7
For the latest
COVID-19 News
, keep on logging to Thailand Medical News.