BREAKING! Preliminary Study Findings On Israel's Fourth Dose Reveals Unimpressive Results And Raises Questions About Fourth Dose Programs
Initial preliminary study findings on the research of the effectiveness of fourth COVID-19 vaccine doses being conducted at Sheba Hospital in Israel being headed by professor Dr Gili Regev, the director of the Infection Prevention Unit in Sheba has indicated unimpressive results. Despite only about 5 times an increase of antibodies after the fourth dose, the results were not as impressive as after the third Booster dose and furthermore antibody titer waning was already started to be observed.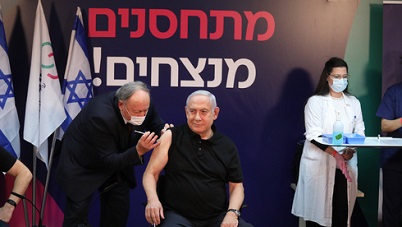 Professor Regev also publicly commented to Israeli media that she does not recommend starting a fourth dose for the entire population.
https://www.ynet.co.il/health/article/skio11rf2k
Professor Regev told Israeli media on Wednesday, "We see a certain increase in antibodies, but the increase is not very impressive. Shortly after the
fourth dose
, you were back to the same antibody level as shortly after the third."
Professor Regev had hoped for more from a second booster dose.
She also warned, "We need more information before giving such a recommendation for fourth doses to be administered to the general population."
After looking at the study findings, she told media, "But I'm really not sure if they should be given to everyone now."
The fourth dose efficacy study is being conducted at Sheba Hospital and involves 150 participants who received a fourth shot with the Moderna vaccine after three doses of the Biontech / Pfizer vaccines.
In Israel, the fourth COVID-19 vaccine dose is being aggressively promoted by the government to all medical staff and people aged 60 as result of the Omicron surge worldwide.
Professor Regev also said that with antibody waning, it would be not be practical to keep on administering vaccines once every three to four months to the entire population to simply curtail disease severity.
The study findings would be published in about a weeks' time according to Professor Regev.
At present despite being one of the most fully vaccinated countries in the world, Israel is again witnessing a new surge in COVID-19 infections coupled with an increase in hospitalizations.
The new surge in COVID infections is basically being driven by the Omicron variant.
The Israeli health officials on Wednesday reported 11,978 new COVID-19 cases within a time frame of 24 hours. This was a new record for the country as the last highest daily infections was only 11,345 cases reported September 2 last year.
Although there were currently nearly 60,000 active cases of COVID-19 infections in Israel, the number of cases in ICU as of Wednesday was only 125, according to the Israeli health ministry.
To date, nearly 4.3 million of Israel's 9.4 million inhabitants have received three shots of coronavirus vaccine. In recent days, Israeli authorities began administering fourth shots to at-risk groups
The country has officially recorded more than 1.4 million cases of COVID-19 infection, including 8,247 deaths.
< br /> It should be noted that even the third dose booster efficacy is now being questioned as studies from Helsinki has shown that it does not really help the elderly.
https://www.thailandmedical.news/news/breaking-booster-efficacy-questioned-helsinki-study-shows-only-minimal-nab-titers-against-omicron-among-the-elderly-following-booster-shot
Furthermore, data from UK shows that the protection accorded by the booster dose wanes after about 10 weeks.
https://www.thailandmedical.news/news/oops-preliminary-data-from-uk-shows-that-protection-by-covid-19-booster-shots-wanes-in-about-ten-weeks-when-dealing-with-omicron-variant
Please have a heart and help to support and sustain this website and all our research and community initiatives by making a donation. You help truly means a lot and helps saves lives directly and indirectly. Thank You.
https://www.thailandmedical.news/p/sponsorship
For more on the
Fourth Dose Studies
, keep on logging to Thailand Medical News.