Dengue News: Dengue Ravages Guatemala, Killing 22 And Infecting Thousands. Country Declares A Three Month Health Emergency!
Dengue News
: In a grave turn of events, Guatemala declared a national health emergency on Thursday due to a severe dengue outbreak that has already claimed 22 lives and infected thousands of people across the country. Health Minister Francisco Coma made the announcement, revealing that the emergency measures would remain in effect for three months, aimed at combatting the outbreak and preventing further devastation.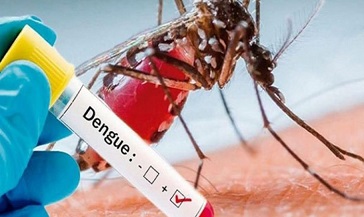 The dengue outbreak has reached alarming proportions, with more than 12,200 confirmed cases reported so far this year, surpassing the figures from the same period in 2022 by more than double. Civil protection official Walter Monroy expressed concern that the impending rainy season would create additional breeding grounds for the disease-carrying Aedes aegypti mosquito, necessitating urgent and coordinated action.
"Dengue is a disease endemic to tropical areas that causes high fevers, headaches, nausea, vomiting, muscle pain, and, in the most serious cases, bleeding that can lead to death," warned health experts. The World Health Organization (WHO) has also emphasized the role of climate change in the spread of mosquito-borne diseases, including dengue, underscoring the urgency of addressing this crisis.
National Emergency Response
The Ministry of Health and Social Assistance (Mspas) of Guatemala acted swiftly to address the growing dengue crisis. They announced the three-month national health emergency, citing a 150% increase in dengue cases. According to Mspas, the epidemic has affected individuals of all age groups and genders, with a particularly devastating impact on children under 14 years old.
Local
Dengue News
coverages claim that as of now, there have been 12,263 confirmed dengue cases in the country, leading to 22 tragic fatalities. To combat the outbreak, Mspas unveiled a comprehensive plan that includes fumigation and cleaning operations to eliminate mosquito breeding sites. These efforts will not only target dengue but also aim to control the transmission of other mosquito-borne diseases like Zika and chikungunya.
Periodic evaluations will be carried out to assess the progress made in containing the outbreak. The government has also warned that the emergency measures may be extended if circumstances do not improve. A key aspect of the response plan involves the collaboration of various public institutions, non-governmental organizations, and community groups to ensure a coordinated effort.
Epidemic Escalation and Regional Impact
The dengue fever epidemic in Guatemala has been rapidly escalating, impacting regions across the nation. Some departments have reported exceptionally high infection rates, with Zacapa leading the list with 309.5 cases per 100,000 population, followed by Chiquimula (309.2 cases), and Peten Sur Oriental (254.7 cases).
Local health authorities have intensified fumigation and cleaning activities in these severely affected areas to curb the outbreak. It is essential for residents to take precautions against mosquito bites to further reduce the spread of the disease.
Historical Context and Vaccine Considerations
Dengue fever has long been a year-round threat in Guatemala, with the highest transmission rates typically occurring from May to December. In 2022, health officials reported approximately 8,407 dengue fever cases nationwide, a significant increase compared to the 2,861 cases reported in 2021 and 5,983 cases in 2020.
While a dengue fever vaccine is available in some countries, it is primarily recommended for individuals with a history of dengue infection and in areas with a high dengue fever burden. The disease spreads through the bite of infected mosquitoes and is characterized by sudden onset fever, severe headaches, muscle and joint pain, and potential bleeding symptoms.
If not promptly recognized and treated, dengue fever can progress to a more severe form known as dengue hemorrhagic fever (DHF), which can be fatal. Therefore, vigilance and immediate medical attention are crucial in areas facing a dengue outbreak.
Conclusion
The declaration of a national health emergency in Guatemala underscores the severity of the dengue outbreak, which has claimed 22 lives and infected thousands. With the rainy season approaching, efforts to eliminate mosquito breeding sites and prevent the spread of the disease are paramount. The international community, as well as local and national authorities, will closely monitor the situation as Guatemala battles this alarming public health crisis.
For the latest
Dengue News
, keep on logging to Thailand Medical News.