University Of Washington Study Confirms That SARS-CoV-2 Can Directly Invade Human Kidney Cells Causing A Range Of Kidney Issues Including Acute Kidney Injury!
More and more data are daily emerging that the SARS-CoV-2 coronavirus is able to cause a wide range of health conditions in both those struggling with an infection and even more so in those who have been deemed as recovered based on a stupid nasal swab test!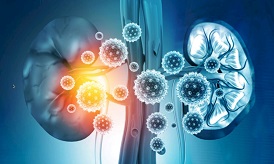 A whole wide range of conditions emerging include lung damage, heart issues and heart failure, a whole wide range of neurological issues including psychiatric conditions, a broad spectrum of gastrointestinal issues, male reproductive issues, cancers, skin and eye problems, and many other more.
Alarmingly, current research shows that more than 25% of patients' COVID-19 cases involve acute kidney injury ie the kidneys' equivalent of a heart attack. In some studies involving specific groups, the incidence rates were even much higher and new emerging data is indicating that many so called recovered are developing a variety of kidney issues that ultimately progresses into acute kidney injury and these rates are alarming increasing.
https://pubmed.ncbi.nlm.nih.gov/34130296/#:~:text=The%20pooled%20incidence%20of%20AKI,%25%20to%2012%2F66%25
).
https://annalsofintensivecare.springeropen.com/articles/10.1186/s13613-021-00914-5
https://www.nature.com/articles/s41581-021-00452-0
The mechanism of how this was occurring was poorly understood for a long time.
This new study by researchers from the University of Washington School of Medicine confirms that that SARS-CoV-2 can directly invade human kidney cells causing a range of kidney issues including acute kidney injury!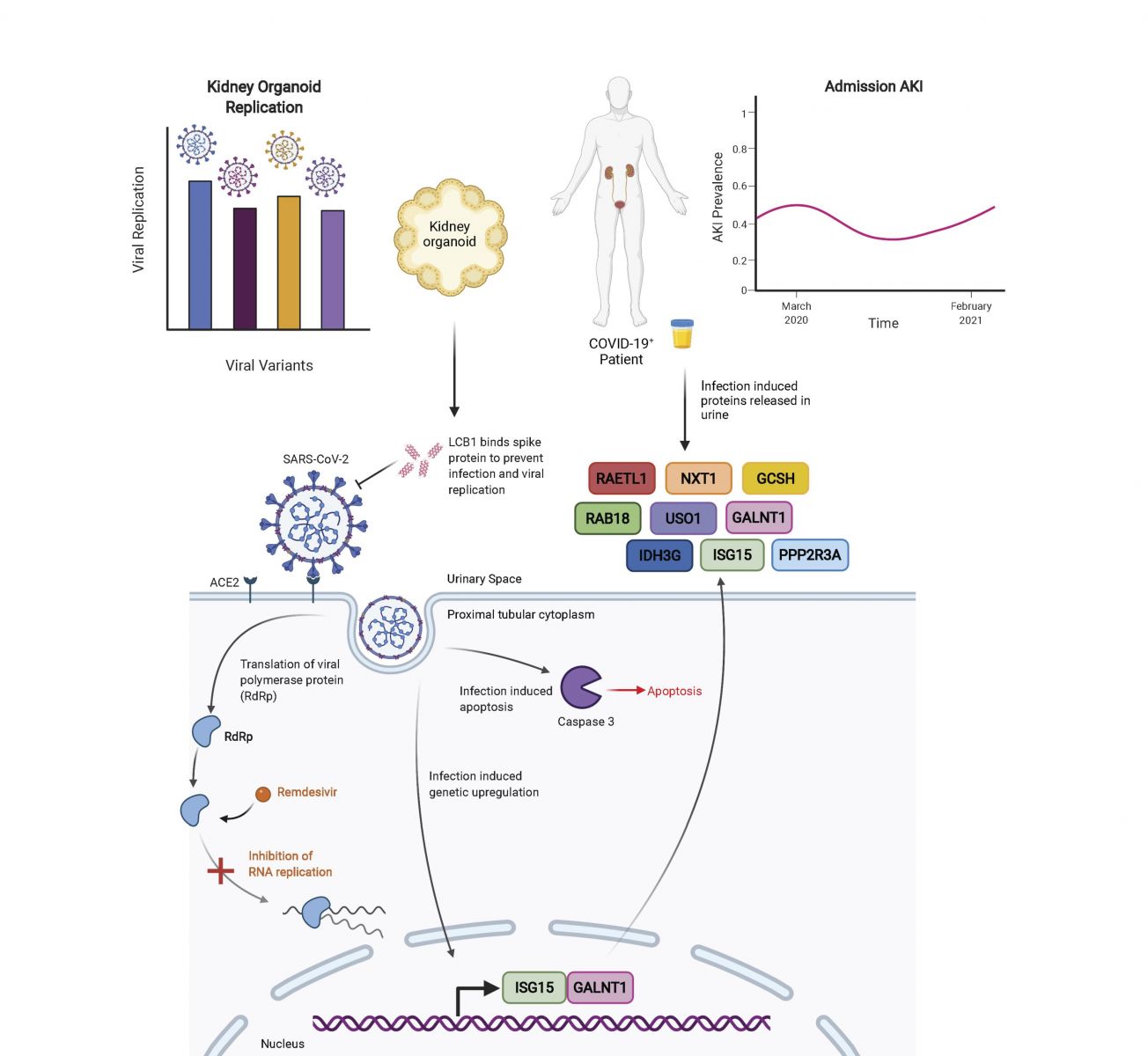 Graphical Abstract
Kidneys are critical target organs of COVID-19, but susceptibility and responses to infection remain poorly understood.
The study team introduced SARS-CoV-2 variants with genome edited kidney organoids and utilized clinical data to investigate tropism, mechanism, and therapeutics.
The study findings alarmingly showed that SARS-CoV-2 specifically infects organoid proximal tubules amongst diverse cell types. Infections produce replicating virus, apoptosis, and disrupted cell morphology, features of which are revealed in the context of polycystic kidney disease. Cross-validation of gene expression patterns in organoids reflect proteomic signatures of COVID-19 in the urine of critically ill patients indicating interferon pathway upregulation. SARS-CoV-2 viral variants Alpha, Beta, Gamma, Kappa, and Delta exhibit comparable levels of replication in organoids. Infection is ameliorated in ACE2-/- organoids and blocked via treatment with de novo designed spike binder peptides.
The study findings collectively clarify the impact of kidney infection in COVID-19 as reflected in organoids and clinical populations, enabling assessment of viral fitness and e merging therapies.
The study findings were published in the peer reviewed journal: JCI Insight
https://insight.jci.org/articles/view/154882
Doctors for long had suspected that acute kidney injuries were a side effect of the immune system's sudden release of inflammatory proteins, cytokines, to battle the SARS-CoV-2 virus. The "cytokine storms" are known to damage tissues and organs.
This new research, however, demonstrates that SARS-CoV-2 can directly invade human kidney cells - specifically the proximal tubules, which are major gatekeepers in the organs' waste-filtering function.
Senior author, Dr Benjamin "Beno" Freedman, associate professor of nephrology, University of Washington School of Medicine told Thailand
Medical News
, "We introduced this virus onto organoids, which are surrogates that have 11 cell types found in kidneys. Out of all the cell types, only one got infected. If you don't have these proximal tubule cells or they're not functional, then your kidney cannot work."
The study team employed SARS-CoV-2 variants that had been lab-modified with a novel fluorescent gene, enabling them to easily identify which kidney structures became infected.
Dr Freedman said the team's finding means clinicians should consider COVID-19-implicated kidney infections "in the same way we think about lung and heart infections-which is to monitor these organs for poorer function going forward.
Lead author, Dr Louisa Helms Department of Laboratory Medicine and Pathology, University of Washington School of Medicine warned,
"There is a risk of a "long-hauler" effect that could progress to chronic kidney disease, so these patients should consider getting lab tests three to 12 months after they've recovered to confirm their kidneys are functioning and stable, in accordance with their physician's recommendations."
Doctors unfortunately have no diagnostic to know whether certain COVID-19 patients are more vulnerable to kidney infection.
However, a pre-existing kidney condition would be a logical risk factor.
Importantly the study team warned to date, no medications are known to heal a kidney injured by COVID-19.
A majority of patients in these circumstances wind up on dialysis for a short term to provide temporary kidney function until the organs start to recover from the immediate infection.
It should also be noted that organoid cultures are also a resource to help identify therapeutics that help infected kidneys recover.
Dr Freedman commented, "Now that we have an idea of what SARS-CoV-2 is doing in kidneys, we've started testing different treatments."
Please help to sustain this site and also all our research and community initiatives by making a donation. Your help means a lot and helps saves lives directly and indirectly and we desperately also need financial help now.
https://www.thailandmedical.news/p/sponsorship
For the latest
COVID-19 Research
, keep on logging to Thailand Medical News.
Read Also:
https://www.thailandmedical.news/news/more-great-news-even-those-that-initially-had-mild-covid-19-symptoms-can-develop-kidney-disease-as-part-of-many-manifestations-of-long-covid
https://www.thailandmedical.news/news/good-news-study-finds-that-most-recovered-covid-19-patients-even-with-mild-infections-will-ultimately-develop-virus-induced-kidney-damage
https://www.thailandmedical.news/news/study-finds-that-covid-19-induced-acute-kidney-injury-similar-to-sepsis-caused-kidney-injury-and-that-mitochondrial-dysfunction-may-play-a-key-role