Cannabis News: U.S. CDC Reports Asthma-Linked Death At Cannabis Processing Facility!
Cannabis News
: In a shocking turn of events, the U.S. Centers for Disease Control and Prevention (CDC) has brought to light a profound occupational health concern within the burgeoning cannabis industry. The recent report details the first documented case of an asthma-related fatality, raising alarms about the potential respiratory hazards faced by employees working in cannabis processing facilities. The tragic incident unfolded at a Massachusetts cannabis cultivation and processing facility, where a 27-year-old woman, previously free of asthma, succumbed to a fatal asthma attack.
https://www.cdc.gov/mmwr/volumes/72/wr/mm7246a2.htm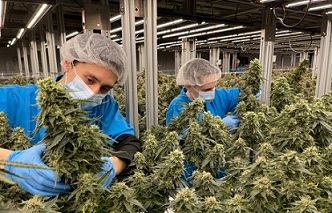 The employee, who commenced her role in May 2021, played a vital role as a cycle counter throughout the facility. However, within three to four months of employment, she began exhibiting work-related symptoms, including a runny nose, cough, and shortness of breath. Initially stationed in an area where cannabis was ground, she later transitioned to "flower production," a role involving the grinding of cannabis plant flowers and preparing cannabis cigarettes. Despite donning an N95 mask and protective gloves, the grinding process released allergen-laden dust into the air, a critical factor in her deteriorating health.
As her symptoms worsened, the employee's workstation was relocated outside the grinding room. Yet, on November 9, 2021, she suffered a severe asthma attack, necessitating emergency medical services (EMS) intervention and a trip to the local emergency department. Although she survived this incident, subsequent investigations revealed her heavy reliance on an albuterol nebulizer, which she used over 200 times in the two months following the attack.
The devastating climax occurred on January 4, 2022, when the woman informed a coworker of her worsening shortness of breath. Later that day, while engaged in filling prerolls, she experienced another acute asthma attack. Despite coworkers' attempts at resuscitation, she went into cardiopulmonary arrest and, sadly, passed away three days later.
This heart-wrenching case is not an isolated incident confined to the Massachusetts cannabis facility according to past reports and
Cannabis News
coverages. A comprehensive study conducted at an indoor cannabis production facility in Washington state revealed that 13 out of 31 employees displayed symptoms suggestive of asthma.
https://academic.oup.com/annweh/article/64/7/754/5847825
Another study in the same state identified seven cases of "work-exacerbated" asthma among cannabis facility workers, with symptoms severe enough to force three workers to resign from their positions. Notably, one worker, after quitting the industry for two years, experienced a recurrence of symptoms upon re-entering a different cannabis facility, underscoring the persistent risks associated with cannabis-related occupational allergies.
https://www.tandfonline.com/doi/full/10.1080/02770903.2021.1955 379
The gravity of the situation prompted an in-depth investigation by the Massachusetts Department of Public Health. The deceased employee, who had undergone a pulmonary evaluation in 2016 for chronic cough, was initially cleared of asthma. However, subsequent exposure to allergens and irritants in the cannabis processing facility is believed to have triggered the fatal asthma attack. Occupational Safety and Health Administration (OSHA) inspections further revealed airborne respirable dust and endotoxin levels below permissible exposure limits, indicating the elusive nature of allergens that standard monitoring may not adequately capture.
Dr Virginia Weaver, leading the research team from the U.S. Department of Labor, emphasizes that the cannabis industry poses substantial respiratory hazards to its workforce. Employees, who handle large quantities of ground cannabis in various work areas such as flower grinding and preroll production, are exposed to heightened risks of occupational asthma and allergic reactions. The unexpected short latency period between the onset of exposure and symptoms in this case challenges conventional understanding, possibly attributed to the employee's personal cannabis use and cross-sensitivity between cannabis and other plant allergens.
The implications for public health are profound. As the cannabis industry continues its rapid expansion, there is an urgent need for additional research into the prevalence and risk factors of cannabis-related occupational allergies. Strategies to protect workers must be developed and implemented, encompassing exposure control, employee training, proper use of personal protective equipment, and medical management for those with work-related symptoms. This may even necessitate work cessation and workers' compensation in severe cases.
In conclusion, the tragic death of the young woman in Massachusetts serves as a stark reminder of the emerging health risks in the cannabis industry. Employers, regulatory bodies, and health professionals must collaborate to address and mitigate these hazards, safeguarding the well-being of those working in this rapidly growing sector. The incident prompts a critical examination of workplace safety standards and calls for comprehensive measures to ensure the health and safety of employees in the cannabis processing industry. As the industry expands, it is imperative to prioritize the well-being of workers who contribute to its growth and success.
For the latest
Cannabis News
, keep on logging to Thailand Medical News.