Biotech News: Revolutionary 3D Bioprinting Breakthrough By Researchers From University of Birmingham Will Transform Healthcare And Help Many
Biotech News
: Researchers from the University of Birmingham, in collaboration with the University of Huddersfield and Polytechnic University of Milan, are developing cutting-edge 3D bioprinting methods to improve health outcomes by potentially saving lives and reducing costs associated with the creation of tissue-compatible, artificially engineered organs.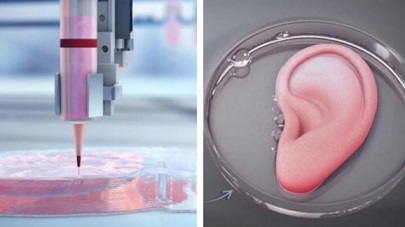 Traditionally, 3D bioprinting has been used for many years to develop organs and tissues for transplantation but has faced challenges in replicating natural body tissues. This limitation has left patients awaiting organ transplants, reliant on immunosuppressants, and susceptible to infections and an increased risk of cancer. The development of microfluidic tissue could potentially overcome these issues; however, current manufacturing methods are both labor-intensive and costly.
The study team have created an agile manufacturing pipeline that combines additive manufacturing with innovative design approaches to simplify and advance high-value manufacturing, while reducing production costs significantly. This breakthrough could help expedite the adoption of microfluidic-based 3D bioprinting for fabricating blood vessels, tissues, and organs, ultimately saving lives in the UK and beyond.
Dr Gowsihan Poologasundarampillai, Associate Professor in Biomaterials and Biomanufacturing at the University of Birmingham told
Biotech News
reporters from TMN, "Organ transplantation has saved many lives and millions of pounds for the UK's NHS, but every day, four people in the UK die while on the waiting list. There is a dire need for artificially engineered organs and tissue grafts that take successfully without the need for immunosuppression." The team's innovative approach is expected to contribute significantly to addressing this urgent need.
Dr Amirpasha Moetazedian, a lecturer in Medical Engineering at the University of Huddersfield, highlighted the potential of this technology added, "Producing complex microfluidic devices at a fraction of the cost would open up new opportunities in a wide range of applications from tissue scaffolds, cell culture systems, body-on-a-chip devices, biochemical sensors, and bio-catalysis."
In addition to this breakthrough, Birmingham researchers are also spearheading 3D-printing innovation within bone tissue engineering for in vitro modeling. This field has gained increasing importance in drug discovery and the development of new therapies for bone diseases.
The researchers highlighted the primary interlinked barriers to bone tissue engineering, such as difficulties in recapitulating the complex and dynamic bone architecture and organization, and delivering appropriate organ-level stimulation. It also provides insights into overcoming these barriers through developments in hydrogel formulations and 3D bioprinting. Specifically, the development of novel hydrogel formulations combines biopolymers presenting natural biochemical signals with synthetic polymers.
Dr Poologasundarampillai commented, "Advances in bioprinting have significantly accelerated the fabrication of complex tissue constructs, yet the method still struggles to reproduce the intricate structure and biological complexity inh erent in tissues, such as bone. The current techniques and materials used in bioprinting are limited in terms of scale, speed, and resolution, restricting their capacity to mimic the detailed structural hierarchies and cell-matrix interactions found in bone tissue."
He added, "Recent shifts towards biomimetic approaches in bone tissue engineering hold promise. Hydrogels, capable of providing biophysical and biochemical cues to encapsulated cells, can enhance the biological function and development of tissues for in vitro modeling. Hydrogels are particularly suitable materials for mimicking the extracellular matrix, enabling bioprinting while presenting various biological cues. In bone tissue engineering, a key focus is creating dynamic microenvironmental niches for bioprinting that can support and direct the cellular processes required for bone formation and remodeling."
A new review published by the study team in the peer reviewed journal: Advanced Materials, focuses on using hydrogels and bioprinting to create artificial stem-cell niches for in vitro bone tissue engineering models.
https://onlinelibrary.wiley.com/doi/10.1002/adma.202301670
This review highlights the potential of combining advanced hydrogels and 3D bioprinting techniques to create conducive microenvironmental niches for in vitro models of bone tissue engineering.
This pioneering research on 3D bioprinting is poised to revolutionize healthcare by expediting the creation of new organs, reducing costs, and ultimately saving lives. As the technology continues to develop, its applications are expected to expand, providing more effective and accessible treatment options for patients worldwide.
For the latest
Biotech News
, keep on logging to Thailand
Medical News
.