BREAKING! Omicron Infections In Japan Different From West, Elderly Who Are Double Vaccinated Being Hospitalized Due To Acute Pneumonia! Most Cases Symptomatic.
Japan Medical News
: Scientists are getting confused and are now suspecting that even host genes or genes in certain ethnic groups could result in Omicron infections being not mild upon infection.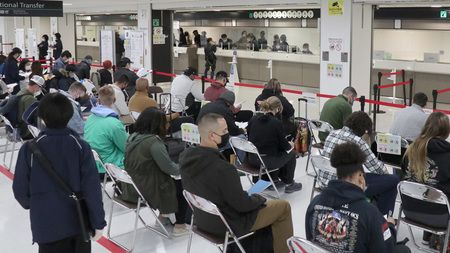 Japan as a result of the Omicron variant being dominant in circulation, is witnessing high surges in daily COVID-19 infections but unlike in the West, hospitalization and mortality rates are going up.
In the last 24 hours alone, Japan reported more than 142,000 new COVID-19 cases.
Alarmingly, local
Japanese Medical News
media also reported 25,539 new hospital admissions in a single day and 118 new deaths.
The hospitalization rates have been increasing exponentially over the last week and most hospitals have already reached their current capacity and the patients are now overflowing at both private and public clinics.
Physicians are reporting that many are with high fevers, coughs, body pains, gastrointestinal issues, brain fog, headaches and even vision problems.
Health authorities reported that they have noticed an increase in elderly patients who are hospitalized from the omicron variant of the coronavirus.
This has led to elderly people occupying hospital beds at a concerning rate in Japan, according to various Japanese media.
https://the-japan-news.com/news/article/0008232892
It was found that most of these elderly patients are suffering from acute pneumonia after infection from the omicron variant.
Many also develop breathing problems and often need supplemental oxygen but not ventilators.
Dr Akira Kano, director for the Fujimino Emergency hospital in Japan, said that this has led to elderly people developing more severe COVID-19 symptoms.
According to a news article by the Daily Express, "Elderly Japanese patients who had received vaccines twice, but a while ago, are the ones becoming more stricken with acute pneumonia."
https://www.express.co.uk/life-style/health/1558708/omicron-variant-covid-symptoms-acute-pneumonia
Dr Kano added, "The Omicron variants are said to be 'attenuated,' but that is far from the truth based on what I have seen on the ground."
Japan is also getting ready to administer booster shots to the general population aged 18 and over where six months have passed since their second dose. At this stage roughly 20 percent of the population have received a booster shot, which has been prioritized for medical workers and the elderly. As of date, more than 83 percent of the Japanese population has received double doses of the COVID-19 vaccines.
However even in those that were already received booster shots, not only are breakthrough infections being seen, but disease severity and even cases of mortality have been reported in that group.
Vaccine manufacturers have not replied when asked about thi s growing phenomenon in Japan.
For the latest
Japan Medical News
, keep on logging to Thailand Medical News.