Most Of The Individuals Spreading Omicron In Asia Are Fully Vaccinated Travelers Arriving From Europe, America, Africa or India Or Locals Returning From Holidays!
While politicians and medical 'expert's with some ulterior agenda are quick to put all blames on the spread of the COVID-19 disease on the unvaccinated, an interesting fact remains, all new cases of Omicron that has been imported into most Asian countries and that later lead to local community transmissions were all from fully vaccinated travelers originating from Africa, Europe especially the United Kingdom, Germany and Italy, from the United States and also from India. In some instances, like in Singapore, Malaysia and Thailand, it was also irresponsible fully vaccinated locals that despite the ongoing pandemic, were still taking Christmas and New Year holidays abroad and then returning to spread the virus in their homelands.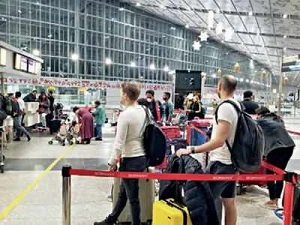 This can also be verified by the fact that in almost all cases, visas or permissions to travel and gain entry to most of these Asian countries were based on the prerequisite that these travelers were fully vaccinated and had tested negative prior to departure.
So it's a clear fact that it's the bastard irresponsible fully vaccinated travelers that are helping to spread the Omicron virus not only in Asia but also globally, so my next question to the stupid morons and dictators like Biden, Boris, Nehammer, Macron and Dutterte…what should we do to these fully vaccinated travelers who are spreading the virus…..pulp them with baseball bats?….should we also do the same to politicians and leaders encouraging travel and the tourism industry? Should we also do the same to leaders who refuse to shut the borders or make testing for travelers no longer a necessity?
Should not the business owners in the airline, travel and tourism industry also take financial responsibility for encouraging travel in the midst of a pandemic and risking the lives of others. Maybe we should put an added tax on them from which the proceeds can be used in the COVID-19 management efforts.
Maybe we should impose penalties on irresponsible travelers including the airlines and the hotels in which whenever a traveler spread the virus to a local or causes a local cluster, they have to bear all the financial cost from treatments to compensation for lost of work by the locals as a result of getting infected, etc.
The same should be applied to tourisms chiefs, tourism promoting entities and even travel media or individuals promoting travel and tourism in these times.
It stupid to hear that the travel and tourism industry needs saving or about countries having economic problems as a result of a downturn in the tourism industry.
These morons had two years to change their business models and look at other ways of generating revenue, stupid cum lazy country leaders had enough time to shift their focus and strategies from being dependent on the tourism industry to something else, be in the manufacturing agriculture, biotech or even technology sectors.
Workers in these industries had more than enough time to shift their skill sets to other industries instead of lamenting and reminiscing about the old days. They should follow the leads of many Thais who are now becoming millionaires by opening their own private channels on platforms like only fans etc!
As a matter of fact, despite whatever some stupid experts claim that COVID-19 is going away soon or that it will be endemic, new and more worrisome variants are going to keep on emerging and will keep on causing s urges. This pandemic is expected to last for at least another 5 to 8 years and trust me the next variant that emerges is going to be far more virulent.
In fact, we at Thailand
Medical News
even predict that the next variant will likely emerge sometime in late-April 2022 but will be predominant in circulation by May or June and will contain bits and pieces from three different sources ie a SARS-CoV-2 variant, an animal coronavirus and genetic material from the one of many human herpesvirus! This new variant will likely originate either from the South-eastern regions of Russia or from America or from the United Kingdom or the lower eastern European countries. This new variant will be a game changer. Sound stupid and crazy? Time will tell.
So, coming back to the topic, people have to just accept the fact that the travel and tourism industry is never going to be the same again and responsible people should avoid travel during the ongoing pandemic.
But at the same time these observations of fully vaccinated travelers who were pre tested and later found to carrying and spreading the Omicron virus also raises a lot of questions and observations.
If the vaccines are so great and testing protocols so efficient, why are we still having fully vaccinated travelers testing positive days later and are still infectious …much later than the stupid U.S. CDC isolation and quarantine guidelines or their claims of scientific data showing the time and period of infectiousness and viral shedding of Omicron infected individuals.
Something does not make sense and perhaps the clueless and stupid looking head at the U.S. CDC can clarify more on this more.
In the meantime, the public should start deciding what should be done with fully vaccinated travelers who are spreading the virus in their homelands and to their loved ones. Health and safety should always first and above health.
Also with the data emerging, should vaccinated indiduals be allowed to travel in the first place? It is becoming clear that the vaccines do not stop the spread of the virus and vaccinated travelers are only jeorpadizing the health risk of others.
In the same light, all local Thais should united and show their support for the current Minister of Health, H.E Anutin Charnvirakul who is fighting in the local parliament to ensure that Thailand is not lax and to prevent travelers from coming in via the test and go schemes or any other relaxed schemes as it will only bring more cases of Omicron or other variants and affect the local citizens and expat communities here. Anutin is one of the few Thai ministers who despite having his own shortcomings, is against opening the country up to travelers and has been dedicated in protecting and serving the local citizens during the COVID-19 crisis but many are unaware that many of his COVID-19 cum health policies and strategies has been derailed by other greedy and corrupted politicians.
Also, there has been a lot of negative comments by cheap foreign expats and foreign travelers about Thailand's COVID-19 restrictions, alcohol policies and travel policies. Maybe it is time that the Ministry Of Digital Economy and the Thai Immigration start tracing the IP addresses or these individuals and either deem them as persona-non grata and have them deported or barred from entering the country. They can enjoy the freedom in their own home countries but Thailand definitely does not need trash like these!
For the latest views on the COVID-19 pandemic. keep on logging to
Thailand Medical New
s.