Thailand COVID-19 News Updates: Bangkok Governor Tells Media That Hospital Bed Situation In Capital Not Yet Critical Despite Rising COVID-19 Infections
Thailand Medical
News: Reacting to the news that one of Bangkok's largest hospitals ie the 345 bed Siriraj Piyamaharajkarun hospital had announced on its facebook page that it is no longer has any beds left as all its intensive care units (ICU) and inpatient departments are fully occupied due to surging COVID-19 cases, the Bangkok Governor Chadchart Sittipunt told media in the last few hours that the hospital bed situation was indeed worrying but had not reached critical levels yet. He claimed that the only about 70% of the hospital beds in the capital were occupied at the moment and that hospital beds were still available.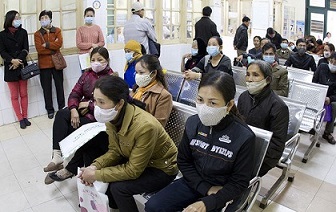 He stopped short of telling the media if the Bangkok Metropolitan Administration (BMA) had made plans to set up makeshift hospitals or if the BMA had any contingency plans if the situation becomes worse.
Thailand
Medical News
had earlier in the day about covered the growing COVID-19 crisis in Thailand.
https://www.thailandmedical.news/news/breaking-thailand-s-largest-public-hospital,-siriraj-issues-notice-that-there-are-no-more-beds-available-due-to-surging-covid-19-infections
The Bangkok governor said that data from the BMA showed that about 1,300 to 1,500 individuals were daily seeking treatment for COVID-19 at hospitals under the care of the BMA. He did however admit that the real figures could be as high as 2 to 3-fold.
According to the latest figured released by the Ministry of Public Health's Department of Disease Control that is only for the period of May 14 to May 20
th
2023, there were only about 2,632 individuals admitted per day for COVID-19. There is no data available with regards to actual COVID-19 infections nor is there any data about actual testing rates or test positivity rates. Forget about any data about asymptomatic infection and transmission rates etc. We also do not have access to data about COVID-19 death rates the last few days nor about real data about excess death rates in the country the last few weeks.
According to local media coverages, Siriraj Hospital had been only seeing about 20 COVID-19 cases a day in early April but lately, the daily caseloads have swelled to about 400 a day. It was also reported that only 2% of every 100 infected patients coming to the hospital for treatment were hospitalized.
According to many local emergency service operators in the capital that provide ambulance services and also emergency medical aid, there has been an exponential number of cases requiring emergency help due to COVID-19 related issues in the last two weeks. When asked about incidences of COVID-19 deaths occurring in homes, many refused to comment while one operator speaking on conditions of anonymity said that that they have been warned not to release such data to the media or public anymore after we had covered such news in late April 2023.
ot;>https://www.thailandmedical.news/news/thailand-medical-news-still-more-reports-of-thais-dying-in-their-homes-in-bangkok-due-to-covid-19-as-cases-surge-many-thais-still-oblivious-of-dangers
According them, certain officials did not like such news about the COVID-19 crisis being reported in the media.
Any locals that are having problems securing hospital beds are advised to contact any local media or news sites to explain your plights so that it can be verified if there the hospital bed situation is the capital or elsewhere is under control.
We have received word that a number of private hospitals in the capital are also facing a deluge of COVID-19 patients at the moment.
All those in the vulnerable groups ie the aged, the obese, the immunocompromised, those with existing comorbidities such as hypertension, heart, liver or kidney issues, the immunocompromised and those with certain genetic makeups are advised to take extra precautionary measures and to self-isolate if possible. Those that suspect that hey might be infected are advised to try to use the numerous telemedicine services available across the country. (We cannot at the moment comment if any of them are good or not or nor can we recommend any particular local telemedicine platforms.)
The coming weeks will be interesting times in Thailand.
For the latest
COVID-19 News
, keep on logging to
Thailand Medical
News.