BREAKING NEWS! COVID-19 Drugs: Study Finds That Chlorpheniramine Maleate Has Multifaceted Antiviral Properties Against SARS-CoV-2!
COVID-19 Drugs
: In the relentless quest to combat the global scourge of COVID-19, researchers around the world have been fervently exploring existing drugs for their potential antiviral properties. Among the contenders, Chlorpheniramine Maleate (CPM), a first-generation H1 antihistamine, has emerged as a promising candidate in the fight against the Severe Acute Respiratory Syndrome Coronavirus 2 (SARS-CoV-2).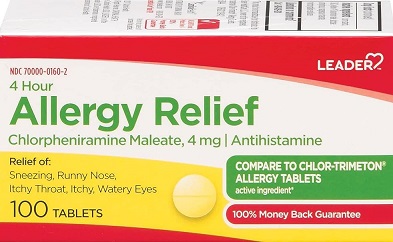 This news groundbreaking
COVID-19 Drugs
study, conducted collaboratively by researchers from the University of Sadat City-Egypt, National Research Centre-Egypt, Hospital CEMESA Cortés in San Pedro-Honduras, Dr. Ferrer BioPharma in Florida-USA, NOVA Southeastern University in Florida-USA, and the prestigious Cleveland Clinic in the USA, has unveiled CPM's multifaceted antiviral actions against SARS-CoV-2.
Since its insidious emergence in Wuhan, China, SARS-CoV-2 has triggered a global pandemic, necessitating the rapid development of effective treatments. The arsenal of approved drugs against COVID-19 has been limited, compelling scientists to repurpose existing medications for the task. CPM, historically utilized to treat allergies, hay fever, common cold, cough, and nasal congestion, has recently been recognized for its potential antiviral attributes. Its mechanism of action, intertwined with both anti-inflammatory and immunomodulatory properties, has kindled interest in its potential against viral infections.
Unraveling CPM's Antiviral Mechanisms
While several studies have previously highlighted CPM's antiviral prowess against respiratory viruses like influenza and SARS-CoV-2, the exact mechanisms underpinning its efficacy have remained an enigma. This study undertook a comprehensive investigation into CPM's mode of antiviral action and its interaction with SARS-CoV-2.
In the intricate interplay of SARS-CoV-2 replication, CPM emerged as a multifunctional player. It thwarted the virus by impeding viral adsorption, interfering with replication, and even directly deactivating the virus. This three-pronged approach showcased the compound's remarkable versatility in combating the virus at multiple stages of its lifecycle. A pivotal aspect of this study was the revelation of CPM's interactions with key viral proteins, including the main protease receptor, spike protein receptor, and RNA polymerase. These interactions, primarily hydrophobic in nature, were further underscored by hydrogen bond formation in the RNA polymerase's active site.
The Promise of CPM: From Bench to Bedside
Amid the mounting evidence supporting CPM's antiviral and anti-inflammatory capabilities, the prospect of leveraging its potential against COVID-19 gains traction. Clinical studies have illuminated the effectiveness of CPM in alleviating symptoms and expediting recovery in COVID-19 patients.
Notably, intranasal administration of CPM demonstrated tangible benefits in clinical recovery, with reduced hospitalizations and milder cases.
The landscape of COVID-19 therapeutics has been largely dominated by a few emergency-use authorized medications. However, concerns over t he efficacy of some of these drugs have underscored the need for novel interventions. CPM, with its established safety profile and promising antiviral attributes, holds the potential to bridge this gap. Intriguingly, CPM's broad-spectrum antiviral effects against influenza, Ebola, and various SARS-CoV-2 strains highlight its versatility and relevance.
Future Avenues: Unveiling the Full Potential
As the world battles the relentless waves of COVID-19, CPM's multifaceted antiviral properties offer a glimmer of hope. This study's revelations pave the way for further investigations, beckoning the scientific community to delve deeper into CPM's potential against the virus. While the study focused primarily on viral targets, the door remains open for exploration of host-targeted effects, necessitating rigorous transcriptomic and proteomic analyses.
In conclusion, the groundbreaking study conducted across international institutions has illuminated Chlorpheniramine Maleate's prowess in combatting SARS-CoV-2. With its three-pronged attack—hindering viral adsorption, impeding replication, and directly deactivating the virus - CPM emerges as a potent candidate for COVID-19 treatment. As the pandemic continues to evolve, CPM's multifaceted antiviral actions hold the promise of a versatile therapeutic approach, potentially altering the trajectory of this global crisis.
The study findings were published on a preprint server and are currently being peer reviewed.
https://www.biorxiv.org/content/10.1101/2023.08.28.554806v1
MEDICAL DISCLAMER! Please note that this article is a review of research findings and not meant to serve as medical advice. Please do not take CMP to treat for COVID-19 without consulting a licensed medical doctor first.
For the latest on
COVID-19 Drugs
, keep on logging to Thailand Medical News.