Thailand News: Hilarious! Thailand Now Gives The Controversial Drug, Molnupiravir That Is Driving SARS-CoV-2 Mutations For Free!
Thailand News
: A local English mainstream media has reported that that the local authorities have decided to include the drug Molnupiravir to treat COVID-19 under the Universal coverage for emergency patients (UCEP) plus scheme!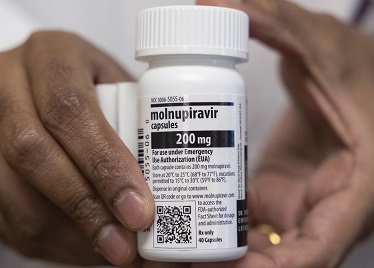 The drug's inclusion under this scheme means that most Thais will be able to access the drug for free compared to previously where they had to pay Bt15 for a 200 milligramme dose of the so called 'COVID-19 antiviral medication'.
This is the second controversial drug to be included in the scheme, the first being favipiravir.
https://www.thailandmedical.news/news/breaking-stanford-study-confirms-favipiravir-use-in-mild-or-asymptomatic-covid-19-patients-has-no-efficacy-doctors-should-be-sued-for-prescribing-it
Many international medical experts and researchers responded to the announcement asking of there are indeed any real medical experts or professionals in the country who are constantly being updated about the latest studies and research not only with regards to COVID-19 but also about other diseases and medical conditions!
Numerous international virologist and qualified experts had identified that Molnupiravir besides being ineffective in treating SARS-CoV-2 infections, caused the SARS-CoV-2 virus to even mutate more, leading to the emergence of various newer sub-lineages.
https://www.medrxiv.org/content/10.1101/2023.01.26.23284998v2
https://www.thailandmedical.news/news/breaking-covid-19-news-researchers-warn-that-molnupiravir-is-driving-rapid-evolution-of-sars-cov-2-variants-and-causing-mutations
Many countries had already either cancelled orders for the drug or have stopped its usage due to its lack of efficacy and also its ability to drive mutations.
https://www.reuters.com/world/europe/france-cancels-order-mercks-covid-19-antiviral-drug-2021-12-22/
https://www.ema.europa.eu/en/medicines/human/summaries-opinion/lagevrio
https://www.science.org/content/article/could-popular-covid-19-antiviral-supercharge-pandemic
https://www.ncbi.nlm.nih.gov/pmc/articles/PMC9694535/
https://www.theguardian.com/world/2022/dec/22/molnupiravir-pill-for-covid-does-not-reduce-risk-of-hospitalisation-or-death-uk-study -finds
https://www1.racgp.org.au/newsgp/clinical/molnupiravir-to-be-used-only-as-a-last-resort-task
Since December 2021, the PANORAMIC trial has been testing molnupiravir's effectiveness. Results showed that for higher risk, vaccinated adults molnupiravir does not reduce the chances of hospitalization and death.
https://www.thelancet.com/journals/lancet/article/PIIS0140-6736(22)02597-1/fulltext
https://www.thailandmedical.news/news/covid-19-drugs-university-of-oxford-study-shows-that-molnupiravir-does-not-reduce-hospitalization-or-deaths-in-vaccinated-adults-with-covid-19
https://www.thailandmedical.news/news/much-touted-merck-s-covid-19-drug-molnupiravir-shown-to-be-less-effective-in-new-analysis-experts-question-its-efficacy-against-the-omicron-variant
In February 2023, Merck reported that the phase 3 MOVe-AHEAD trial to evaluate the safety and efficacy of Lagevrio compared to placebo in preventing the spread of SARS-CoV-2 within households did not meet its primary endpoints.
https://www.merck.com/news/merck-provides-update-on-phase-3-move-ahead-trial-evaluating-lagevrio-molnupiravir-for-post-exposure-prophylaxis-for-prevention-of-covid-19/
https://www.fiercepharma.com/pharma/mercks-covid-pill-lagevrio-comes-short-household-covid-exposure-study
Despite whatever garbage that is reported in
Thailand News
outlets, it should be noted that Thailand did not suffer a serious impact from all the past SARS-CoV-2 surges or onslaughts not because of the efforts of the local authorities or medical professionals but rather the genetic makeup of Thais along with the diets that are rich in lots of herbs and phytochemicals even in ordinary street dishes helped along with the fact that many Thais had been unconsciously exposed to the various coronaviruses over the decades, in th eprocess building up their immunity systems. Most of the fatalities in the country had been those in the vulnerable groups ie the aged, those with existing comorbidities etc along with foreigners.
It is really amazing that many still consider Thailand as a hub for medical tourism when many of its medical professionals are so ignorant about latest research and medical updates and simply stick to the knowledge that they have been trained with!
It should also be noted that there are no really qualified virologist in the country as per requirements in terms of credentials according to international standards!
Readers should not also forget the 'scam-like' incidences of Thailand announcing that they had found the cure for COVID-19 in the early part of the pandemic or that they have developed a number of effective vaccines for COVID-19 etc!
It will be more interesting if more focus is placed on the procurement procedures of these drugs that are used in Thailand including what monies were paid, who were the key decision makers and based on what data were those decisions made!
For the latest
Thailand News
, keep on logging to Thailand Medical News.
Read Also:
https://www.thailandmedical.news/news/molnupiravir--what-wrong-with-america-why-is-the-american-government-and-agencies-funding-and-pushing-potentially-toxic-drugs-to-treat-covid-19
https://www.thailandmedical.news/news/first-published-case-report-links-usage-of-molnupiravir-to-treat-covid-19-to-acute-renal-failure