COVID-19 News: Japanese Researchers Warn That The Usage Of Inhaled Ciclesonide In Driving SARS-CoV-2 NSp3 And Nsp4 Mutations!
COVID-19 News
: Researchers from the Research Center for Influenza and Respiratory Viruses, National Institute of Infectious Diseases, Murayama Branch, Tokyo-Japan have in a new study discovered that the usage of the inhaled asthma drug ciclesonide is causing frequent occurrences of SARS-CoV-2 NSp3 And Nsp4 Mutations!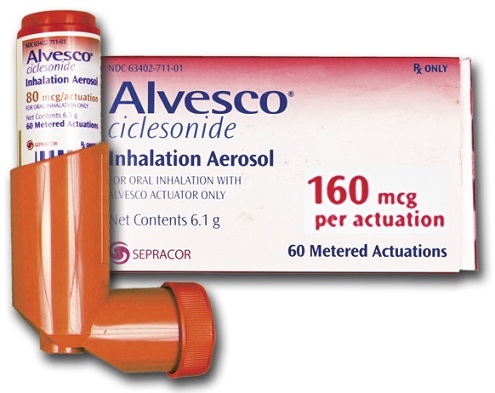 Thailand Medical News had in our previous
COVID-19 News
coverages showed that inhaled ciclesonide had antiviral properties against the SARS-CoV-2 virus and could be used as a prophylactic.
https://www.thailandmedical.news/news/coronavirus-treatments-japanese-study-indicates-ciclesonide,-an-inhaled-steroid-has-potential-for-covid-19-treatment-after-positive-vitro-study
https://www.thailandmedical.news/news/breaking-taiwanese-study-shows-inhaled-ciclesonide-reduces-risk-of-mortality-and-need-for-mechanical-ventilation-in-hospitalized-covid-19-patients
https://www.thailandmedical.news/news/covid-19-drugs-german-study-confirms-the-antiviral-effects-of-budesonide-against-the-sars-cov-2-coronavirus-and-even-against-emerging-variants
However as with all viruses, drug resistance typically manifest as the virus mutates to overcome the antiviral effects of therapeutic agents used against it.
In the same light, Thailand Medical News has been warning that all unofficial 'repurposed drugs', supplements and herbs that had a certain degree of efficacy against the SARS-CoV-2 virus in the early stages of the pandemic are redundant in the current scenario.
In some cases, some of these compounds used can also cause worrisome mutations as in the case of the U.S. FDA approved antiviral Molnupiravir which is a mutagenic agent in reality!
https://www.thailandmedical.news/news/breaking-covid-19-news-researchers-warn-that-molnupiravir-is-driving-rapid-evolution-of-sars-cov-2-variants-and-causing-mutations
https://www.medrxiv.org/content/10.1101/2023.01.26.23284998v1
According to the Japanese study team, mutations in nonstructural protein 3 (nsp3) and nsp4 of SARS-CoV-2, presumably induced by the asthma drug ciclesonide (which also has anti-SARS-CoV-2 activity), were counted 5,851 cases in the GISAID EpiCoV genome database.
Sporadic occurrence of mutan ts not linked to each other in the phylogenetic tree were identified at least 88 times; of which, 58 had one or more descendants in the same branch. Five of these had spread to more than 100 cases, and one had expanded to 4,748 cases, suggesting the mutations are frequent, selected in individual patients, and transmitted to form clusters of cases.
The study team says that clinical trials of ciclesonide as a treatment for COVID-19 are the presumed cause of the frequent occurrence of mutations between 2020 June and 2021 November.
Furthermore, because ciclesonide is a common treatment for asthma, it can drive mutations in asthmatics suffering from COVID-19.
Importantly, ciclesonide-resistant mutations, which have unpredictable effects in humans, are likely to continue to emerge because SARS-CoV-2 remains prevalent globally.
The study findings were published in the peer reviewed journal: PNAS Nexus by Oxford Academic.
https://academic.oup.com/pnasnexus/article/1/4/pgac197/6706860?login=false
It should be noted that ciclesonide is an approved anti-asthma drug with a large market in South America, North America, and the Asia-Pacific.
As a result of ciclesonide having few side effects in humans, it is administered at high concentrations.
The study team expects that asthmatics infected with SARS-CoV-2 will use ciclesonide because COVID-19 and asthma have similar respiratory symptoms including wheezing, shortness of breath, and cough.
Also, ciclesonide is commonly self-administered by non-hospitalized asthma patients, increasing the chances that a resistant mutant will emerge and spread.
Typically, ciclesonide inhaled in powder form at 400 μg/day for asthmatics dissolves in the small amount of exudate that covers the surface of the respiratory tract, presumably delivered a sufficient concentration to allow the emergence of resistant viruses, as described in the previous study.
https://pubmed.ncbi.nlm.nih.gov/33055254/
Hence, ciclesonide exerts high selection pressure on the virus in COVID-19 patients with asthma, thereby presumably driving emergence of resistant mutants.
We can expect lots of other drugs and also unofficially 'repurposed' drugs such as even ivermectin that is still being used by many to also not only cause drug resistance but also help spawn worrisome mutations.
On the subject of ivermectin, many are not aware that frequent usage of the drug not only causes issues with the gastrointestinal tract but also can dangerously alter the important microbiota in the gut that also play a role in maintaining proper immune functions! (Will be covering details in a future article)
For the latest
COVID-19 News
, keep on logging to Thailand Medical News.
Read Also:
https://www.thailandmedical.news/news/molnupiravir--what-wrong-with-america-why-is-the-american-government-and-agencies-funding-and-pushing-potentially-toxic-drugs-to-treat-covid-19
https://www.thailandmedical.news/news/first-published-case-report-links-usage-of-molnupiravir-to-treat-covid-19-to-acute-renal-failure
https://www.thailandmedical.news/news/covid-19-drugs-university-of-oxford-study-shows-that-molnupiravir-does-not-reduce-hospitalization-or-deaths-in-vaccinated-adults-with-covid-19