Outbreak News: Murray Valley Encephalitis Virus Reemerges Back In Victoria, Australia After 49 Years! Three Infections And Two Deaths So Far!
Outbreak News
: The Murray Valley encephalitis virus (MVEV) a deadly a zoonotic flavivirus that can be spread by mosquitoes, other insects and animal vectors to humans has made a surprising comeback after an absence fo 49 years in Australia in the state of Victoria!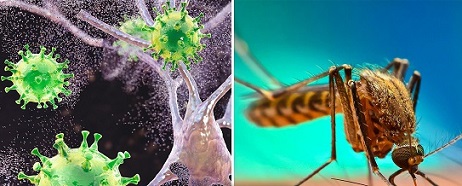 Since the first case was reported involving a woman in Buloke Shire, Victoria in late January 2023, a total of three infections and two deaths have since emerged according to the Victoria Department of Health.
https://www.health.vic.gov.au/media-releases/more-murray-valley-encephalitis-cases-recorded-in-victoria
Health authorities are worried that various wild life and also domesticated animals in the state could be growing reservoirs of the virus and that various insects including the mosquitoes could help spread the virus to a larger human population in the state or elsewhere in Australia.
Murray Valley encephalitis virus (MVEV) can cause permanent neurological disease or death. MVEV is related to Kunjin
virus, which has a similar ecology, but a lower morbidity rate. Although the arbovirus is endemic to Northern Australia, it has occasionally spread to the southern states during times of heavy rainfall during the summer monsoon season via seasonal flooding of the Murray-Darling River system.
Past history has shown that typically these outbreaks can be decades apart, with no or very few cases identified in between.
Most individuals who are infected with the virus that causes Murray Valley encephalitis do not have any symptoms. A small proportion of infected people may get symptoms, and these may include:
-fever
-headache
-nausea
-vomiting
-loss of appetite
-diarrhoea
-muscle aches.
The Murray Valley encephalitis virus (MVEV) can cause a severe brain infection known as encephalitis. The danger signs of Murray Valley encephalitis include the following symptoms:
-severe headache
-neck stiffness
-sensitivity to bright lights (photophobia)
-drowsiness and confusion
-coma
-seizures
-loss of consciousness.
There are no known antivirals or drugs to treat infections caused by the Murray Valley encephalitis virus (MVEV).
The reported cases in Victoria are the first known Murray Valley encephalitis virus infections since 1974.
The first reported case involved a woman in her sixties who contracted the virus in January 2023 and who died in early February.
Two additional cases of MVE virus infection, including another death, have been confirmed in Victoria according to various
Outbreak News
coverages.
The second case of Murray Valley encephalitis virus was also a woman in her sixties who died in late February and was most likely exposed to infected mosquitoes in the Greater Bendigo Local Government Area (LGA), but also spent time in Swan Hill LGA.
The third case involved a man in his seventies who was potentially exposed to infected mosquitoes in Campaspe Shire LGA. The individual is currently in ICU.
In fact, some locals are speculating that the outbreak could be more serious than being reported.
Australian federal health authorities are however warning that the risk of mosquito-borne diseases such as Japanese encephalitis (JE), MVE and West Nile (Kunjin) virus infections are high this summer, particularly in northern Victoria where viruses are being detected in mosquitoes.
They warned that the risk of human cases in the coming weeks is very high.
Residents and people visiting northern Victoria are recommended to take action to avoid mosquito bites. This includes limiting time spent outdoors and dawn and dusk and to wear insect repellent at all times when outdoors.
Local health authorities are also urging anyone experiencing symptoms to seek urgent medical care, given the long-term or potentially fatal complications of serious illness.
Local health officials are also preparing for a potential outbreak and are liaising with hospitals and clinics in the area and also councils to make necessary preparations as caseloads are expected to rise with the mosquito season.
For the latest
Outbreak News
keep on logging to Thailand Medical News.