U.S. Medical News: Rising Cancer Cases Among American Military Personnel At Montana Air Force Base Leads To Discovery Of Carcinogens At Missile Sites!
U.S. Medical News
: In a shocking revelation that has sent shockwaves through the U.S. military and the American public, the U.S. Air Force has uncovered hazardous levels of a likely carcinogen at underground launch control centers in Montana's nuclear missile base. This startling discovery comes amid a disturbing surge in cancer diagnoses among men and women who have served at these missile sites.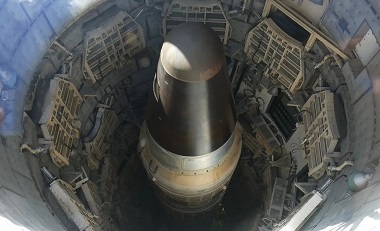 The alarming findings have led to an immediate cleanup effort and raised urgent calls for a comprehensive study into the health risks faced by missileers.
This breakthrough discovery marks a turning point in the extensive sampling of active U.S. intercontinental ballistic missile (ICBM) bases, addressing specific cancer concerns that have long haunted the missile community. The Environmental Protection Agency's (EPA) classification of the substance in question, polychlorinated biphenyls (PCBs), as a likely carcinogen has further escalated concerns. PCBs are oily or waxy substances that have been implicated in the development of cancer, particularly non-Hodgkin lymphoma, a blood cancer.
Non-Hodgkin lymphoma (also known as non-Hodgkin's lymphoma, NHL, or sometimes just lymphoma) is a cancer that starts in white blood cells called lymphocytes, which are part of the body's immune system. NHL is a term that's used for many different types of lymphoma that all share some of the same characteristics. Studies show that overall, 73% percent of people with these conditions are alive five years after their diagnosis. In general, individuals diagnosed before the condition spreads live longer than people who are diagnosed after the condition spreads.
Reacting to these alarming findings, General Thomas Bussiere, the commander of Air Force Global Strike Command, has initiated an immediate cleanup process for the affected facilities and measures to mitigate potential exposure to hazardous conditions for military personnel known as "airmen" and "Guardians."
The origins of this crisis can be traced back to a military briefing obtained by various
U.S. Medical News
outlets in early 2023, which revealed that at least nine current or former missileers stationed at Malmstrom Air Force Base were diagnosed with non-Hodgkin lymphoma.
Subsequently, the Air Force School of Aerospace Medicine launched a comprehensive study to examine cancer cases within the entire missile community. This study aimed to uncover potential clusters of cancer within this small, closely-knit group of military officers.
The gravity of the situation became even more apparent with data released by the Torchlight Initiative, a grassroots organization of former missile launch officers and their surviving family members.
https://torchlightinitiative.org/
The initiative reported that over the past several decades, a staggering 268 troops who served at nuclear missile sites or their surviving family members have self-reported being diagnosed with cancer, blood diseases, or other illnesses. Of these cases, at least 217 are cancers, with 33 being non-Hodgkin lymphoma.
These reported figures are particularly alarming when considering the relatively small size of the missileer community. Only a few hundred airmen serve as missileers at the country's three silo-launched Minuteman III ICBM bases each year. Since the Minuteman operations began in the early 1960s, there have been approximately 21,000 missileers in total, according to data from the Torchlight Initiative.
To put these numbers in context, the general U.S. population sees around 403 new cancer cases per 100,000 people each year, according to the Centers for Disease Control and Prevention. Similarly, non-Hodgkin lymphoma affects an estimated 19 of every 100,000 people annually, according to the American Cancer Society.
The locations affected by this crisis include the Minuteman III silo fields at Malmstrom, F.E. Warren Air Force Base in Wyoming, and Minot Air Force Base in North Dakota. Missileers, both male and female military officers, operate from underground launch control centers where they are responsible for monitoring and, if necessary, launching the silo-based nuclear weapons. The stress and strain of their responsibilities see two missileers spending days at a time in underground bunkers, ready to initiate a missile launch upon presidential order.
These missile silos and control centers were built over six decades ago, and much of the infrastructure and electronics remain outdated. Missileers have repeatedly raised health concerns regarding ventilation, water quality, and potential exposure to toxins during their 24 to 48-hour shifts underground.
The revelation of PCBs at the missile sites came to light during site visits conducted by the Air Force's bioenvironmental team from June 22 to June 29. This effort was part of the larger investigation into the rising number of reported cancers among the missile community. During these visits, health assessment teams collected samples of water, soil, air, and surfaces from each missile launch facility.
Among the results, it was found that 21 of the 300 surface swipe samples from Malmstrom detected PCBs, with two samples exceeding EPA-recommended thresholds for mitigation. Notably, no PCBs were detected in any of the 30 air samples. Test results for surface and air samples from F.E. Warren and Minot are still pending, as well as results for water and soil samples from all bases involved.
In a bid to address the crisis and provide clarity, the Air Force conducted a medical review of the Montana nuclear missile base. This review sought to identify potential risk factors that could explain the unusually high incidence of blood cancer among troops.
Despite the alarming number of cancer cases, the review concluded that there were no immediate concerns for acute cancer risks. The Air Force's 711th Human Performance Wing, responsible for the review, emphasized that there were no clear indications of specific reasons for the elevated cancer rates.
This mixed result has evoked a range of emotions among the families of affected service members. While some are frustrated by the lack of immediate answers, others are hopeful that this increased attention will prompt a more comprehensive study of all individuals who have worked with the nation's nuclear warheads.
Rhonda Wesolowski, whose son died from non-Hodgkin lymphoma linked to his service as a missile launch officer, hopes that increased awareness will lead to more thorough investigations and improved medical care for military personnel.
Jeff Fawcett Jr., whose father also served as a missileer, echoes these sentiments. His father's 25-year military career provided him with lifetime military medical care, a luxury not available to all service members. Fawcett Jr. points out that those who served shorter terms may not have the same access to medical care if they develop serious illnesses related to their service.
The aging infrastructure of the launch control centers and missile silos has also raised concerns. Former and current missileers have long worried about potential health hazards such as asbestos, inadequate ventilation, and exposure to toxic substances due to outdated equipment. The medical review recommended several measures to address these concerns, including deep cleaning of launch control centers and improvements to overall safety protocols.
While the Air Force's review sheds some light on the situation, it is clear that more comprehensive studies and efforts are needed to understand the extent of the health risks faced by missileers and to ensure their well-being. The commitment to continuing the investigation and conducting an epidemiological study of cancers within the missile community is a step in the right direction, but many families and experts are calling for even more robust action to protect those who have served their country.
As the nation grapples with these revelations, the urgent need for comprehensive research and care for military personnel becomes increasingly evident. The sacrifices made by these individuals in the service of their country deserve thorough investigation, accountability, and support to ensure their well-being.
Only through these collective efforts can the U.S. military ensure the health and safety of its dedicated missileers who stand ready to defend the nation at a moment's notice.
For the latest
U.S. Medical News
, keep on logging to Thailand Medical News.