Zero-COVID Is Now But A Dream! The World Recorded 2.16 Million New COVID-19 Cases In The Last 24 Hours And 7,236 Deaths. Omicron Mild?
Considering the current kinetics of the COVID-19 pandemic from the number of daily SARS-CoV-2 infections, the R Numbers, the number of daily testing and the quality and reliability of the testing, the turnover time of testing, the isolation and quarantine rules and strategies and the fact that new Omicron and Delta subvariants are evolving from a conformational aspect even to become more adaptable to different environmental conditions and even become more 'super airborne' ie stay longer in the air and even travel within longer transmissions distances depending on wind and particle carriers etc, we are really in a state where achieving
Zero COVID
is simply impossible and is just another unattainable dream unless you are in China where the government can enforce stringent measures overnight and have no disregard for humanity. Even then Zero COVID is not going to work especially with the Omicron variant.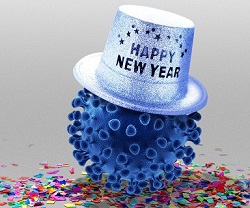 Even the concepts of lockdowns, social distancing, masking and vaccine mandates now are being questioned. Sooner or later, everyone is going to get infected with the Omicron variant and also other emerging variants. There is no escape whether you are vaccinated or unvaccinated except maybe….the vaccinated might only get less severe aspects of the disease and lower risk of mortality that is provided things like 'original antigenic sin', ADE, viral priming immune imprinting etc does not have a role to play.
The idea that if one has the best of respirators like the 3M Aura 1870+ N95 mask or other expensive respirators might saves one from getting the virus is also but a dream unless one is living in a bubble! (What about the virus on your hair, on your eyebrows, on the shoulders, on your legs etc?).
There is also no point in testing etc if one does not have easy and cheap access to the right medications to inhibit the virus and therapeutics to prevent the effects of the virus on the body cellular pathways and to prevent Long COVID conditions.
Please have a heart and help to support and sustain this website and all our research and community initiatives by making a donation. You help truly means a lot and helps saves lives directly and indirectly. Thank You.
https://www.thailandmedical.news/p/sponsorship
Two years in the COVID-19 pandemic and we have not really made any progress and in fact, mankind has actually helped to make things worse. Despite having so many experts out there, always making comments in the media or twittering away, we really just in the same state as we were sine the beginning of the pandemic except that things are much worse now. Some experts say we have more tools now at our disposal…what tools?..the vaccines are not really being great at stopping Omicron and even certain Delta subvariants from spreading and in terms of lowering the risk of disease severity and mortality, I am not sure about that anymore looking at the hospitalization rates in the US, UK and elsewhere going up, and though deaths might be lower than previous surges but there are still deaths and the numbers are rising.
Omicron h as changed the way it gains cell entry and also its pathogenesis is different…there are now a lot of questions about the present treatment protocols and also the effectiveness of the monoclonal protocols and new antivirals just approved.
In the last 24 hours, the world saw more than 2.16 Million New COVID-19 cases in the last 24 hours and 7,236 deaths.
In the next few weeks, the situation is expected to get far worse.
Various countries around the world are reporting exponential increases in COVID-19 cases.
Germany
The Robert Koch Institute, Germany's national agency for disease control and prevention reported a seven-day incidence rate of 258.6 infections per 100,000 inhabitants -- up from last Wednesday's 205.5 cases per 100,000 inhabitants.
The daily COVID-19 infections reported on Wednesday was 58,912. Last Wednesday, that number was 18,869.
Also 346 people were killed in the last 24 hours by COVID-19 in Germany. At least 112,925 people have died in the country after contracting the coronavirus.
The Robert Koch Institute warned that not all numbers may have been reported over the holidays.
India
India on Wednesday reported the highest single-day rise in coronavirus cases since June 20 last year, according to a tally of figures from the Indian Health Ministry.
India reported 58,097 new infections a 55% increase on the previous day, which saw 37,379 cases, the Health Ministry said.
The southern state of Karnataka on Tuesday became the second to impose a weekend curfew where all activities except essential services will be shut on Saturday and Sunday. Earlier in the day, the national capital territory of Delhi was the first to impose such restrictions.
K. Sudhakar, Karnataka's health minister tweeted, "Data shows us that cases are doubling every 2 to 3 days in Karnataka!" Earlier, Delhi's health minister told reporters the Omicron variant constituted the majority of new cases in the capital.
Australia
Australia, once applauded for its success in controlling the virus, reported 64,758 new cases on Wednesday most of them in the states of New South Wales and Victoria.
Japan
As of Tuesday, a total of 1,191 cases of the Omicron variant had been found in Japan, including 479 cases considered community transmissions, according to the health ministry.
Japan's Okinawa sees doubling of COVID-19 cases and is considering emergency steps.
Japan's Okinawa region has emerged as the epicentre of a new coronavirus surge with cases more than doubling from the previous day and officials were considering imposing emergency steps to contain it.
New infections in the southern prefecture jumped to 623 from 225 on Tuesday, the most since August when Japan was in the midst of its fifth and biggest wave of COVID-19.
Israel
Israel's health ministry has announced nearly 12,000 new coronavirus cases, constituting the largest daily rise in infections since the beginning of the pandemic nearly two years ago.
According to official figures, 11,978 new COVID cases were detected over the course of Tuesday, surpassing the country's previous record high of 11,344 cases recorded on September 2 last year.
Although there were currently nearly 60,000 people with COVID in Israel, the number of serious cases on Wednesday was only 125, according to the health ministry.
To date, nearly 4.3 million of Israel's 9.4 million inhabitants have received three shots of coronavirus vaccine. In recent days, authorities began administering fourth shots to at-risk groups.
United States
America reported nearly 1 million COVID-19 cases in the last 24 hours, setting global record. This new record is the highest daily tally of any country in the world and nearly double the previous US peak set a week ago.
The number of hospitalized COVID-19 patients has risen nearly 50 percent in the past week and now exceeds 100,000, marking the first time that threshold has been reached in a year.
Hungary
Hungary health officials reported 5,270 new COVID-19 cases, a sharp rise from the 3,005 recorded a week ago, amid the spread of the Omicron variant. Omicron accounted for more than 11 percent of new cases, the government said.
Pakistan
Pakistan cases record biggest daily jump since mid-October 2021.Pakistan says it registered 898 new cases of the coronavirus on Tuesday, the biggest jump in daily cases since mid-October. There were five deaths recorded on Tuesday, taking the official death toll since the pandemic began to 28,950.
United Kingdom
The United Kingdom's coronavirus caseload has crossed 200,000 for the first time as hospitals come under increasing pressure due to staff shortages.
The British government said on Tuesday it had logged 218,724 infections in the previous 24 hours, the highest daily total since the pandemic began although it is a figure also was skewed by reporting lags during the holidays. 48 COVID-19 deaths were also reported.
Greece
Greece reported a record 50,126 coronavirus infections on Tuesday, breaking a previous high of 40,560 registered on December 31.
Italy
Italy reported a record 170,844 new COVID-19 cases on Tuesday, against 68,052 the day before, the health ministry said, while the daily tally of coronavirus-related deaths rose to 259 from 140.
Spain
Spain reporteda record 14-day infection rate. Spain's health ministry has reported a record in the national 14-day COVID-19 infection rate, as the figure climbed to 2,433.9 per 100,000 people, from 2,295.8 registered the previous day. Intensive care occupancy reached 21.3 percent, a slight increase from 21.2 percent on Monday but still far below the peak of 45 percent recorded last February.
France
France reported 271,686 new COVID-19 infections and 351 COVID-19 deaths in the last 24 hours. French health authorities said they registered 271,686 daily COVID-19 infections, the highest recorded tally.
Omicron Mild? Long COVID issues expected to be a put a stress on already collapsing public healthcare in many countries.
For those that assume Omicron is mild, the next few weeks and months will reveal the real impact of long COVID or PASC (Post-Acute Sequelae of COVID-19) as a result of infection by the new variant.
We are going to see far more greater long term health issues from Omicron infections than from previous strains because of the altered cell entry modes and pathogenesis modes and ways the Omicron affects the various cellular pathways.
Preliminary data from ongoing studies are indicating worrisome details including the rise of neurological, heart, kidney, liver and gastrointestinal issues and also the rise of cancer besides immune dysfunction which could lead to secondary opportunistic infections. We will be following up on these researches once the preprints are available.
Please have a heart and help to support and sustain this website and all our research and community initiatives by making a donation. You help truly means a lot and helps saves lives directly and indirectly. Thank You.
https://www.thailandmedical.news/p/sponsorship
For the latest on the
COVID-19 Pandemic
, keep on logging to Thailand Medical News.