COVID-19 News: Study Validates That SARS-CoV-2 Accessory Proteins ORF6, ORF8, ORF9b And ORF9c Involved In Profibrotic Processes
COVID-19 News
: A new study by Spanish researchers from Margarita Salas Center for Biological Research (CIB-CSIC),Madrid, University of Córdoba, Biomedical Research Institute of Córdoba (IMIBIC), National Centre for Biotechnology (CNB-CSIC), Institute for Health Research Hospital '12 de 16 Octubre' (imas12) and the Centre for Biomedical Research Network on Infectious Diseases (CIBERINFEC) has found that the SARS-CoV-2 accessory proteins ORF6, ORF8, ORF9b And ORF9c are involved in inflammatory and profibrotic processes through IL11 signaling.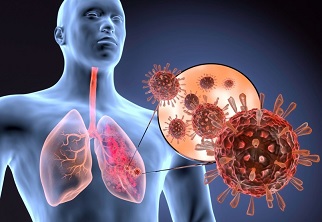 SARS-CoV-2, responsible for the COVID-19 pandemic, contains eleven accessory proteins encoded in its genome, with their functions during infection not yet fully understood.
Transcriptomic analysis showed significant upregulation of WNT5A and IL11 in A549 cells expressing individual accessory proteins ORF6, ORF8, ORF9b, or ORF9c from SARS-CoV-2 (Wuhan-Hu-1 isolate). Differential expression of IL11 signaling-related genes was also observed. Bioinformatics analysis revealed that both WNT5A and IL11 were associated with idiopathic pulmonary fibrosis. Functional tests confirmed their link to profibrotic cellular responses.
Comparing data from lung cell lines infected with SARS-CoV-2 or lung biopsies from COVID-19 patients, altered gene expression patterns aligned with the findings of this study.
The study findings demonstrate that ORF6, ORF8, ORF9b, and ORF9c play a role in inflammatory and profibrotic responses, suggesting these accessory proteins could be potential targets for new COVID-19 therapies.
SARS-CoV-2's ORF6 is a 61 amino acid protein found in the endoplasmic reticulum and vesicle membranes, including autophagosomes and lysosomes. It has multiple functions, such as blocking the movement of newly synthesized immune-modulating cytokine mRNAs, like IFN-β and IL-6.
ORF8, a 121 amino acid protein, has an N-terminal signal sequence for endoplasmic reticulum import and is secreted rather than retained in the ER. Its extracellular form has been detected in cell culture supernatants and COVID-19 patient sera. ORF8 functions by binding to CD16a, reducing monocyte-mediated antibody-dependent cellular cytotoxicity.
ORF9b is a 97 amino acid protein that counteracts type I and III interferons by negatively regulating antiviral immunity. It is located in the mitochondrial membrane, associated with TOM70, and induces pro-inflammatory mitochondrial DNA release in inner membrane-derived vesicles.
ORF9c is a 73 amino acid membrane-associated protein that suppresses antiviral responses in cells and interacts with Sigma receptors involved in lipid remodeling and ER stress response.
SARS-CoV-2 primarily affects the respiratory tract, leading to pneumonia in most patients and acute respiratory distress syndrome (ARDS) in 15% of cases. ARDS is mainly caused by high levels of pro-inflammatory cytokines like IL-6, known as a cytokine storm. IL-11, a member of the IL-6 family of cytokines, has similar properties to IL-6, but its receptor is expressed in stromal and parenchymal cells. IL-11 has been linked to fibrosis, chronic inflammation, and matrix extracellular remodeling.
WNT5A and IL-11 can activate STAT3 signaling, connecting WNT5A with immunomodulation.
/>
The study found that lung epithelial cells transduced with SARS-CoV-2 accessory proteins ORF6, ORF8, ORF9b, or ORF9c showed significant upregulation of WNT5A and IL-11, along with differential expression of IL-11 signaling-related genes like STAT3 and TGFβ. These accessory proteins were implicated in both inflammatory and fibrotic responses, suggesting their involvement in SARS-CoV-2 infection-related inflammation and/or fibrosis.
The study findings were published on preprint server and are current being peer reviewed.
https://www.biorxiv.org/content/10.1101/2023.03.27.534381v1
The SARS-CoV-2 virus, which causes COVID-19, has been linked to extensive lung damage and the development of pulmonary fibrosis.
Numerous studies and
COVID-19 News
coverages have shown fibrotic changes in the lungs of patients with long COVID-19, even up to a year after infection.
https://www.thailandmedical.news/news/long-covid-news-stanford-study-shows-that-innate-immune-cell-activation-causes-lung-fibrosis-that-can-lead-to-long-covid-breathing-problems
https://www.thailandmedical.news/news/university-of-virginia-study-finds-that-sars-cov-2-infections-triggers-reduction-in-circulating-monocytes-that-leads-to-persistent-post-covid-pulmonar
https://www.thailandmedical.news/news/irrespective-of-severity-40-percent-of-post-covid-pneumonia-patients-still-have-impaired-lung-diffusion-and-22-percent-developed-lung-fibrosis-a-year-
https://www.thailandmedical.news/news/great-news-most-post-covid-individuals-will-develop-lung-issues-similar-to-idiopathic-pulmonary-fibrosis-ipf-with-potential-serious-outcomes
https://www.thailandmedical.news/news/breaking-covid-19-latest-sars-cov-2-induces-immunoparalysis-of-human-host,-infects-monocytes,-macrophages-and-can-cause-fibrosis-in-post-covid-19
This study focused on the potential role of accessory proteins ORF6, ORF8, ORF9b, and ORF9c from the SARS-CoV-2 Wuhan-Hu-1 isolate in promoting inflammatory and fibrotic responses. It is important to note that more virulent strains of coronaviruses, such as MERS-CoV, SARS-CoV, and SARS-CoV-2, have a higher number of accessory proteins compared to less virulent strains, suggesting a key role in pathogenesis.
In this study, A549 lung epithelial cells were individually transduced with the accessory proteins, and transcriptomic and bioinformatic analyses were performed. Surprisingly, the study team found a significant overexpression of IL11, an "epithelial interleukin," in transduced cells, while no changes in IL6 expression or release were observed. High levels of IL11 have been associated with fibrosis, chronic inflammation, and extracellular matrix remodeling in previous studies.
The study team also found several fibrosis-related genes differentially expressed, including WNT5A, which was upregulated in ORF6 and ORF9b expressing cells. WNT5A is a member of the WNT family of proteins, which play crucial roles in various biological processes, and is known to have a relationship with IL11 through STAT3 signaling pathways. Moreover, chemokines CXCL1 and CXCL12 have been found to be upregulated by WNT5A in various studies.
The study team hypothesized that IL11 might be behind the profibrotic changes in ORF-transduced A549 cells, so they used an IL11 receptor inhibitor to block the IL11 signaling pathway. The treatment with the IL11 receptor inhibitor, BAZ, reversed the high collagen-contraction ability of the ORF-transduced cells and reduced STAT3 phosphorylation.
The study also compared data from lung cell lines infected with SARS-CoV-2 and lung biopsies from COVID-19 patients. The study team found common differentially expressed genes, including IL11 and SNAI1. Moreover, 28 common genes related to fibrosis were found between the transduced cell lines and COVID-19 lung biopsies, with IL11 being among them.
In conclusion, the study findings demonstrated that SARS-CoV-2 accessory proteins ORF6, ORF8, ORF9b, and ORF9c can trigger profibrotic cell responses in A549 human lung epithelial cells, with increased IL11 leading to extracellular matrix remodeling. The study findings suggest that these accessory proteins could be used as targets for new therapies against pulmonary fibrosis in COVID-19 patients.
For the latest
COVID-19 News
, keep on logging to Thailand Medical News.
Read Also:
https://www.thailandmedical.news/news/breaking-covid-19-news-wisconsin-study-shows-that-sars-cov-2-causes-cardiac-fibrosis-many-could-die-suddenly
https://www.thailandmedical.news/news/covid-19-news-sars-cov-2-structural-proteins-affects-oral-health-by-causing-periodontal-fibrosis-via-deregulating-mitochondrial-b-oxidation