LATEST! SARS-CoV-2 BQ.1.1 And BA.2.3.20 Variants Driving Exponential Daily New Infections And Hospitalizations Across Europe With High Incidences OF ARDS!
It was initially assumed that the newly emerged BA.2.3.20 and BQ.1.1 variants would only gather predominance in circulation and become a key player in the late Fall and Winter surges but unexpectedly both are now rapidly superseding the BA.5, BA.4.6 and BA.2.75 variants.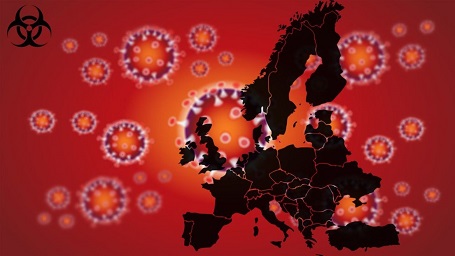 In the United Kingdom, in the last 24 hours, it was estimated that there were about more than 164,000 COVID-19 infections, bringing a total of approximately 1.95 million people with symptomatic infections in the last 7 days!
https://health-study.joinzoe.com/data
Despite cover-up attempts by the British government, media reports last week indicated that hospitalization rates are rising for the first time since July 2022.
https://www.theguardian.com/world/2022/sep/22/covid-hospitalisations-rise-by-nearly-20-in-a-week-in-england
https://www.hsj.co.uk/coronavirus/fourth-covid-wave-of-2022-picks-up-speed/7033202.article
Latest NHS figures show a 17% increase in the number of COVID-19 patients admitted to hospitals in England ie from 3,434 in the week ending 12 September to 4,015 in the week ending 19 September, with larger percentage rises in some regions.
In the last 48 hours, hospitals in London alone have started sending alerts of their overloads and inability to handle new admissions.
ICU wards are once again filled with most COVID-19 patients exhibiting ARDS or acute respiratory distress syndrome and needing ventilators. The only difference from previous surges isthat most of the patients in the ICU wards this time are younger adults ie between the ages of 55 to 25!
Thailand
Medical News
is also observing that daily new COVID-19 infections are also rising in Austria, Belgium, France, Germany, Portugal, Denmark and Sweden with a correlating link to an increase of the detection of BQ.1.1 and BA.2.3.20 variants in sequencing samples in these countries.
The BQ.1.1 also known as B.1.1.529.5.3.1.1.1.1.1.1 is a sub-lineage is derived from the BA.5 variant but has gained several additional mutations in the RBD - R346T (last seen in BA.4.6), K444T and N460K that help contribute towards immune escape.
https://cov-spectrum.org/explore/World/AllSamples/Past6M/variants?aaMutations=S%3A346T&nextcladePangoLineage=BQ.1*
https://github.com/cov-lineages/pango-designation/issues/1082
https://github.com/cov-lineages/pango-designation/issues/993
All known existing monoclonal therapeutics including Evusheld and Bebtelovimab has no effect on it.
/content/10.1101/2022.09.15.507787v2">https://www.biorxiv.org/content/10.1101/2022.09.15.507787v2
Already clinical observations are also showing that none of the existing U.S. FDA antivirals like remdesivir, paxlovid or even molnufiravir has any inhibitory prowess over it.
Scientists are warning that the BQ.1.1 exhibits enhanced tropism towards the lungs and also exhibits enhanced binding to not only ACE2 receptors but also to a variety of other human host receptors as well as critical proteases, thus being even more pathogenic.
In addition, its exhibits greater fusogenicity with implications for increased risk of disease severity.
It was initially reported that for the United Kingdom, BQ.1.1 has a growth advantage of 12% per day over all other BA.5.* lineages, which predicts a crossover by mid-October. However, that figure seems to be increasing.
Th BA.2.3.20 variant has an additional of 10 new spike mutations M153T, N164K, H245N, G257D, K444R, N450D, L452M, N460K, E484R and R493Q.
It also posts the N mutations NSP2_T547I and NSP3_I896T and is believed to be not only more immune evasive than its predecessors but also more pathogenic and also fusegonic.
https://cov-spectrum.org/explore/World/AllSamples/Past6M/variants?nextcladePangoLineage=Ba.2.3.20*
We do not have much data on it as of now but will continue to provide more updates.
However, Chinese researchers are already warning that previous infections with the BA.5 variant or even immunity conferred by the new bivalent jabs will confer no protection against both BQ.1.1 and BA.2.3.20 variants and breakthrough infections with a much more serious outcome can be expected.
We should see the actual effects of both the BQ.1.1 and BA.2.3.20 variants in coming weeks in the United Kingdom and the rest of Europe.
For the latest
Europe COVID-19
News, keep on logging to Thailand
Medical News
.