Omega (B.1.1.529) Variant Discovered Now In A Total Of 11 Countries Outside Africa With More Suspected Cases Elsewhere, More Updates On Variant Characteristics
The Omega Variant or B.1.1.529 Variant (Thailand
Medical News
refers to the variant as Omega and not the stupidly WHO designated name: Omicron) has to date been confirmed in Hong Kong, Israel, Italy, Germany, Belgium, UK, Australia, Czech Republic, Denmark, Netherlands and recently in Canada. There are also suspected cases in at least another 17 countries now with confirmations pending upon results of genomic sequencings.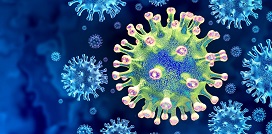 Two cases of the new Omega variant have been confirmed in Ontario, Canada, government officials announced Sunday.
Christine Elliott, deputy premier and minister of health, and Dr Kieran Moore, chief medical officer of health, said in a statement, "Today, the province of Ontario has confirmed two cases of the Omicron variant of COVID-19 in Ottawa, both of which were reported in individuals with recent travel from Nigeria. Ottawa Public Health is conducting case and contact management and the patients are in isolation."
News are also emerging that Nigeria could be a hotspot of the new variant.
Emerging data are indicating that reinfections are easy even in people who have been infected in the past with other variants and had developed natural immunity and even those that there vaccinated.
Also in many cases, asymptomatic or mild symptoms were observed in many who were infected with the new Omega variant but in some cases, it was observed that there was rapid deterioration in those that were asymptomatic indicating that the new variant is indeed equipped to evade the human host immune defenses and replicate fast before actually causing damage.
The fallacy that if one is asymptomatic or only experiences mild symptoms means that one is safe is a far from the truth as it also shows that the virus could be smart enough to dismantle the host immune responses for it to replicate more and also it shows that it is paving the path for viral persistence.
South African physicians are reporting that many who are infected with the new B.1.1.529 variant generally suffer from headaches, body pain and fatigue over long periods of time.
The European Centre for Disease Prevention and Control made a statement on Friday, saying that, "given the variant's immune escape potential and potentially increased transmissibility advantage compared to the Delta variant, there is a high to very high risk it will spread in Europe.
Since that statement, it is now emerging that with cases already confirmed in UK, Germany, Italy, Belgium, Czech Republic, Denmark and Netherlands, the omega variant should already be all around Europe and this is likely to exacerbate the winter surges in Europe.
Countries elsewhere in the world should either start closing their borders or at least also ban travelers from Europe besides Africa.
The new Omega or B.1.1.529 variant is already confirmed to be far more transmissible and infectious than any known variant of the SARS-CoV-2 virus and is also immune evasive.
https://www.thailandmedical.news/news/breaking-preliminary-studies-now-show-that-b-1-1-5 29-is-about-500-times-more-infectious-than-delta-and-has-about-2-to-3-furin-cleavage-sites
Despite the massive number of mutations in the new omega variant ie 59 mutations with 32 mutations in just the spike proteins alone, the virus is stable and more concerning is the fact that the mutations have appeared in new conformational patterns.
Data from the WHO has been typically slow and in their typical bureaucratic manner are always saying that things such as transmissibility, immune evasiveness etc still not confirmed pending more study data while the virus spreads and creates more havoc around the world. Perhaps this part of WHO's working strategy as if there was no spread of diseases and pandemics, the morons there would have no work nor importance!
Please help to sustain this site and also all our research and community initiatives by making a donation. Your help means a lot and helps saves lives directly and indirectly.
https://www.thailandmedical.news/p/sponsorship
Thailand medical News will continue to provide more updates on the Omega aka B.1.1.529 variant.