U.S. Medical News: XBB.1.16 Gaining Traction In America. 7.2 Percent Of All Sequencings Are Now XBB.1.16. Expected To Reach 50 Percent In About 4 Weeks
U.S. Medical News
: Despite concerted efforts by the Biden administration to conceal the real impact of the COVID-19 crisis in the country, certain public figures that cannot be concealed or downplayed are indicating that the country should brace itself for another offensive onslaught by various new XBB sub-lineages including the XBB.1.16 and XBB.2.3 sub-lineages and their latest spawns.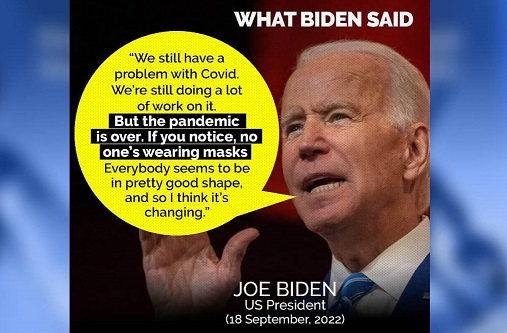 While the US. CDC has publicly said that that they are not witnessing any seeing increases in cases, deaths, or hospitalizations, certain independent news networks are reporting radula increases in daily infections, hospitalizations and daily death rates have been hovering around the 375 to 500 levels! (That too based on data from about half of the States in the U.S!)
According to BNO News, based on data from 20 out of 50 states, there were 33,599 new COVID-19 infections in the last 24 hours and 388 COVID-19 deaths 1ith 16,358 individuals currently hospitalized due to COVID-19 and 2,186 Americans in ICU COVID-19. (The actual figures could be much much higher!)
https://twitter.com/BNOFeed/status/1646742281418842113
https://twitter.com/BNOFeed/status/1646362114955640833
(Yes..COVID-19 is over, its now endemic and its causing 'mild severity', 'mild hospitalizations' and 'mild deaths'!...Lol! These Democrat buffoons can only fool their fans, the millennials and Gen Z and the Wokes that are more interested BLM or Trans issues!)
We will never know the true impact of the COVID-19 situation nor the real excess deaths rates due to COVID or Long COVID in America as a lot of data is being suppressed as many Democrat states are not reporting figures!
However, the U.S. CDC did release data indicating that the XBB.1.16 sub-lineage now makes up 7.2% of US samples, up from 3.9% the previous week.
https://covid.cdc.gov/covid-data-tracker/#variant-proportions
However, XBB.1.6 already makes up 21.3% of viruses in the south-central region of the country, which includes Arkansas, Louisiana, New Mexico, Oklahoma, and Texas.
It was reported that three other subvariants that still make up a relatively small proportion also gained ground: XBB.1.9.1, XBB.1.9.2, and XBB.1.5.1. Nationally, the proportion of XBB.1.9.1 is at 6.5%, up from 5.1% the previous week.
The U.S. CDC said the newer lineages could displace XBB.1.5.
The U.S. CDC told the American public, "At this time, the best ways to protect yourself and other from COVID-19 remain the same, regardless of which lineage causes infection."
Falsely, the U.S CDC said in its weekly data summary the United States is averaging 14,491 new cases a day, down 17.3% from its previous 7-day average for new daily cases and that about 190 Americans die from COVID-19 each day, down 25.5% from the last 7-day average for new daily deaths. It also said that new daily hospitalizations for COVID declined 14.6% from the previous week.
c.gov/coronavirus/2019-ncov/covid-data/covidview/index.html">https://www.cdc.gov/coronavirus/2019-ncov/covid-data/covidview/index.html
These figures do not tally with reports from various independent news agencies or even data from just a few states that are reporting!
Various other
U.S. Medical News
and independent news outlets are reporting that excess deaths are rising exponentially in the Unites States since the start of 2023!
https://www.eastbaytimes.com/2023/04/12/opinion-excess-deaths-in-the-u-s-are-rising-at-a-shocking-rate/
https://www.effinghamdailynews.com/opinion/columns/excess-deaths-in-the-us-are-rising-at-a-shocking-rate/article_a7100384-d899-11ed-a27d-07958a7290a4.html
https://journals.plos.org/plosone/article?id=10.1371/journal.pone.0283153
Meanwhile it was also reported that the U.S. CDC's Advisory Committee on Immunization Practices (ACIP) will meet on Apr 19, outside of its regularly scheduled meetings, to consider a potential recommendation for a second bivalent COVID booster.
https://www.cdc.gov/vaccines/acip/index.html
It was reported earlier that the Food and Drug Administration (FDA) within the next few weeks was expected to authorize second boosters for those at highest risk, including those 65 or older and people who have weakened immune systems.
Whether these boosters really work is a big question mark especially in terms of what is being seen in countries like Japan, Singapore, India and the United Kingdom. But those controlling the COVID-19 narratives are really going all the way out as almost every week we can see at least 3 to 4 studies by so called paid researchers and institutions coming up with garbage study findings extolling the 'miraculous properties' of these boosters while we are also witnessing people who have been 'boostered' dying from COVID especially those in the about 60s age group especially when it comes to the newer XBB and XBC sub-lineages!
It is also kinda strange that while so many virologists and experts are warning that these newer sub-lineages are more immune evasive and are causing breakthrough infections, health authorities are still peddling the same old boosters instead of spending efforts upgrading or coming up with better vaccines…if that is really possible that…considering that we are dealing with coronaviruses!
For the latest
U.S. Medical News
, keep on logging to Thailand Medical News.