BREAKING! Ongoing U.S. Study Shows Persistence of SARS CoV-2 S1 Protein in CD16+ Monocytes in Post-Acute Sequelae of COVID-19 Up to 15 Months Post-Infection!
Long-COVID Research
: An ongoing study by American researchers have alarmingly found the persistence of SARS CoV-2 spike 1 protein in CD16+ monocytes in Post-Acute Sequelae of COVID-19 (PASC) up to 15 Months post infection!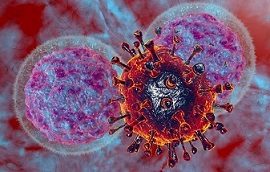 The study team from IncellDx Inc-USA, Lawrence General Hospital-Massachusetts, 3Bio-Rad-USA, Langone Medical Center-New York University-USA, Universidad de Costa Rica-Costa Rica, Avrok Laboratories Inc-USA and Oregon Health and Science University-USA published their preliminary findings as an abstract in the peer reviewed journal: Frontiers in Immunology.
https://www.frontiersin.org/articles/10.3389/fimmu.2021.746021/abstract
The detailed study findings will shortly be published.
The ongoing COVID-19 pandemic is a treatment challenge in the acute infection stage but the recognition of chronic COVID-19 symptoms termed post-acute sequelae SARS-CoV-2 infection (PASC) or commonly referred to as Long COVID may affect up to 30% of all infected individuals.
The underlying mechanism and source of this distinct immunologic condition three months or more after initial infection remains elusive.
The study team investigated the presence of SARS-CoV-2 S1 protein in 46 individuals.
The
Long-COVID Research
study team analyzed T-cell, B-cell, and monocytic subsets in both severe COVID-19 patients and in patients with post-acute sequelae of COVID-19 (PASC).
Alarmingly the levels of both intermediate (CD14+, CD16+) and non-classical monocyte (CD14Lo, CD16+) were significantly elevated in PASC patients up to 15 months post-acute infection compared to healthy controls (P=0.002 and P=0.01, respectively).
More shockingly, a statistically significant number of non-classical monocytes contained SARS-CoV-2 S1 protein in both severe (P=0.004) and PASC patients (P=0.02) out to 15 months post-infection.
Non-classical monocytes were sorted from PASC patients using flow cytometric sorting and the SARS-CoV-2 S1 protein was confirmed by mass spectrometry. Cells from 4 out of 11 severe COVID-19 patients and 1 out of 26 PASC patients contained ddPCR+ peripheral blood mononuclear cells, however, only fragmented SARS-CoV-2 RNA was found in PASC patients. No full-length sequences were identified, and no sequences that could account for the observed S1 protein were identified in any patient.
It should be noted that non-classical monocytes are capable of causing inflammation throughout the body in response to fractalkine/CX3CL1 and RANTES/CCR5.
The study findings have alarming implications and more details are expected once the full study is published.
Thailand Medical News will provide further updates on the study findings.
Please help to sustain this site and also all our research and community initiatives by making a donation. Your help means a lot and helps saves lives directly and indirectly and we desperately also need financial help now.
https://www.thailandmedical. news/p/sponsorship
For the latest
Long-COVID Research
, keep on logging to Thailand Medical News.