Outbreak News: Crimean-Congo Hemorrhagic Fever Disease Detected In Pakistan. Male Patient Died On 5th May 2023
Outbreak News
: Pakistan health authorities confirmed the emergence of the Crimean-Congo Hemorrhagic Fever Disease in the city of Karachi after a male patient aged 28 years was tested positive for the disease on the 4th of May 2023 but died on the 5th of May 2023.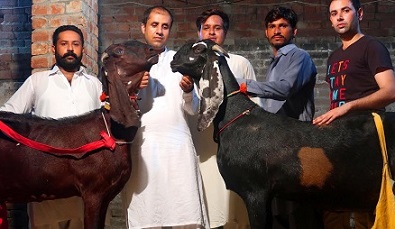 Pakistani Men And Their Favourite Past Time Indulgence - Goats!
Disease tracking and investigations are underway as it is believed that more individuals in the city could also be infected with the disease.
Health officials in Karachi confirmed that the male patient, who emerged as this year's first case of the life-threatening Crimean-Congo Hemorrhagic Fever Disease, died during treatment at a private hospital in Karachi.
Local
Outbreak News
coverages reported that Muhammad Adil, a 28-year-old resident of Liaquatabad, visited the private hospital as an outpatient mid of last week.
Dr Qasim Siraj Soomro, the Parliamentary Secretary on Health told local media that the private hospital took samples from the patient and sent them to Aga Khan University Hospital (AKUH), where the laboratory results confirmed that he had contracted the Crimean-Congo Hemorrhagic Fever Disease.
According to Pakistani health officials, the deceased was a meat slaughterer, meat processor, and seller (butcher) by profession. He worked in meat section of local supermarket located in Liaquatabad.
It was reported that on April 30, the patient developed a fever and headache, for which he took paracetamol tablets at home.
However, on May 2, he developed a very high-grade fever and was taken to Habib Medical Hospital, where he was admitted for one day. The patient then experienced episodes of bleeding from the nose and mucous membranes.
All laboratory tests and diagnostics showed no presence of dengue or malaria.
His conditions continued to deteriorated and after after two days, and he was transferred and admitted to Ziauddin Hospital in North Nazimabad on May 4, where he received intensive care treatment. He was then diagnosed with having Crimean-Congo Hemorrhagic Fever Disease from laboratory test.
The Pakistani health department spokesperson said that despite intensive care, the patient passed away on May 5.
Health officials said that the history of animal-handling by the patient could have been a possible explanation for the contracting the disease.
Officials said that meat from already slaughtered animals was brought to the market from slaughterhouses mainly located in Bhains Colony area in Malir district and the area is being investigated for other possible cases.
Health officials also stated that the deceased did not have any animals at his home and that he had also not travelled outside Karachi during this period.
To date, this was the first case of Crimean-Congo Hemorrhagic Fever Disease in the country this year, and medical experts have warned that the virus is very dangerous, as it can cause bleeding at very early stages. While the symptoms of the Congo virus are similar to those of dengue fever, they can quickly become life-threatening.
Crimean–Congo hemorrhagic fever or CCHF is a viral disease caused by a tick-borne virus (Nairovirus) of the Bunyaviridae family.
Symptoms of Crimean–Congo hemorrhagic fever or CCHF may include fever, muscle pains, headache, vomiting, diarrhea, and bleeding into the skin. Onset of symptoms is less than two weeks following exposure.
Typically, complications may include liver failure. In those who survive, recovery generally occurs around two weeks after onset.
The CCHF virus is typically spread by tick bites or close contact with the blood, secretions, organs or other bodily fluids of infected persons or animals. Groups that are at high risk of infection are farmers and those who work in slaughterhouses.
The CCHF virus can also spread between individuals via body fluids. Diagnosis can be made by detecting antibodies, the virus's RNA, or viral proteins (antigens).
To date, there are no U.S. FDA or WHO-approved therapeutics for CCHF. Prevention involves avoiding tick bites, using safe practices in meat processing plants, and observing universal healthcare precautions. Treatment is typically with supportive care while the antiviral ribavirin may also help to a certain degree.
There are no vaccines currently available for Crimean–Congo hemorrhagic fever disease.
The disease has a very high fatality rate that makes it worrisome.
The Pakistani provincial health department has urged citizens to take precautions to avoid contracting the virus, such as wearing protective clothing and using insect repellents when in contact with cattle or other livestock.
For the latest
Outbreak News
, keep on logging to Thailand Medical News.