COVID-19 News: Russian Scientist Warn That Skin And Central Nervous System Vasculopathy In Children Is A Serious Health Issue!
COVID-19 News
: Limited information is available on cases of skin and central nervous system vasculopathy associated with COVID-19 in children, despite several such cases being reported.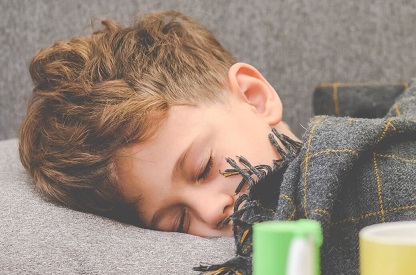 Russian scientist and pediatricians conducted a retrospective-prospective case series study that included information on four children with COVID-19-associated vasculitis.
In each case, they provided a morphological description and confirmed the etiology through real-time polymerase chain reaction during a tissue biopsy.
The study findings showed that the skin was the most commonly affected system (4/4), followed by the respiratory (3/4), cardiovascular (2/4), nervous (1/4), eye (1/4), kidney (1/4), and inner ear (1/4) systems.
All patients had increased inflammatory markers and thrombotic parameters (D-dimer). None of the patients met the criteria for multisystem inflammatory syndrome in children. Two patients met the criteria for polyarteritis nodosa, one for Henoch–Schonlein purpura, and one for unclassified vasculitis. All patients were treated with systemic glucocorticosteroids (two-pulse therapy). Non-biologic DMARDs were prescribed in all cases. Intravenous immunoglobulin was administered to 1/4 patients (25%), and 3/4 (75%) were treated with biologics (etanercept, tocilizumab, and adalimumab).
The study findings showed that vasculitis associated with COVID-19 may pose a life-threatening risk, and SARS-CoV-2 may serve as a new trigger or etiological agent for vasculitis and other immune-mediated diseases. Further research and collection of similar cases are necessary.
The study findings were published in the peer reviewed journal: Biomedicines.
https://www.mdpi.com/2227-9059/11/3/870
The study findings focus on the polymorphism of vasculitis associated with COVID-19. The study describes patients who developed vasculitis with and without previously diagnosed COVID-19, and with and without antibodies to SARS-CoV-2, which made diagnosis difficult. Tissue real-time PCR was used to investigate the possible SARS-CoV-2 etiology of vasculitis. The primary question regarding the role of SARS-CoV-2 in the pathogenesis of COVID-associated vasculitis remains unclear. Is it a trigger of the known rheumatic disease or is it direct virus endothelial damage with attempts to remove the viruses from infected endothelial cells with subsequent immune dysregulation and vascular inflammation?
The study's cases confirmed the long persistence of the viruses in the tissue, indicating the immune system's failure to clear the infected cells of the virus.
A similar inability to eliminate viruses was observed in many cases of virus-associated hemophagocytic lymphohistiocytosis before the COVID-19 pandemic, as well as in multisystem inflammatory syndrome, where the persistence of the virus in the intestine set up hyperproduction of cytokines.
Skin manifestations associated with COVID-19 have been observed and reported in various past
COVID-19 News
coverages, and the study evaluates seven skin biopsies from pediatric patients. Patients had skin lesio ns of the lower extremities similar to chilblain. All patients had negative nasopharyngeal and oropharyngeal PCR for SARS-CoV-2. The reliable contacts or signs of respiratory or dyspeptic syndrome were noted in less than 50% of cases.
Histopathological examinations described lymphocytic vascular infiltration with signs of vasculitis and disruption ranging from endothelial swelling and endotheliitis to fibrinoid necrosis and thrombosis.
Thrombotic events remain an important effect of COVID-19 in adult and pediatric patients. Macro- and microvascular thrombosis of arteries, veins, arterioles, capillaries, and venules of internal organs were found in patients who died of COVID-19. The normal vascular endothelium regulates the coagulation process and might be the source of proinflammatory cytokines.
Skin involvement might be associated with internal organ vasculitis. Multiple types of exanthema are described in the literature, including urticarial, petechial, and varicella-like rash with central nervous system vasculopathy with anti-myelin oligodendrocyte glycoprotein antibodies in patients with COVID-19.
Biopsies showed the presence of T cells with a CD4:CD8 ratio of approximately 3:2, a small number of B-lymphocytes and plasma cells, scattered CD30+-activated T cells, and plasmacytoid dendritic cells.
Vascular deposits containing IgM, IgA, and C3 with IgA antibodies against the SARS-CoV-2 spike protein S1 domain were observed in children with chilblain.
The pathogenesis of COVID-19-associated vasculopathy is complex and involves multiple mechanisms, including endothelial dysfunction, immune-mediated inflammation, and thrombotic events.
The study suggests that COVID-19 may trigger or contribute to the development of vasculitis in some patients. Therefore, clinicians should be aware of the potential association between COVID-19 and vasculitis, especially in patients with an unclassical course.
The study also suggests that skin biopsies and searches for SARS-CoV-2 RNA in altered areas should be conducted in patients with vasculitis, particularly those with an unclassical course. Early detection and treatment of COVID-19-associated vasculopathy can improve outcomes and prevent serious disease consequences.
New targets of treatment have been proposed, including immune-mediated therapy with NLRP3-inflammasome antagonists, such as anti-IL-1, anti-IL-6, anti-GM-CSF, and colchicine.
In summary, the study provides valuable insights into the polymorphism of vasculitis associated with COVID-19. Further studies are needed to better understand the pathogenesis of COVID-19-associated vasculopathy, including the role of SARS-CoV-2 in the development of vasculitis. Improved diagnostics, early detection, and treatment of COVID-19-associated vasculopathy are essential to prevent serious disease consequences and improve outcomes for patients especially children.
For the latest
COVID-19 News
, keep on logging to Thailand Medical News.