BREAKING! Mysterious Disease Outbreak In Tanzania Could Be Due To A New Orthonairovirus, the Genus Which CCHF Virus Also Belong To!
A few days ago, various news and social media accounts were abuzz about a mysterious disease outbreak in Tanzania's Northwest Kagera region that borders Uganda that has so far killed five people and infected another 2 who are still in critical condition.
https://www.africanews.com/amp/2023/03/17/tanzania-authorities-investigates-mysterious-illness-that-killed-five/
https://www.theeastafrican.co.ke/tea/news/east-africa/-tanzania-probes-yet-to-be-known-disease-after-five-die-in-kagera-4162734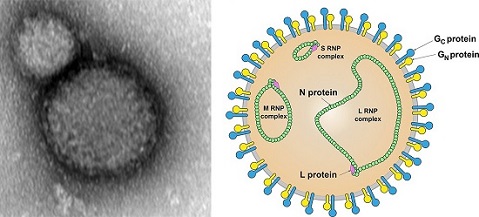 Symptoms of the illness include a fever, headaches, fatigue and nosebleeds and bleeding through various orifices of the body.
According to Tanzania's Chief Medical Officer, Professor Dr Tumaini Nagu, the disease had broken out in two separate villages in Bukoba, in the Kagera region.
Professor Nagu was quoted as saying, "The two other patients are in hospital undergoing treatment. The trend of the disease indicates the possibility of it being infectious. A few other are under quarantine and being investigated."
Medical experts have been dispatched to the Kagera region (northwest) bordering Uganda to investigate the "communicable" disease.
Dr Nagu said "Samples have been taken from patients and the dead to identify the source and type of disease."
Diagnostic tests conducted on sample from the death have ruled our Ebola, Marburg Disease and also COVID-19.
https://www.africanews.com/2023/03/17/tanzania-authorities-investigates-mysterious-illness-that-killed-five/
Samples have also been sent to the laboratories at the Kenya Medical Research Institute (KEMRI) and the Uganda Virus Research Institute (UVRI).
Some Tanzanian health officials are saying that based on preliminary emerging data, the causative pathogen behind this new outbreak could be a new type of virus belonging to the genus
Orthonairovirus
, from which the tick-borne virus (Nairovirus) of the Bunyaviridae family that causes Crimean-Congo haemorrhagic fever (CCHF) also originates from!
The CCHF virus also been ruled out and so has the bacteria Leptospira that causes leptospirosis, or "rat disease," that killed three people in the southeastern region of Lindi inTanzania last year.
Adding to the comments of the Tanzanian health officials, some researchers are speculating that the virus causing this outbreak could be a newly emerged mutated form of the Kasokero orthonairovirus…. a species of virus in the genus Orthonairovirus whose only known host is the fruit bat Rousettus aegyptiacus. The virus takes its name from the Kasokero Cave in Uganda, where it was first collected.
These bats are very common in the Kagera regi on, often contaminating fruits and vegetables with their droppings and are also consumed by the locals.. There is even the high possibility that existing coronaviruses could have combined with the Kasokero orthonairovirus!
Already CCHF outbreaks constitute a threat to public health services as the virus can lead to epidemics and has a high case fatality ratio (10–40%).
So far, this new disease seems to be having an even higher fatality rate with 5 of the 7 infected already dead and the other two in serious critical conditions!
For the latest developments on this mysterious disease outbreak in Tanzania, keep on logging to Thailand
Medical News
.