U.S. Medical News: America Braces for Summer COVID-19 Surge As Hospitalizations Rise. Experts Urge Vigilance and Preparedness.
U.S. Medical News
: As the summer sun shines across the United States, there's a growing concern amid a significant rise in COVID-19 hospitalizations, marking the largest percent increase since December. The latest data published by the Centers for Disease Control and Prevention (CDC) shows that weekly COVID-19 admissions have surged by more than 10% nationwide. While this wavelet is far less intense than previous surges, experts emphasize the need for vigilance and preparedness to combat the evolving virus.
https://covid.cdc.gov/covid-data-tracker/#trends_weeklyhospitaladmissions_7dayeddiagnosed_00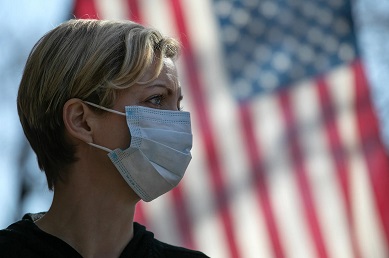 Credit: John Moore-Getty Images
A Resurgence in Hospitalizations and Infections
The numbers are concerning. During the week of July 15, at least 7,109 admissions of patients diagnosed with COVID-19 were reported across the country, a stark increase from the previous week's figure of 6,444 admissions. Another critical indicator of the virus's resurgence is the rise in emergency room visits with COVID-19 symptoms, which has climbed from 0.49% to 0.73% since June 21.
CDC spokesperson Kathleen Conley explains that the recent surge in hospitalizations aligns with early indicators of COVID-19 activity. These include increased emergency department visits and a rise in test positivity rates. The silver lining is that, for the most part, COVID-19 hospital admissions across the nation are still classified as "low," remaining below the thresholds that mandate additional precautions.
However, one region, encompassing states such as Illinois, Indiana, Michigan, Minnesota, Ohio, and Wisconsin, bucked the trend, experiencing no increase in hospitalizations during the same period.
Waste Water Monitoring Reveals Potential Looming COVID-19 Surge
In the ongoing battle against COVID-19, innovative approaches are being employed to gauge the virus's presence and potential resurgence. Among these methods, wastewater surveillance has emerged as a valuable tool, offering a consistent and insightful view of transmission trends. Recent data from Biobot Analytics, in partnership with the CDC, reveals an intriguing glimpse into the concentration of coronavirus particles in sewage samples, hinting at a possible plateau in transmission. The concentration of coronavirus particles detected in sewage samples currently stands at approximately one-third of what it was at the same time last year, according to Biobot Analytics' data.
https://biobot.io/data/
More significantly, the rate of virus detection in wastewater has been growing at a considerably increasing pace in recent weeks.
Despite all the data and signs, not many mainstream media and local
U.S. Medical News
outlets are warning Americans to be on guard against a new impendin g COVID-19 surge.
Variants And U.S. Stance Of Still Using Boosters.. Only Newer Untested Ones This Time!
In a departure from previous waves, this summer's surge is not attributed to a single dominant variant. Instead, the U.S. CDC projections suggest that a mix of descendants from the XBB variant, which drove infections last winter, are competing nationwide. Notably, no particular variant has emerged as the prevailing force.
https://cov-spectrum.org/explore/United%20States/AllSamples/Past6M
The United States is still proceeding with new boosters as a proactive stance against potential future variants, and is gearing up for a new round of COVID-19 vaccinations this fall. By late September, updated vaccines targeting the XBB variants are expected to be available. The U.S. Food and Drug Administration (FDA) has already requested drugmakers to produce these formulations to counter the evolving virus.
While current supplies of vaccines will continue to be shipped for "exceptional" situations, the CDC advises that individuals may choose to wait for the updated versions, expected to provide more robust protection against the circulating variants.
There are however no real data to show the efficacy of these new boosters nor have they been tested properly!
The Summer Wave and Projections
Experts concur that a COVID-19 summer surge is underway, but the consensus is that it will not reach the intensity of past waves. The increase in cases appears to be influenced by human behavior, including heightened travel and indoor gatherings during the record-breaking heatwaves.
Additionally, waning immunity has emerged as a contributing factor. Vaccination data suggests that many Americans have not received booster doses in some time, with claims that this is leading to reduced protection against the virus.
Managing the Summer Surge
As cases rise, public health officials emphasize the importance of continued precautionary measures to curb transmission. While wearing masks outdoors may not be necessary in regions with low case numbers, experts recommend the use of masks during travel or crowded indoor events.
Rapid testing remains a critical tool in protecting vulnerable populations. Individuals who feel unwell or plan to attend indoor gatherings should consider getting tested to minimize potential spread.
Conclusion
As the United States faces its fourth summer surge in COVID-19 cases, public vigilance and preparedness are paramount to mitigating the virus's spread. While the increase in hospitalizations warrants attention, experts reassure the public that with appropriate measures and responsible behavior, this wavelet can be effectively managed.
For the latest
U.S. Medical News
, keep on logging to Thailand Medical News.