HIV News: Groundbreaking Study Unveils Dual Gene-Editing Approach In Conjunction With Antiretroviral Therapy For HIV Eradication
HIV News
: In an unprecedented breakthrough, researchers from Temple University and the University of Nebraska Medical Center (UNMC) have successfully combined a dual gene-editing approach with antiretroviral therapy to effectively eliminate HIV infection in animal models. This potentially revolutionary treatment development, sets the stage for future research aiming at human trials, promising a significant leap towards a cure for HIV.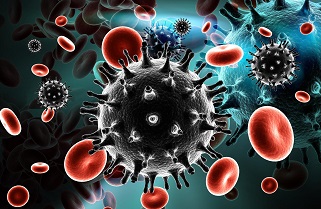 The cornerstone of the study was the integration of two potent scientific techniques: gene-editing and antiretroviral therapy.
The study team harnessed the power of gene-editing technology to target and incapacitate two vital components of HIV infection: HIV-1, the primary causative virus of AIDS, and CCR5, a receptor that facilitates the virus's entry into human cells.
Dr Kamel Khalili, Director of the Center for Neurovirology and Gene Editing at the Lewis Katz School of Medicine, was inspired by the handful of HIV cures in humans that had resulted from bone marrow transplants where the donor cells carried inactivating CCR5 mutations.
Dr Khalili teamed up with Dr Howard Gendelman, Professor and Chair of the Department of Pharmacology and Experiential Neuroscience at UNMC, to build on these observations using gene-editing technology.
Their previous work demonstrated the potential of gene-editing technology to remove HIV from the genomes of live, HIV-infected mice. But they noted a concerning phenomenon: HIV could still re-emerge from tissue reservoirs, leading to a rebound infection. This issue mimicked the real-world challenge facing human HIV patients who stop or have disruptions in their antiretroviral therapy. The solution? The study team developed a more advanced gene-editing approach.
The study team focused on CCR5, hypothesizing that its inactivation was crucial for permanently eliminating HIV infection. Their new dual system was designed to not only excise the HIV-1 DNA but also to deactivate the CCR5 receptor, thereby impeding the virus's ability to infect cells.
When this dual gene-editing strategy was tested in humanized mice, the results were remarkable. The gene-editing constructs, when combined with the long-acting slow-effective release (LASER) antiretroviral therapy, resulted in viral suppression, restoration of human T-cells, and elimination of replicating HIV-1 in 58% of infected animals.
This strongly underscored the critical role that CCR5 plays in facilitating HIV infection and its potential as a therapeutic target.
Excitingly, the next step for this dual gene-editing strategy will be testing in non-human primates, laying the groundwork for potential human trials. Notably, this strategy is hailed as a simple and relatively inexpensive approach.
Dr Khalili told
Thailand Medical
News, "The type of bone marrow transplant that has brought about cures in humans is reserved for patients who also have leukemia. It requires multiple rounds of radiation and is not applicable in resource-limited regions, where HIV infection tends to be most common."
In an era where HIV remains a global health challenge, this st udy could catalyze a paradigm shift in our approach to its treatment.
Dr Gendelman commented to
HIV News
reporters from TMN, "Curing HIV is the big picture. Through our ongoing collaboration, Temple and UNMC have carried out meaningful research that could ultimately impact the lives of many people. This new dual gene-editing strategy brings us closer to a world where a cure for HIV is not just a hope, but a tangible reality."
However, the journey doesn't end here. Several critical steps, including optimizing the gene-editing technique to reach all latent HIV reservoirs and rigorous safety testing, remain essential. The aim is to ensure that this groundbreaking technology can be safely and efficiently translated into a therapeutic intervention for HIV-1 infected individuals.
While the ability to edit the CCR5 gene and render cells resistant to HIV-1 infection has been observed, one must remember that CRISPR-Cas9 editing is not 100% efficient. Although the results thus far have been overwhelmingly promising, not all cells will be successfully modified, and not all modified cells will be resistant to infection. Therefore, the effectiveness of this approach is contingent on achieving high efficiency and a large enough scale to eliminate the entire HIV-1 reservoir in an infected individual.
Moreover, while this study utilized an animal model for its experimental setup, the intricacies of human biology can present additional challenges. Factors such as the human immune response to the CRISPR-Cas9 and adeno-associated virus delivery system, the potential for off-target effects causing unintended genetic changes, and the diversity of HIV-1 strains must be taken into account. These considerations serve as a sobering reminder that what works in a controlled laboratory setting may not work as seamlessly in real-world applications.
Another crucial step is to ensure the safety of the therapy. While the CCR5 gene plays a role in HIV-1 entry into cells, it also has other roles in the immune system. It is involved in the body's inflammatory response and can play a role in fighting off other infections. Therefore, the potential effects of CCR5 inactivation on overall immune function need to be examined.
So far, the study has found no evidence of off-target toxicities in treated animals, a promising indicator of the therapy's safety profile.
Despite the challenges, the researchers are optimistic about the potential applications of this groundbreaking strategy. "It is a simple and relatively inexpensive approach," Dr Khalili noted.
The road to an HIV cure is fraught with challenges, but the Temple and UNMC teams have brought us one step closer. The unique combination of cutting-edge CRISPR technology and potent antiretroviral therapy offers a beacon of hope in the fight against HIV. Their approach has not only demonstrated the potential to eradicate the virus in animal models but also ignited excitement about the possibility of a functional cure for HIV.
The study findings were published in the peer reviewed journal: Proceedings of the National Academy of Sciences.
https://www.pnas.org/doi/10.1073/pnas.2217887120
For the latest
HIV News
, keep on logging to
Thailand Medical
News.