Omega (Omicron) Updates: India And Spain Reports Cases Of Omega Variant Which Is Now Confirmed In 15 Countries Out of The African Continent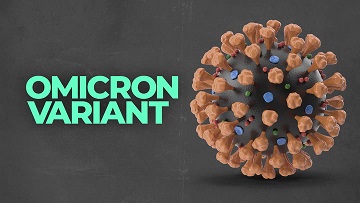 India Reports First Case Of Omega (Omicron) Variant
Indian health officials have reported that a 32-year-old resident of Dombivli in Mumbai, who arrived from South Africa via Delhi on November 24, tested positive upon arrival.
Officials of the Kalyan Dombivli Municipal Corporation (KDMC) said they have alerted the airport authorities and efforts are on to locate the man's co-passengers.
With rising worries over the Omicron variant, the Brihanmumbai Municipal Corporation (BMC) has begun contacting 466 passengers who arrived in the city over the last 15 days from the "countries of concern", including South Africa, and will take swab samples from them for RT-PCR tests.
Officials said that 97 of the 466 passengers who arrived in Mumbai are residents of the city. The civic body is individually contacting all passengers for their health updates.
The state government is likely to make seven-day institutional quarantine mandatory for passengers flying into the city from - or transiting through - countries of concern. For domestic passengers, the government is likely to bring back the rule on mandatorily carrying a negative RT-PCR test for entering the state.
Spain Has Reported Its First Case Of The Omicron Variant.
Madrid's regional government issued a statement about 10 hours ago that a 51-year-old traveler who had flown back to Madrid from South Africa, via Amsterdam tested positive for the variant and is currently under isolation.
The statement added, "The patient has light symptoms and is undergoing quarantine."
Omicron Rapidly Displacing Delta As The Predominant Variant In South Africa
South African authorities in the last few hours have issued a statement saying that the Omicron variant is now confirmed to be the dominant SARS-CoV-2 variant in South Africa, displacing the Delta variant less than two weeks after it was first detected in the country.
Alarmingly, the B.1.1.529 lineage accounts for 76% of samples that have been genetically sequenced in November, according information published by the National Institute for Communicable Diseases on Friday. The new variant was discovered in South Africa from specimens collected on Nov. 12.
It was noted that South Africa sequences less than 1% of cases, according to GISAID, a public database of genetic sequencing data, while the United States sequences about 4% of cases. And South Africa's NICD notes that that the number of genetic sequences conducted November is especially low, but ongoing.
Interestingly by contrast, it took the Delta variant a few months to become the dominant strain in South Africa in early 2021.
Thailand
Medical News
was not exaggerating when we said that the new variant is extremely transmissible and infectious.
https://www.thailandmedical.news/news /breaking-preliminary-studies-now-show-that-b-1-1-529-is-about-500-times-more-infectious-than-delta-and-has-about-2-to-3-furin-cleavage-sites
The Omicron variant has been detected in about 15 countries out of Africa now and more than 21 countries now have suspected cases.
According to latest modelling platforms, the Omega (Omicron) variant should become dominant across the world by about 6 weeks time.
The first sample of the Omicron or B.1.1.529 lineage was taken November 9, according to WHO. It got noticed because of a surge of cases in South Africa.
"This new variant ... seems to spread very quick!" Dr Tulio de Oliveira, director of South Africa's Center for Epidemic Response & Innovation, and a genetics researcher at Stellenbosch University, said on Twitter.
Worrying Mutations
To date, genetic sequencing showed it carried a large number of troubling mutations on the spike protein ie the knoblike structure on the surface of the virus that it uses to grapple onto the cells it infects.
Importantly some of those mutations were already recognized from other variants and were known to make them more dangerous, including one called E484K that can make the virus less recognizable to some antibodies ie immune system proteins that are a frontline defense against infection and that form the basis of monoclonal antibody treatments.
The new variant also carries a mutation called N501Y, which gave both the Alpha and Gamma variants their increased transmissibility.
Only a week ago, Dr Scott Weaver of the University of Texas Medical Branch and colleagues reported in the journal Nature that this particular mutation made the virus better at replicating in the upper airway ie in the nose and throat, and likely makes it more likely to spread when people breathe, sneeze and cough.
https://www.nature.com/articles/s41586-021-04245-0
Similar to the Delta variant, the Omega (Omicron) also carries a mutation called D614G, which appears to help the virus better attach to the cells it infects.
Dr Peter English, former chair of the British Medical Association's Public Health Medicine Committee, said in a statement, "The number of mutations per se does not mean that the new variant will cause any problems; although it may make it more likely to look different to the immune system."
The number of mutations (32 out of 59 mutations just on the spike proteins) affecting the spike protein is what worries scientists because most of the leading vaccines target the spike protein. Vaccines made by Pfizer/BioNTech, Moderna, Johnson & Johnson, AstraZeneca and other companies all use just small pieces or genetic sequences of the virus and not whole virus, and all of them use bits of the spike protein to elicit immunity. So a change in the spike protein that made it less recognizable to immune system proteins and cells stimulated by a vaccine would be a problem.
Studies are also indicating the new variant has more than one furin cleavage site.
Researchers Urge Caution On Omicron Variant
Simply allowing the omicron variant to run its course in the community in the expectation that it will prove to be less virulent than delta would be a serious mistake, Burnet Institute (Australia) Deputy Director, Associate Professor David Anderson has warned.
"That is wishful thinking of the highest order, a terrible, terrible idea," Associate Professor Anderson told media. "There is absolutely no evidence that it's less virulent.
Burnet Honorary Principal Research Fellow Professor Dr Mike Toole told media and health authorities that the emergence of omicron comes as no surprise.
Professor Toole said, "There's not the evolutionary pressure there would be with flu, for example. Flus do tend over time to eventually get less virulent, but we're not seeing that yet, and it could take decades. We're just not that lucky, I don't think. We knew this was coming, all of this was so predictable. All viruses mutate."
Professor Toole said the only absolute known about omicron at the moment is the number of mutations on the surface spike protein ie 32.
He added, "That's more than double or triple the number for Delta, and it includes a lot of mutations that were on other variants, but we've never seen them all together on one virus, so we don't really know the overall impact that will have."
Professor Toole said it's too early to say whether omicron is less severe than delta.
Fake News About New Variant Causing Only Mild Symptoms?
He warned, "We have clear data from South Africa, from the Ministry of Health that the number of new hospital admissions for COVID has tripled in two weeks. That's just in the Gauteng Province, which is where this variant has been circulating that includes Johannesburg and Pretoria."
Many experts are puzzled as to why a statement came from A South African Doctor, The WHO and also from Dr Fauci and many US and UK mainstream media saying that the new variant only causes mild symptoms! Is someone trying to downplay the seriousness of the threat of this new variant?
Associate Professor Anderson believes that all countries including Australia needs to maintain a vaccines-plus strategy, which includes a focus on safe indoor air ventilation, the use of respirators and masks, and the reinstatement of broad quarantine controls.
He added, "Selective border controls are not the way to go. Same mistake we made with China in early 2020. We can't let it rip and then think, 'Oh that was a mistake.' We need people to just be careful and take that precautionary principle so that we don't give up the hard-won gains."
Please help to sustain this site and also all our research and community initiatives by making a donation. Your help means a lot and helps saves lives directly and indirectly and we desperately also need financial help now.
https://www.thailandmedical.news/p/sponsorship
For the latest credible updates about the Omega (Omicron) variant, keep on logging to Thailand Medical News.