COVID-19 News: SARS-CoV-2 Infections Rising All Over Europe Including Czechia, Poland, Slovenia But Authorities And Media Downplaying Or Concealing Data!
COVID-19 News

:
SARS-CoV-2 Infections are once again rising all over Europe with cases even rising in countries like Poland, Czechia, Lithuania and Slovenia.
https://www.gov.pl/web/koronawirus/wykaz-zarazen-koronawirusem-sars-cov-2
https://onemocneni-aktualne.mzcr.cz/covid-19
https://covid-19.sledilnik.org/en/tables
https://covid-19.sledilnik.org/en/tables
The only difference this time round is that the various mainstream media or wire agencies are not covering these rising cases and, in many cases, even the number of infections, hospitalizations and deaths reported by the health authorities are not reliable and do not reflect he actual situation and numbers which are far much higher.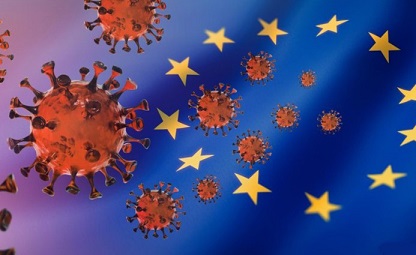 In Czechia for example, data for the 9
th
of November reported that there were only 954 new weekly COVID-19 infections and 1 death and only 425 COVID-19 hospitalizations. However, a simple check with just 15 hospitals out of the 267 hospitals in the whole of Czechia showed that these reported figures were misleading and not reliable and that the number of COVID-19 hospitalizations were much higher and the number of outpatients diagnosed with COVID-19 were rising exponentially! However, none of the local media in Czechia has been covering any
COVID-19 News
about the SARS-CoV-2 situation developing in the country!
In Germany for instance, the situation is much dire with almost 7.1 million Germans currently sick due to various respiratory infections!
https://www.thailandmedical.news/news/breaking-covid-19-news-latest-robert-koch-institute-report-shows-that-about-7-1-million-germans-are-sick-due-to-a-variety-of-respiratory-infections
In France, the more transmissible offspring of the BA.2.86 variant ie JN.1 is not only causing a rise in infections but is also causing a rise in COVID-19 hospitalizations but local authorities are not divulging the true daily figures and also still insisting that the offspring of the BA.2.86 variant is not causing any disease severity!
In the United Kingdom, thousands of sickly Brits are as usual seen with coughs, breathing difficulties, fatigue and body pains but the country is more concerned with the current COVID-19 response enquiry and the antics of Boris Johnson! The country had dismantled all forms of COVID-19 reporting including the private owned Zoe platform and data from the various government agencies are simply unreliable and manipulated! COVID-19 testing is literally at its lowest and rapid antigen test kits are in short supply. No one really knows the actual COVID-19 situation in the country but rest assured, excess mortality rate s in UK are steadily rising! (even with fluctuations in weekly rates)
https://www.statista.com/statistics/1131428/excess-deaths-in-england-and-wales/
https://www.ons.gov.uk/peoplepopulationandcommunity/birthsdeathsandmarriages/deaths/bulletins/deathsregisteredweeklyinenglandandwalesprovisional/weekending20october2023
In some parts of Europe, we even have the media (most probably under pressure by politicians) claiming that COVID-19 infections and even flu are all down due to higher climate temperatures this autumn and winter!
https://murciatoday.com/covid_flu_and_bronchiolitis_kept_at_bay_by_high_temperatures_in_spain_2279628-a.html
This despite the fact that we know that climate temperatures have no bearing on COVID-19 as clearly being seen in Australia that is witnessing a massive rise in COVID-19 infections despite going into Summer!
https://www.canberratimes.com.au/story/8413470/new-covid-19-wave-heightening-infection-risk-ahead-of-christmas/
The good news however is that readers need not worry about immediate high death rates from infections from the new SARS-CoV-2 variants and sub-lineages that are in circulation as they are more adapt at killing those infected slowly and over time and not immediately except off course those from the vulnerable groups ie the aged, the obese, those with existing comorbidities, the immunocompromised and those with certain genetic makeups!
We will be providing more detailed updates shortly.
For the latest
COVID-19 News
, keep on logging to Thailand Medical News.