Article In British Medical Journal Claims That About 1.5 Million People Died From COVID-19 In China In the First Three Months Of 2023!
Interestingly, the same British Medical Journal claims was not able to disclose the true COVID-19 death rates in the United Kingdom!
COVID-19 News
: In a startling revelation, the British Medical Journal has claimed that an estimated 1.5 million people lost their lives due to COVID-19 in the short span of during the first three months of 2023. These findings were further supported by recently leaked cremation figures from China's Zhejiang province, which suggests a significant discrepancy in the government's official pandemic death count.
https://www.bmj.com/content/382/bmj.p1760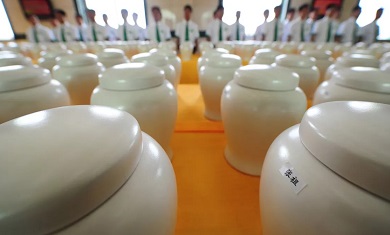 Zhejiang, an economically prosperous and well-developed province, witnessed an alarming surge in the number of cremations during the first quarter of 2023. Approximately 171,000 cremations were reported during this period, compared to 99,000 in the same quarter of 2022 and 90,000 in 2021. Epidemiologists studying this data have projected that the alarming 72% increase in mortality rates could translate to a staggering 1.5 million excess deaths across China during the first three months of 2023.
Curiously, the cremation figures from all Chinese provinces were conspicuously missing from the health reports released in June. This unexpected omission raised widespread doubts about the accuracy of China's official death count, especially considering that cremation figures from severely affected cities had already disappeared from official records in early 2022.
Although the data release from Zhejiang was quickly taken down, international researchers had already cached the information. This accidental revelation added weight to the growing international concern over China's handling of COVID-19 data.
Ben Cowling, leading the division of epidemiology and biostatistics at the University of Hong Kong, told various
COVID-19 News
outlets that the new figures, combined with earlier data, supported the notion that a massive "exit wave" occurred when China abandoned its zero COVID-19 policy, resulting in a substantial portion of the population being infected, and roughly 1.5 million deaths.
COVID-19 News
reports from Chinese cities during December 2022 showcased overwhelmed crematoriums and staff reporting double or triple their normal workload. The situation was dire, with Zhejiang's provincial health authorities announcing an astonishing one million new infections per day in a province with a population of 57 million. Disturbingly, daily COVID-19 reports from the national ministry of health completely ceased toward the end of December, further fueling suspicions about the accuracy of official data.
In February, China resumed reporting deaths, stating 83,150 deaths since the pandemic began. However, this number significantly surpassed the sum of individual deaths reported in daily national figures (just 5,272 since the start of the pandemic), raising more questions about the accuracy of the reported death toll. Notably, every death reported by China was attributed solely to respiratory failure in hospitals, omitting expected deaths from othe r causes, such as heart, liver, and kidney failure, which account for at least 80% of deaths according to foreign observers.
Experts believe that even the reported figure of 1.5 million deaths may be conservative, considering Zhejiang's higher vaccine uptake and relatively robust healthcare system compared to the rest of the provinces in China. Disturbing hints from other provinces point toward an even steeper climb in the death rate as China exited its zero COVID-19 approach.
Reports from healthcare workers in Jiangsu province indicated a significant spike in household registration cancellations, a bureaucratic procedure following a death. In this particular city, the death rate had tripled compared to previous months. Similarly, officials in Wuhan's Huangpi district revealed an alarming increase in deaths, with more than 5,000 deaths in a single month, several times the usual rate.
The World Health Organization (WHO) has officially recorded 121,536 deaths from the pandemic in China. Nevertheless, WHO director-general Tedros Adhanom Ghebreyesus has stated that the actual death toll is likely "much higher." Back in January 2023, WHO emergencies chief Mike Ryan openly challenged the accuracy of the data provided by China, stating that the numbers likely underrepresented the true impact of the disease in terms of intensive care admissions and fatalities.
China is currently also facing a new COVID-19 crisis since the last 4 weeks, however, all media and social media platforms in the country have been barred from reporting about the COVID-19 situation. It is believed that COVID-19 disease severity, COVID-19 hospitalizations and COVID-19 death rates are once again rising at an exponential rate.
As global efforts continue to combat the pandemic and understand its true magnitude, the revelation of China's hidden death toll raises questions about transparency and accountability in reporting COVID-19 data. With the specter of a global pandemic still looming, it becomes increasingly vital for governments and health organizations to prioritize accurate and transparent reporting to combat the virus effectively. Only with an honest assessment of the pandemic's impact can the world develop a united and resilient response to safeguard public health and global well-being.
At the same time, it would be interesting if the same British Medical Journal can also do some investigative journalism and reveal the true COVID-19 death rates in the United Kingdom in the last 3 years!
For the latest
COVID-19 News
, keep on logging to Thailand Medical News.