BREAKING! WHO Issues Statement That Omega (Omicron) Poses A "Very High" Global Risk And Could Change the Pandemic Based On Preliminary Findings!
The WHO or World Health Organization (WHO) said in a statement a few hours ago (Monday 29
th
November) that the Omega (Omicron) variant poses a "very high" global risk and could change the course of the pandemic and have severe consequences.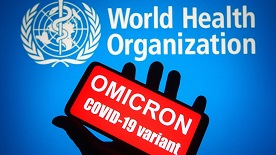 The WHO said that the new variant is likely to spread internationally very rapidly and that countries must start preparing for the worse as soon as possible. According to sources, the statement was made based on certain preliminary findings but the WHO stopped short of disclosing those details and instead said that studies are currently underway and that more details would be available to the public on the need to know basis within the next two weeks. (Readers need not worry, we at Thailand Medical News will be making advance disclosures of all developments even before anyone else, already on the 12
th
of November we did warn our readers indirectly about the emergence of the Omega (Omicron variant).
https://www.thailandmedical.news/news/breaking-is-the-u-s-cdc-being-prevented-from-reporting-on-covid-vax-breakthrough-data
(refer to last paragraph!)
The WHO, a U.N. agency urged its 194 member states to accelerate vaccination of high-priority groups and, in anticipation of increased case numbers, to "ensure mitigation plans are in place" to maintain essential health services. (Honestly we are confused as to why the Who and so many idiotic experts online and in mainstream media are asking people to get vaccinated fast because of the emergence of the Omega (Omicron) variant when in the first place we do not have any data as yet as to whether the vaccines do or do not have any efficacy against this new variant and whether the new variant could induce ADE issues or even serious consequences as a result of viral priming via exposure to previous infection by other SARS-CoV-2 strains or variants or even by vaccination!)
The WHO said, "Omicron has an unprecedented number of spike mutations, some of which are concerning for their potential impact on the trajectory of the pandemic."
The WHO added in its statements, "The overall global risk related to the new variant ...is assessed as very high."
Further research is needed to assess Omicron's potential to escape protection against immunity induced by vaccines and previous infections, the health agency said.
It added, "Increasing cases, regardless of a change in severity, may pose overwhelming demands on health care systems and may lead to increased morbidity and mortality. The impact on vulnerable populations would be substantial, particularly in countries with low vaccination coverage."
The new variant was first reported to WHO on Nov. 24 from South Africa, where infections have risen steeply.
The Omega variant has since spread around the world, and to date has been confirmed in 13 countries ie Austria, Australia, Israel, Hong Kong, Germany, Italy, Belgium, Canada, UK, Czech Republic, Denmark, Portugal and Netherlands and suspected cases have been reported in 19 countries awaiting genomic sequencing results to confirm as to whether the infections are by the new variant.
Many more countries are imposing travel restrictions to try to seal themselves off.
/>
Japan said on Monday it would close its borders to foreigners, joining Israel in taking the toughest measures.
The World health Organization, in its latest guidance, reiterated that countries should use a "risk-based approach to adjust international travel measures in a timely manner". Further advice would be forthcoming, it said.
The WHO also said that towards the end of its statement, "The presence of multiple mutations of the spike protein in the receptor-binding domain suggests that Omicron may have a high likelihood of immune escape from antibody-mediated protection. However, immune escape potential from cell-mediated immunity is more difficult to predict. Overall, there are considerable uncertainties in the magnitude of immune escape potential of Omicron."
It added, "COVID-19 cases and infections are expected in vaccinated persons, albeit in a small and predictable proportion."
Thailand
Medical News
predicts that the new Omega (Omicron) is only the start of a new stage of the COVID-19 pandemic. We should be seeing more worrying variants in coming weeks….all armed with increased transmissibility and infection, strong ability to escape immune response and are resistant to vaccines, monoclonal and polyclonal therapeutics and to antivirals coupled with new pathogenesis modes that will affect the human host in many new ways. Some of these new variants might only cause mild or even asymptomatic conditions as a result of their improved efficiency in terms of dismantling the human immune response mechanisms while they will prove to be more disastrous in causing the rise of more serious long-term complications, some with eventual fatal consequences.
There are however many simple protocols involving the usage of supplements, repurposed drugs, (Not Ivermectin nor hydroxychloroquine for sure!), phytochemicals and herbs that can help as both prophylactics and also therapeutics against these new emerging variants. Readers should also be aware that whatever supplements or herbs that were covered in the initial parts of the pandemic are no longer valid for use with the new emerging variants as so many pathogenic routes involving the human host cellular pathways have changed and are being affected in other ways. (This was based on simply on the emerging studies of the various Delta subvariants.) We will be introducing a new paid section to cover all these new prophylactics and therapeutics as we no longer believe in providing such information for free anymore. Access to those sections will be extremely expensive as we do not want people to donate pathetic amounts and use the information for others as well. We have learnt things the hard way over the last two years. Humans are basically selfish creatures and many actually do deserve to die! The SARS-CoV-2 is actually godsend to eradicate the world of such lower life forms!)
2022 and 2023 will be fun years as the pandemic worsens but the death rates are still not expected to escalate as high as in the years after that, ie starting in 2024. (We are basing our assumptions on the basis that many continued surges involving various variants and continued reinfections, will continue to cause viral priming and gradually weaken the immune system of the human host.)
For more on the Omega (Omicron) variant, keep on logging to Thailand Medical News.