HIV News: U.S. FDA Grants Gilead Sciences Approval For New Drug Sunlenca (Lenacapavir) To be Used To Treat Treatment Resistant HIV.
HIV News
: The U.S. FDA has of the 22
nd
of December 2022 granted approval to Gilead Sciences for the usage of its new drug, Sunlenca (Lenacapavir) to treat treatment resistant HIV.
https://www.fda.gov/news-events/press-announcements/fda-approves-new-hiv-drug-adults-limited-treatment-options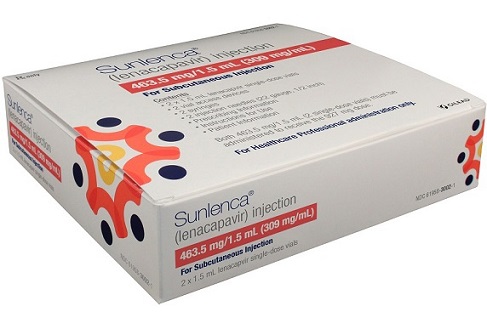 Numerous recent
HIV News
coverages indicate that treatment resistant HIV is becoming a major problem globally with incidences growing at a worrying phase. The WHO issued a warning on in November 2021.
https://www.who.int/publications/i/item/9789240038608
Sunlenca contains the active substance lenacapavir which is capable of binding to the proteins that make up the outer layer of the HIV-1 virus (the capsid). By binding to these proteins, Sunlenca interferes with different steps that are necessary for the virus to multiply. This reduces the amount of HIV in the blood and keeps it at a low level. Sunlenca does not cure HIV infection or AIDS, but it can hold off damage to the immune system and the development of infections and diseases associated with AIDS.
https://www.gilead.com/news-and-press/press-room/press-releases/2022/12/sunlenca-lenacapavir-receives-fda-approval-as-a-firstinclass-twiceyearly-treatment-option-for-people-living-with-multidrug-resistant-hiv
The United States Food and Drug Administration approved Sunlenca (lenacapavir), a new type of antiretroviral medication for adult patients living with HIV-1 whose HIV infection cannot be successfully treated with other available treatments due to resistance, intolerance, or safety considerations.
The American drug regulatory agency ie the US FDA is the second drug regulatory agency to grant approval to Gilead Sciences after the European medicines Agency gave it approval as early as August 2022.
https://www.ema.europa.eu/en/medicines/human/EPAR/sunlenca
Sunlenca (lenacapavir) was granted FDA priority review, fast track, and breakthrough therapy designations.
The U.S. FDA approval was granted based on a study of 72 patients with HIV infections resistant to multiple classes of HIV medications and high viral levels.
HIV patients in the first group were randomly assigned to receive either Sunlenca or placebo, while the other group received open-label Sunlenca.
It was found that of the HIV patients receiving Sunlenca, 87.5 percent achieved a prespecified decrease in virus in the initial 14 days compared with 16.7 percent of patients receiving a placebo. Levels of HIV were low enough to be considered undetectable after 26 weeks among 81 percent of participants receiving Sunlenca plus other antiretroviral drugs. At 52 weeks, 83 percent of participants continued to have HIV RNA suppression.
The typical starting dose of Sunlenca is treatment with oral tablets and subcutaneous injections, followed by maintenance injections every six months, and it is given in combination with other antiretrovirals.
It was reported that the most common adverse reactions with Sunlenca were injection site reactions and nausea.
According to WHO, up to 10% of adults starting HIV treatment can have drug resistance to the non-nucleoside reverse transcriptase inhibitors (NNRTI) drug class. Pretreatment NNRTI resistance is up to 3 times more common in people with previous exposure to antiretroviral drugs.
https://www.who.int/news-room/fact-sheets/detail/hiv-drug-resistance
While incidence of treatment resistant HIV is relatively low in South-East Asia, it is a growing problem in countries like Papua New Guinea and also in Europe and the African Continent.
https://jphe.amegroups.com/article/view/8333/html
https://bmcinfectdis.biomedcentral.com/articles/10.1186/s12879-022-07264-y
https://journals.plos.org/plosone/article?id=10.1371/journal.pone.0267159
https://www.nature.com/articles/d41586-019-02316-x
Many American HIV experts say that the approval comes at an opportune time as the incidence treatment resistant HIV is also rising in the United States since 2004.
For the latest
HIV News
, keep on logging to Thailand Medical News.