German Study Finds That Ribonuclease 1 (RNase1) Contributes To Renal Dysfunction And Increased Risk Of Severity In COVID-19
COVID-19 News
: The COVID-19 pandemic caused by the SARS-CoV-2 coronavirus has been a global health crisis, prompting scientists and clinicians to intensify their research efforts to better understand the virus and its impact on human health. Among the various aspects of the disease, researchers from the University Hospital RWTH Aachen in Germany have focused on exploring the potential association between Ribonuclease 1 (RNase 1) dynamics and the outcome in COVID-19 patients.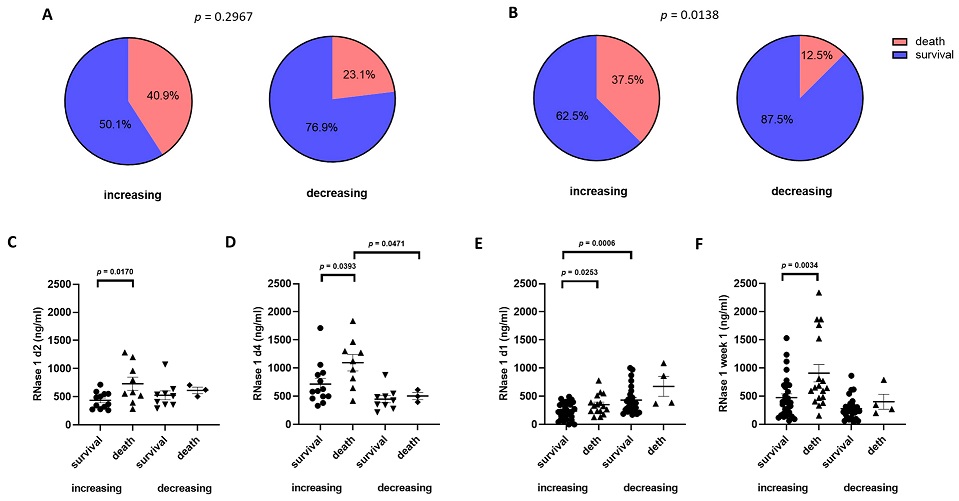 Association between RNase 1 serum levels and 28-day mortality. (A) Survival rate of all patients in Cohort A and (B) Cohort B grouped by increasing and decreasing RNase 1 serum levels in percentage. The correlation of RNase 1 serum levels with the mortality rate in COVID-19 patients in Cohort A on (C) day 2 and (D) day 4 as well as (E) in Cohort B on day 1 and (F) week 1 grouped in increasing and decreasing RNase 1 levels. Unpaired t-test (two-tailed) or one-way ANOVA was used for statistical analysis
RNase 1, a small endogenous antimicrobial polypeptide with antiviral activity, has been found to play a role in inhibiting viral replication and regulating the immune response. This article dives into the groundbreaking study that sheds light on how RNase 1 levels may contribute to renal dysfunction and increase the risk of severity in COVID-19 patients.
Understanding the Role of RNase 1 in Antiviral Defense
Ribonucleases are a group of antimicrobial peptides with significant antiviral properties. Previous studies have demonstrated that RNase 1 and 2 can inhibit the human immunodeficiency virus (HIV)-1, raising interest in exploring their potential as candidate drugs for host defense against viral infections. Additionally, RNase 1 exhibits high ribonucleolytic activity, contributing to the regulation of the immune response by recognizing and degrading single- and double-stranded RNA molecules. By targeting viral RNA, RNase 1 may prevent viral replication within host cells, thus mitigating an excessive or dysregulated immune response that can lead to severe disease progression.
The Link Between RNase 1 and Renal Dysfunction
Early in the pandemic, researchers noticed a potential association between COVID-19 and renal dysfunction that was covered in various studies and
COVID-19 News
Reports.
However, the role of RNase 1 in COVID-19 patients and its relationship to renal function remained unexplored. To address this gap, the study team conducted a study with two patient populations (Cohort A and B) and further divided them into two groups based on the change in RNase 1 concentration from one time point to another. The aim was to investigate whether the dynamics of RNase 1 in the blood were associated with disease outcome.
Findings and Implications
Upon analyzing the data, the study team made several significant observations.
Firstly, they found that RNase 1 serum levels significantly increased in patients with increasing RNase1 concentration from time point one to time point two in both cohorts. Furthermore, pati ents in the increasing group who died had significantly higher RNase 1 serum levels at both time points compared to those who survived.
The association between RNase 1 and renal dysfunction was particularly intriguing. The study revealed a significant correlation between RNase 1 serum levels and serum creatinine, as well as creatinine clearance, in both the increasing and decreasing groups at both time points in Cohort A. This finding suggests that RNase 1 may play a role in renal dysfunction associated with COVID-19 patients, particularly those in intensive care units (ICUs).
Potential Biomarker for Predicting COVID-19 Outcome
The implications of these findings are far-reaching. Researchers now have compelling evidence that RNase 1 may serve as a potential biomarker to predict the outcome of COVID-19 patients. The study showed a higher mortality rate in patients with increasing RNase 1 levels, indicating that monitoring RNase 1 dynamics could aid in risk stratification and prompt more targeted interventions for high-risk patients.
Importance of Continued Research on Coronaviruses
The COVID-19 pandemic underscored the urgent need for comprehensive research on coronaviruses and their potential to cause future outbreaks. While significant progress has been made in understanding SARS-CoV-2, the emergence of new strains emphasizes the necessity for ongoing investigations into the virus and its variants. Ribonucleases, such as RNase 1, present promising avenues for antiviral therapies, and further research may unveil more potential therapeutic targets for combating viral infections.
Conclusion
The study conducted by researchers from the University Hospital RWTH Aachen in Germany reveals a potential link between RNase 1 dynamics and the outcome of COVID-19 patients. The study findings suggest that increasing RNase 1 serum levels may contribute to renal dysfunction and increase the risk of severity in COVID-19 patients. This groundbreaking research opens up new possibilities for predicting disease outcome and developing targeted interventions to improve patient outcomes.
The study findings were published in the peer reviewed International Journal of Molecular Sciences.
https://www.mdpi.com/1422-0067/24/15/12428
For the latest
COVID-19 News
, keep on logging to Thailand Medical News.
Read Also
:
https://www.thailandmedical.news/news/canadian-study-shows-that-sars-cov-2-and-coronavirus-ratg13-nucleocapsid-proteins-inhibit-pkr-and-rnase-l-mediated-antiviral-pathways