Europe Going Through Catastrophic COVID-19 Surge! Germany And United Kingdom Report New Record COVID-19 Infections
Europe COVID-19 News
: While the world has been engrossed with the Omicron variant, with the coming Christmas holidays and the happenings in the cryptocurrency world, very little has been reported about the Delta variants and subvariants rampaging the whole of Europe.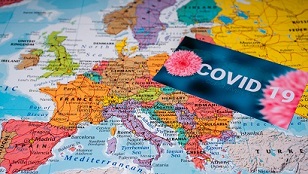 Europe COVID-19 News
:
Germany Reports Record Daily COVID-19 Infections
In the last 24 hours, Germany recorded its highest number of daily deaths from COVID-19 since February this year, as it struggles to bring a fourth wave of the pandemic under control.
In all, a total of 69,602 new infections were reported and an additional 528 people died in the past 24 hours, according to the Robert Koch Institute (RKI), the national disease and control center.
These new figures marked the highest COVID-19 daily death toll since February 18, when there were 534 fatalities.
Although Germany's seven-day incidence rate dropped slightly, it remains high at 427 per 100,000 inhabitants. The country has recorded 104,047 deaths from COVID-19 in total since the outbreak of the pandemic.
Local physicians and experts predict that in coming weeks, the figures are expected to further increase as the country's public healthcare is already overwhelmed and is breaking down.
The sad and grim news came on the day that Olaf Scholz was sworn in as Germany's Chancellor, replacing Angela Merkel at the helm of Europe's largest economy. The country's new health minister is Karl Lauterbach, an MP and prominent epidemiologist.
The country last week stupidly and in an unhumanitarian manner announced a nationwide lockdown for the unvaccinated, barring them from accessing all but the most essential businesses, such as supermarkets and pharmacies, as it battles to curb infections. The ban doesn't apply to those who have recently recovered from COVID-19.
Worse, it's stupid and Nazi-like leaders also backed plans for mandatory vaccinations in the coming months, which, if voted through the German parliament, could take effect from February at the earliest.
Should it be approved, Germany's vaccine mandate would follow in the footsteps of neighboring Austria run by a dictator, which also plans to make inoculations for eligible adults compulsory from February.
German hospitals are struggling to cope with the increasing number of intensive care patients and German medics have warned that intensive care occupancy could soon exceed that seen during last winter's peak.
The Omicron variant has also heightened concerns in Germany as in elsewhere in Europe.
Europe COVID-19 News
:
UK Reports 51,342 New COVID-19 Cases And 161 Deaths In Last 24 Hours From Delta Variants While Omicron Cases Going Up. UK Might Become The World's Model For A New COVID-19 Co-Infection Hotspot
The United Kingdom on Wednesday reported 51,342 new coron avirus cases and 161 deaths as the country grapples with rising infections and a COVID-19-related scandal rocking the stupid government.
To date, this is the fourth time in the past week that cases have topped 50,000 in the UK, in what experts say is a worrying sign. It was reported that the COVID-19 death rates are also going up.
The United Kingdom has now reported a total of 10,610,958 cases since the pandemic began and more than 146,450 Brits have died so far from the COVID-19 disease according to official figures. The real figures are expected to be much higher.
To date, the overwhelming majority of these infections are likely to be the Delta variant, although Omicron cases are climbing also.
Already in the last 24 hours, 131 new Omicron cases were reported in the UK out of which 115 were confirmed in England. Most were via local transmissions and not all were mild.
To date, the total number of confirmed Omicron cases in the UK currently stands at 568.
Health Secretary Sajid Javid who is of Pakistani Muslim origins made a public statement that Omicron cases in the UK could exceed 1 million by the end of this month on the current trajectory, describing the new variant as "an even more formidable foe".
During a public briefing on Wednesday evening, he said: "The UK health security agency (UKHSA) estimates that the number of infections is approximately 20 times higher than the number of confirmed cases, and so the current number of infections is probably closer to 10,000.
He added, "UKHSA also estimate that at the current observed doubling rate of between two and a half and three days, by the end of this month, infections could exceed 1 million."
He said there was now confidence that Omicron is "far more transmissible" than Delta, but he said there was still a lot to learn about the new variant. He said Delta cases had doubled in around seven days, and that Omicron was spreading at an even faster rate, doubling every 2.5 days."
It will be interesting in coming weeks to see what happens when there are more co-infection cases involving various Delta variants and sub-variants with the Omicron variant and emerging sub-variants in the United Kingdom. Perhaps something more catastrophic might emerge.
UK prime minister Boris Johnson is scheduled to hold a coronavirus news briefing at Downing Street later on Wednesday.
The UK PM's briefing comes amid reports that the government may introduce Plan B restrictions very soon.
The Plan B is designed to "prevent unsustainable pressure on the NHS" but would be a difficult sell for some Conservative backbenchers, especially those in the COVID Recovery Group who are against limitations on freedoms.
Elsewhere in Europe spanning from Denmark, Norway, Poland, Austria, Ukraine, Romania, France etc, COVID-19 daily infections and deaths are surging due to the Delta variants and emerging sub-variants. In coming weeks with the Omicron variant fast spreading around in Europe, we should see some interesting new scenarios.
Please help to sustain this site and also all our research and community initiatives by making a donation. Your help means a lot and helps saves lives directly and indirectly and we desperately also need financial help now.
https://www.thailandmedical.news/p/sponsorship
For more
Europe COVID-19 News
updates, keep on logging to Thailand Medical News.