BREAKING! COVID-19 News: China Reports First Case Of Necrotizing Encephalopathy In Infant Due To SARS-CoV-2! New Variants Changing Course?
COVID-19 News
: Chinese pediatricians and scientists from Guangxi Maternal and Child Health Hospital have reported the first documented case of a 45-day infant developing acute necrotizing encephalopathy (ANE) as a result of SARS-CoV-2. Although this is the first case documented of acute necrotizing encephalopathy in an infant, local physicians are questioning if there are any new changes in the pathogenicity of the new SARS-CoV-2 variants that are responsible for the ongoing COVID-19 onslaught in China as a number of newly born babies and young infants dying from SARS-CoV-2 infections in the country has been growing in the last 12 weeks!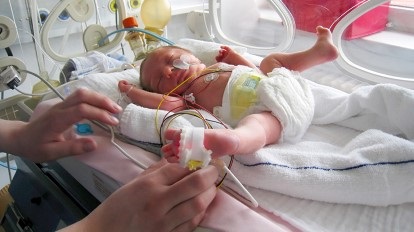 Acute necrotizing encephalopathy (ANE) is a disease characterized by brain damage (encephalopathy) that usually follows an acute febrile disease, mostly viral infections including COVID-19.
Although acute necrotic encephalopathy ANE in children has been a very rare complication of SARS-CoV-2 infection in the past, such incidences are also growing in China and elsewhere in other countries globally recently!
Case reports and past
COVID-19 News
coverages indicated that the first reported pediatric case of ANE associated with SARS-CoV-2 was reported in 2021 in the United States involving a 9-month-old boy presented with fever, irritability, left focal seizure, and febrile focal seizure status as the first symptoms, which improved after symptomatic management such as mechanical ventilation, but remained with severe neuropsychiatric symptoms.
https://pubmed.ncbi.nlm.nih.gov/34017667/
Clinical studies involving 14 other SARS-CoV-2 children who developed ANE showed that the onset age of acute necrotic encephalopathy in children peaks between one and three years old, mostly in males, and the main manifestations include fever (100%), seizures (86%), and disturbance of consciousness (100%). MRI revealed increased T2 and T1 signal density in multifocal and symmetric brain lesions (bilateral thalami, 100%) in all patients during the acute phase. Most patients have severe neurological sequelae.
https://pubmed.ncbi.nlm.nih.gov/35688614/
Another case report in Wisconsin-USA in August 2022, documented the case of a 5-week infant also developing ANE as a result of infection by a Omicron sub-lineage.
https://www.ncbi.nlm.nih.gov/pmc/articles/PMC9015721/
An 11-year-old boy also developing NE in late 2022 in Singapore was also just recently reported.
https://pubmed.ncbi.nlm.nih.gov/36529001/
Other cases of ANE following SARS-CoV-2 in children include the following:
https://www.sciencedirect.com/science/article/pii/S1875957222001553
https://www.pediatr-neonatol.com/article/S1875-9572 (22)00155-3/fulltext
https://jcimcr.org/pdfs/JCIMCR-v3-1657.pdf
https://www.ijidonline.com/article/S1201-9712(22)00483-0/fulltext
https://mr.crossref.org/iPage?doi=10.18502%2Fcrcp.v7i5.11862
https://www.pidjournal.com/doi/pdf/10.5005/jp-journals-10081-1244
In the current Chines case report, a 45-day-old girl was admitted to the study team's hospital with fever and listlessness. A nose swab tested positive for novel coronavirus nucleic acid, and her cerebrospinal fluid was positive for SARS-CoV-2.
An early head magnetic resonance imaging (MRI) scan indicated multiple abnormal signals in her bilateral cerebral hemispheres, and encephalitis was diagnosed. Twenty-three days after hospitalization, bilateral cerebral atrophy-like changes were observed by MRI, with multiple softening lesions in the bilateral cerebral hemispheres, accompanied by convulsions. She was admitted to hospital for mechanically-assisted ventilation, and her condition improved after treatment of her symptoms, including anti-epileptic medication, anti-infection drugs, glucocorticoids, and immunoglobulins.
The Chinese pediatricians and scientists warned that acute necrotic encephalopathy or ANE associated with SARS-CoV-2 infection in children should be detected and treated as early as possible. Satisfactory short-term efficacy can be obtained, but long-term neurological sequelae often linger.
The case report was published on a preprint server and is currently being peer reviewed for publication into the journal: BMC Infectious Diseases.
https://www.researchsquare.com/article/rs-2621182/v1
Acute necrotizing encephalopathy (ANE) is a rare and severe neurological disorder that primarily affects children, although it can also occur in adults. ANE has a unique neuroimaging pattern, with changes in various regions of the brain, including the thalamus, medial temporal lobe, pons, and medulla, as well as in the striatum and subcortical peripherals.
The underlying pathogenesis of ANE is often attributed to immune-mediated mechanisms rather than direct viral cytopathy effects. ANE is believed to result from a strong systemic immune response triggered by a prior infection, which produces an inflammatory cytokine storm that leads to a breakdown of the blood-brain barrier, followed by edema, pestectomy, and necrosis. Common viruses responsible for ANE include herpes simplex virus, adenovirus, the novel coronavirus, influenza virus, human rhinovirus, and others.
It has been found that ANE is related to RANBP2 mutation, accompanied by familial inheritance. RANBP2 encodes a nuclear porin that plays a role primarily throughout the cell cycle, and mutations in RANBP2 are closely associated with ANE through multiple processes, including mitochondrial function, viral entry, cytokine signaling, immune response, and blood-brain barrier maintenance. ANE with RANBP2 mutations has a poor prognosis, and due to genetic susceptibility, it can be recurrent.
The clinical course of ANE can be divided into the prodrome stage, acute encephalopathy stage, and convalescence stage. The prodrome symptoms of ANE are non-specific and varied due to viral infection, including fever, upper respiratory tract infection, chest infection, diarrhea, vomiting, and headache. As ANE progresses, seizures, disturbances of consciousness, and focal neurological deficits may manifest as brain dysfunction. The common clinical manifestations of ANE are seizures, encephalopathy, and dysmotility, which progress rapidly within days, with a fatality rate of up to 30% despite aggressive immunomodulatory therapy. Patients who survive usually have poor neurological outcomes, with less than 10% of survivors recovering completely.
Early intensive care, supportive therapy (such as seizure treatment and increased intracranial pressure control), antiviral therapy, intravenous corticosteroids, intravenous immunoglobulin (IVIG), and immunomodulators are available treatment options for ANE. Steroid administration early in the disease may improve clinical performance by reducing cytokine storms and metabolic dysfunction, as well as relieving inflammation. However, there are still residual paroxysmal convulsions and other neurological sequelae associated with treatment.
This case report entails the youngest patient known in China to have suffered from necrotizing encephalopathy caused by COVID-19. The outcome of SARS-CoV-2 infection on this patient's prognosis is similar to that of other infections, including herpes simplex viruses, adenovirus, neocoronavirus, influenza virus, human rhinovirus, and others.
Urgent research is needed to assess as to whether the new emerging SAR-CoV-2 sub-lineages in China originating with the BF.7 and BA.5.2 sub-lineages are displaying a change in pathogenesis and tropism and are behind the deaths of infants and children in China.
For the latest
COVID-19 News
, keep on logging to Thailand Medical News.