BREAKING NEWS! German Scientists Launch CoVigator, a Cutting-Edge Platform for Monitoring SARS-CoV-2 Genomic Variants and Mutations
Stay ahead of the COVID-19 curve with real-time insights into the evolving SARS-CoV-2 virus
COVID-19 News
: A team of German scientists from TRON - Translational Oncology at the Medical Center of the Johannes Gutenberg University and BioNTech SE has unveiled a groundbreaking platform that promises to revolutionize the monitoring of SARS-CoV-2 genomic variants and mutations.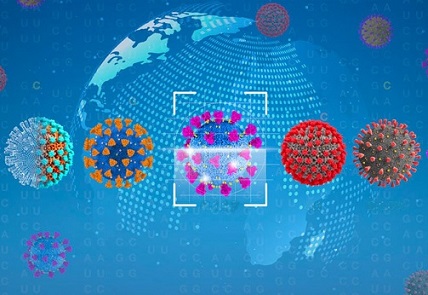 Named CoVigator, this innovative tool aims to provide early detection and comprehensive tracking of the ever-changing landscape of COVID-19.
https://covigator.tron-mainz.de./
The global COVID-19 pandemic caused by the severe acute respiratory syndrome coronavirus-2 (SARS-CoV-2) has underscored the urgent need for effective vaccines and constant vigilance. While vaccines have been developed at an unprecedented pace, the discovery of spike-glycoprotein mutants has raised concerns about the potential to evade vaccine-induced protection and increase infectivity. To address this challenge, the scientific community has recognized the critical importance of monitoring SARS-CoV-2 mutations to identify and respond to emerging variants of concern.
CoVigator comprises three essential components that work synergistically to deliver unparalleled insights. Firstly, it incorporates a robust knowledge base that collects, processes, and stores new SARS-CoV-2 genomic data. This ensures that the platform remains up to date and equipped with the latest information.
Secondly, CoVigator features a comprehensive variant calling pipeline that accurately identifies and characterizes genomic variants. This pipeline analyzes both virus genome assemblies and raw sequencing data, obtained from reputable sources such as the COVID-19 Data Portal and the European Nucleotide Archive, respectively.
Lastly, the platform offers an interactive dashboard that presents the most relevant findings in user-friendly tables and customizable graphs, allowing for easy visualization and analysis.
One of the key strengths of CoVigator lies in its focus on intrahost mutations, providing access to what is currently the largest dataset on SARS-CoV-2 intrahost mutations. By making this valuable resource available to the scientific community, CoVigator fosters collaboration and accelerates research efforts. In the spirit of open data, all CoVigator results are downloadable, facilitating seamless integration into global initiatives aimed at curbing the spread of COVID-19.
Martin Löwer, Deputy Director, Biomarker Development Center, Translational Oncology (TRON), University Medical Center, Johannes Gutenberg University, Mainz and Pablo Riesgo-Ferreiro, a Bioinformatics Scientist at Johannes Gutenberg University, both who are members of the executive team behind the Platform told
COVID-19 News
reporters at Thailand Medical News, "Future versions of CoVigator can be broadened to other use cases, such as other infectious organisms or co-existing infections during pandemic. Additionally, we envision the annotation of detected mutations to facilitate the selection of variants of concern for the development and evolution of preventive vaccines or therapies."
With the worldwide demand for genome surveillance intensifying, CoVigator emerges as a critical tool for monitoring the transmission and evolution of SARS-CoV-2. By regularly updating its repository with new genomic data, the platform ensures that healthcare professionals, researchers, and policymakers have access to an up-to-date list of mutations. This information can guide the development of effective strategies for preventing and treating infections, providing a much-needed edge in the fight against COVID-19.
CoVigator joins a growing list of initiatives aimed at monitoring SARS-CoV-2 mutations, including NextStrain, CoV-GLUE, Coronapp, CLIMB-COVID (COG-UK), and CovRadar.
This new platform distinguishes itself by its comprehensive approach, leveraging both genomic assemblies and raw reads to capture granular details about mutations and their implications. By combining and analyzing data from multiple sources, CoVigator enables a more comprehensive understanding of the virus's behavior and evolution.
The development of CoVigator comes at a crucial time when the scientific community and public health organizations worldwide are grappling with the challenges posed by emerging COVID-19 variants. This groundbreaking platform not only empowers researchers with the latest insights but also equips policymakers and healthcare professionals with valuable tools to make informed decisions. By leveraging CoVigator's capabilities, we can enhance our collective response to the pandemic and protect global health.
For the latest
COVID-19 News
, keep on logging to Thailand Medical News.