J&J Vaccine Or Ad.26.COV2.S Turning Out to Be The Pariah Among COVID-19 Vaccines After U.S. CDC Links Its Use To Increased Risk Of Guillain-Barré Syndrome!
The Johnson and Johnson or Janssen COVID-19 Vaccine (Ad.26.COV2.S) that has been authorized for emergency use in various countries including the United States is now turning out to the 'pariah' among the COVID-19 vaccines with many countries and individuals avoiding it due to a litany of issues including the latest involving the U.S.CDC study that shows its use is linked to a higher risk of developing Guillain-Barré Syndrome.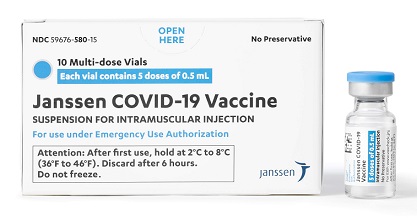 Already the Janssen vaccine initial debut was marred with issues of increased risk of clotting effects or thrombosis with thrombocytopenia syndrome (TTS). Most reports of this serious condition, which involves blood clots with low platelets, have been in adult women younger than 50 years old.
https://www.cdc.gov/coronavirus/2019-ncov/vaccines/safety/JJUpdate.html
Then as early as July, the US FDA included a new warning on the Janssen vaccine after there have been 100 preliminary reports of Guillain-Barré syndrome in the US out of 12.8 million Johnson and Johnson vaccine doses given as of 30 June.
https://www.fda.gov/media/146304/download
The US Food and Drug Administration (FDA) has updated its label for the vaccine to reflect the possibility of increased risk for this rare side effect within 42 days following vaccination.
Guillain-Barré Syndrome is a rare autoimmune neurological disorder in which the immune system attacks the peripheral nervous system, and is often triggered by an antecedent illness such as influenza, Campylobacter jejuni infection, mycoplasma pneumonia, cytomegalovirus infection or Epstein-Barr virus infection. The clinical presentation of GBS is highly variable, resulting in difficulty diagnosing the syndrome. GBS patients progress in weakness, with around 25% requiring artificial ventilation, 20% becoming unable to walk independently after six months, and 2–5% dying. Around 3–5% of patients will experience a relapse at some point in their lifetimes.
The two main treatments for GBS are intravenous immunoglobulin (IVIg) and plasma exchange, which can reduce the severity and shorten the duration of the illness. Few recent advances have been made in treating the syndrome, although some recent experimental studies have shown that complement inhibition combined with IVIg could improve outcomes.
Since June 30
th
, the number of individuals manifesting Guillain-Barré Syndrome experiencing after a shot of the Janssen vaccine increased tremendously.
Then last week, a U.S. CDC sponsored study was published on a preprint server showing that the
Janssen COVID-19 Vaccine
(Ad.26.COV2.S) was linked to a higher risk of developing Guillain-Barré Syndrome, adding a final blow to the vaccine's credentials.
https://www.medrxiv.org/content/10.1101/2021.12.03.21266419v1
So far, only three vaccines have been authorized for emergency use or FDA-approved in the United States to prevent coronavirus disease 2019 (COVID-19).
These three vaccines include BNT16 2b2 (Pfizer-BioNTech - FDA-approved) and mRNA-1273 (Moderna -authorized for emergency use), both of which are mRNA-based vaccines, as well as Ad.26.COV2.S (Janssen -authorized for emergency use).
Both the Pfizer BNT162b2 and Moderna mRNA-1273 are administered primarily as double-doses, with a third booster shot that has recently been approved after six months.
The Janssen Ad.26.COV2.S is a replication-incompetent adenoviral vector vaccine and is primarily administered as a single dose; however, the U.S. Food and Drug Administration (FDA) has recently advised Ad.26.COV2.S recipients to receive a booster dose of any approved COVID-19 vaccine after two months.
In July 2021, data from the Vaccine Adverse Event Reporting System (VAERS) indicated that more cases of GBS were being reported after vaccination with Ad.26.COV2.S in comparison to other mRNA vaccines resulting in the U.S. FDA adding a warning about GBS to the Ad.26.COV2.S vaccine fact sheet. GBS is being monitored in the Vaccine Safety Datalink as part of ongoing rapid and prospective COVID-19 vaccine safety surveillance efforts.
In the current study, the study team compiled available data from the interim analysis of the number of cases of Guillain-Barré Syndrome or GBS and the risks posed by different vaccines.
All necessary and relevant data for the current study were obtained from the Vaccine Safety Datalink, which is a collaboration between nine U.S. integrated healthcare systems and the U.S. Centers for Disease Control and Prevention (CDC).
The study data was contributed by eight data-contributing organizations including Kaiser Permanente in Colorado, Northern California, Northwest, Southern California, and Washington, Marshfield Clinic, HealthPartners, and Denver Health. All organizations had access to comprehensive medical records, including vaccinations for a total of 10,158,003 people over the age of 12 years as of November 10, 2021.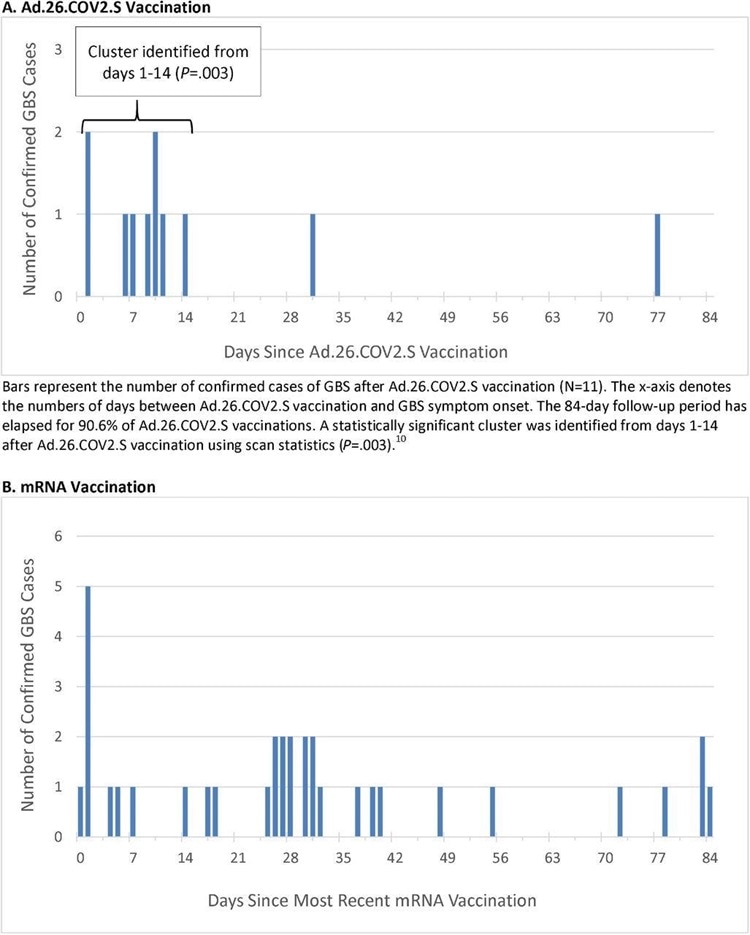 Timing of Guillain-Barré Syndrome Symptom Onset after COVID-19 Vaccination
Vaccination data between December 13, 2020, through November 13, 2021, were analyzed. During this time, a total of 14,723,318 doses of COVID-19 vaccines were administered, including 467,126 doses of Ad.26.COV2.S, 8,573,823 doses of BNT162b2, and 5,682,369 doses of mRNA-1273. Eleven cases of GBS after Ad.26.COV2.S were confirmed.
Importantly weekly analyses were used to compare the outcome incidence observed during a risk interval after vaccination between 1-21 days or 1-42 days with outcome incidence expected. The expected outcome incidence was derived from vaccinated comparators who were concurrently (on the same day) in a postvaccination comparison interval between 22-42 days or 43-84 days, respectively. Separate analyses were also obtained from unvaccinated comparators who were concurrently unvaccinated.
In the study, patients who had received two doses of an mRNA vaccine were considered for analyses 1-21 days after dose 1 and again 1-21 days old after receiving their second dose. However, once they received dose 2, the follow-up time after dose 1 was censored; hence, most of the comparison time in the vaccinated concurrent comparator analyses was after dose 2.
This adverse reaction surveillance approach used two post-vaccination risk intervals, 1-21 days and 1-42 days. The 1-21 day risk interval allowed for on-time analyses and avoided bias introduced from the short interval between two mRNA vaccine doses. However, a 1-42 day risk interval was also used, as this was the standard interval used in vaccine safety studies of GBS and other outcomes.
All potential cases of GBS were identified using International Classification of Diseases 10th Revision (ICD10) code G61.0 in the emergency or inpatient setting, specifically when G61.0 first appeared in an individual's record in the 1-84 day window after any COVID-19 vaccination.
As the disease onset may begin before a diagnosis is recorded in the medical record, potential cases with the ICD-10 code in the 85-98 day window after vaccination were also reviewed. After review, all cases underwent adjudication according to the Brighton Collaboration criteria.
The study findings showed that the unadjusted incidence rate of confirmed cases of GBS per 100,000 person-years in the 1-21 days window post-Ad.26.COV2.S vaccination was 34.6, which is significantly higher than the background rate. The adjusted rate ratios (RR) in the 1-21 versus 22-42 day windows following Ad.26.COV2.S vaccination was 6.03.
Only thirty-four cases of GBS were confirmed post mRNA vaccination. The unadjusted incidence rate of confirmed cases per 100,000 person-years in the 1-21 day window after administration of mRNA vaccines was 1.4, whereas the adjusted RR in the 1-21 versus 22-42 day windows following mRNA vaccination was 0.56.
Importantly when comparing Ad.26.COV2.S and mRNA vaccinations, the adjusted RR was 20.56.
The study findings showed that there is an elevated risk of Guillain-Barré Syndrome or GBS observed after primary Ad.26.COV2.S vaccination. Surveillance is ongoing and more results are expected.
In the meanwhile, the study findings have again caused damage to public acceptance of the Johnson and Johnson or Janssen COVID-19 Vaccine (Ad.26.COV2.S).
However there are some groups that are speculating that there could be a concerted effort by certain 'higher-ups' controlling the COVID-19 narratives in America and UK to discredit all non-mRNA based vaccines such as the adenovirus based vaccines by Johnson and Johnson (Janssen) and AstraZeneca and that their agenda is to push the extensive usage of the Pfizer and Moderna mRNA vaccines. Thailand Medical News will provide more on these developing stories.
Please help to sustain this site and also all our research and community initiatives by making a donation. Your help means a lot and helps saves lives directly and indirectly and we desperately also need financial help now.
https://www.thailandmedical.news/p/sponsorship
For the latest on
COVID-19 Vaccine Research
, keep on logging to Thailand Medical News.