Study Finds That SARS-CoV-2 Infections Can Either Cause Onset Of Anemia Or Exacerbate The Effects Of Anemia For Those Already With The Condition!
COVID-19 News
: The COVID-19 pandemic has brought unprecedented challenges to the global healthcare system. While the virus is primarily known for its devastating effects on the respiratory system, emerging evidence suggests that it can also impact other bodily systems, including the hematological system.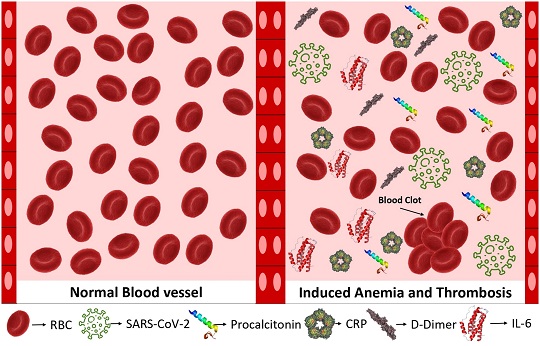 Impact of COVID-19 infection on hemostasis
Anemia, a condition characterized by reduced oxygen-carrying capacity in red blood cells, has been found to have a complex relationship with COVID-19. Recent research conducted by various institutions has shed light on the connection between these two conditions.
Understanding Anemia and COVID-19 Interaction
The correlation between anemia and COVID-19 is multifaceted. It has been observed that COVID-19 patients may develop anemia, while anemic individuals are at a higher risk of severe COVID-19 infections. Both conditions cause immune dysregulation, making patients susceptible to autoimmune complications that can interchangeably occur.
The virus-induced inflammation alters iron homeostasis, leading to a reduction in circulating iron levels and impaired erythropoiesis, ultimately resulting in anemia of inflammation (AI). In addition to AI, COVID-19 has been clinically linked to thrombotic events caused by several mechanisms.
The Pathophysiology of Anemia in COVID-19
Researchers have found that COVID-19 can induce hemolytic anemia, primarily through the development of auto-antibodies. This is particularly concerning for individuals with pre-existing hemoglobinopathies or hereditary anemias. The virus has been shown to cause oxidative stress, leading to hemolytic anemia in individuals with hereditary spherocytosis.
Additionally, COVID-19-induced hypoxia impacts erythropoiesis and iron metabolism, resulting in iron restriction and hyperferritinemia. These findings suggest that anemia in COVID-19 patients extends beyond autoimmunity and may involve other mechanisms.
The Interaction Between AIHA and SARS-CoV-2 Infection
Autoimmune Hemolytic Anemia or AIHA has emerged as a common hematologic autoimmune complication in COVID-19 patients. It has been associated with worse prognoses, longer hospital stays, and increased mortality rates as covred in previous case studies and
COVID-19 News
reports.
Cold and warm AIHA cases have been reported in the context of COVID-19 infection, particularly during the cytokine storm induced by SARS-CoV-2. The inflammatory response and immune activation triggered by the virus may lead to changes in antigen presentation, creating cryptic antigens and contributing to the development of AIHA. Moreover, an imbalance in the complement system and immune complexes found on RBC cells may promote intravascular thrombosis. These interactions highlight the complexities of erythrocyte abnormalities and thrombosis in COVID-19 patients.
t;
Clinical Course of COVID-19 in the Presence of Anemia
Anemia, coagulation disorders, and thrombocytopenia in COVID-19 patients have been associated with higher rates of hospitalization and severe complications. Studies have reported varying prevalence rates of anemia among hospitalized COVID-19 patients, with some showing rates as high as 61%. Anemia of inflammation is the most common form of anemia observed in hospitalized patients. Additionally, patients with anemia are more likely to experience severe inflammatory reactions, coagulation abnormalities, and organ damage, making them particularly vulnerable to adverse outcomes.
Other Factors of Association
Age, sex, race, and genetic disorders are factors that may influence the relationship between COVID-19 and anemia. While some studies suggest no significant impact of age and sex, others indicate a correlation between age, sex, and BMI with anemia in COVID-19 patients. Moreover, African Americans with sickle cell trait may be at increased risk due to hypercoagulability. Genetic disorders such as paroxysmal nocturnal hemoglobinuria (PNH) also present unique challenges as they share pathophysiological mechanisms with COVID-19.
Inflammatory Response and Long-Term COVID-19 Complications
Laboratory findings indicate that COVID-19 patients with anemia exhibit alterations in biomarkers such as hyperferritinemia, CRP, IL-6, and procalcitonin, which may persist in the post-acute phase of the infection. Long-haul COVID, chronic COVID, and post-COVID syndrome refer to persistent COVID-19 findings in individuals who are no longer positive for the virus. Anemia and iron deficiency have been observed in COVID-19 patients even months after the onset of the disease. Hyperferritinemia and iron deficiency are linked to inflammation-induced disruption of iron homeostasis, indicating the potential for late complications.
Conclusion
The relationship between anemia and COVID-19 is multifaceted, with both conditions exacerbating each other's effects. COVID-19-induced inflammation and iron dysregulation lead to anemia, while anemia makes patients more susceptible to severe COVID-19 infections. Thrombotic events and autoimmune complications further complicate the interaction between the two conditions. Long-term complications, including persistent anemia and hyperferritinemia, are being increasingly recognized. Understanding the complexities of this relationship is crucial for predicting patient prognosis, improving treatment strategies, and ensuring optimal patient outcomes. However, as the COVID-19 pandemic continues to evolve, further research is needed to fully comprehend the intricate interplay between anemia and COVID-19.
The study findings were published in the peer reviewed journal: Hemoglobin (Taylor & Francis)
https://www.tandfonline.com/doi/full/10.1080/03630269.2023.2236546
For the latest
COVID-19 News
, keep on logging to Thailand Medical News.